Canada's longest running film festival, Festival du Nouveau Cinema (FNC) has seen a remarkable rebound since the drama that surrounded it a few years back. In 2004, the festival came under new management when Daniel Langlois, director of FNC since 1999, left the organization to begin the New Montreal FilmFest. New Montreal's intention was to merge with the Montreal Festival of New Cinema and New Media, thus creating a potentially devastating competitor to FNC, which prides itself on its devotion to cinematic innovation. However, a variety of controversies led to New Montreal's demise, and FNC has since seen both a significant increase in attendance and reputation.
This was certainly clear in its 37th edition, held last week amidst Montreal's gorgeous Autumn backdrop. Screening nearly 250 films from 60 countries, in every conceivable format, FNC's broad programming spectrum and commitment to the artist sets it apart from both Montreal's slew of specialty fests and many festivals around North America.
"FNC is unique in its unwavering dedication to the primacy of the image," said fest programmer Madeleine Molyneaux, in an interview with indieWIRE. "It's not a marketplace environment. It celebrates established auteurs and emerging visionaries equally. Festivals these days seem to be divided between favoring distributors or programmers; we are all about the maker. It's closer to a model of contemporary art except the object is the creator. In terms of other Montreal festivals, we pride ourselves in remaining true to the spirit of Montreal – we are constantly morphing and constantly fighting for a place in a larger cultural debate about art and language."
The festival acknowledges that this is not possible without the cooperation of festivals that are very much marketplace environments. "We foster great relationships with international players such as Cannes, Berlin, Rotterdam and Toronto," said executive director Nicolas Girard. "This allows us to develop unique partnerships wherein we share certain films for our respective programs, which also allows us to promote Quebec and Canadian cinema abroad, amongst other things."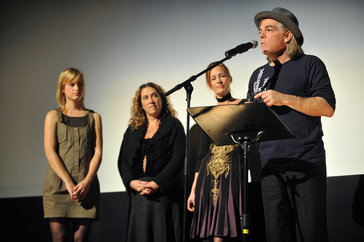 This year, the resulting programs saw an eclectic mix of both international and regional work. Cannes and Toronto alums like Sergey Dvortsevoy's "Tulpan," Aida Begic Zubcevic's "Snow," Steve McQueen's "Hunger" and Ari Folman's "Waltz With Bashir" dominated the festival's competition jury awards. "Tulpan" won the Louve d'Or for Best Feature Film, "Snow" recieved the jury's special mention, "Hunger" star Michael Fassbender won the Acting Award, and "Waltz" won the Daniel Langlois Innovation Award.
But much of the excitement surrounding the festival's slate was centered on local films, most making their regional debuts.
Luc Bourdon's "La Memoire des Anges" passionately presents a Montreal of the 1950s and 1960s through use of the National Film Board of Canada's extensive archives. Video artist and documentarian, Bourdon won the fest's Cinematheque Quebecoise' Grand Prize for the film, which saw sold out audiences experience its innovative mix of essay and poetry.
Montreal-based director Marie-Helene Cousineau teamed with Madeline Ivalu for "Before Tomorrow," which made its Quebec premiere after winning the Best Canadian First Feature Film at the Toronto International Film Film Festival. The arresting film captures the narrative of an oft-ignored people through the story of a woman (played by Ivalu herself) and her grandson (Ivalu's real-life grandson Paul-Dylan) as they experience the challenges of Inuit hunting season.
Having its world premiere at FNC was one particular title that focuses on new media, which coincides perfectly with the festival's own objectives (in addition the film programs, the festival runs a weeklong lab exhibiting new media works from local artists).
Brett Gaylor's documentary "Rip: A Remix Manifesto" essentially explores the legal and artistic ramifications of the mash-up. "I wanted to document and explore the war of ideas between those who want to share ideas – the Copyleft – and those who want to lock up ideas – the copyright," Gaylor, a graduate of Montreal's Concordia University, said in an interview with indieWIRE.
Using mash-up artist Girl Talk as an entry point into his film, Gaylor cohesively and emotionally discusses the sweeping topics of intellectual property and remix culture. At the beginning of the screening, Gaylor encouraged the packed house at Montreal's gorgeous Imperial Theater to participate in the film via cheers and boos. The latter took place often, at the sight of anything from the Disney logo to freshly re-elected Canadian Prime Minister Stephen Harper to, most enthusiastically, Metallica's Lars Ulrich.
A standing ovation concluded the film, and Gaylor got up on stage. "It's probably going to clear out half this crowd but could everybody who worked on the film come up here," he asked, and about forty people took the stage to great applause. Gaylor then encouraged the remaining audience members to go to the film's website, where they could "remix" what they just viewed.
"We made the film in collaboration with the Open Source Cinema community," Gaylor said. "[It's] a remix website launched so that peers could remix and contribute to the film. We posted our raw footage under a Creative Commons license, and asked people to remix it around key themes. The resulting work was then included in the film – the goal is for these stages of remixing to continue throughout our festival release, and then once the film moves from "beta" to 1.0 – that we release it to the web."
"Rip," which won a special jury prize at FNC from the Cinematheque Quebecoise, screens next at the International Documentary Film Festival Amsterdam (IDFA).
Perhaps the star of the fest, though, was New Brunswick-born, Montreal-based director Rodrigue Jean. Jean traveled to town for the Quebec premiere of his "Lost Song," which recently won the Best Canadian Feature award at TIFF, as well as the world premiere of his long-gestating documentary, "Hommes a Louer."
indieWIRE chatted to Jean about both projects, which seemingly couldn't be more different. While "Lost Song" is an intense and complex narrative about new parents that unravels into a postpartum horror story, "Hommes" follows a year in the life of eleven young male prostitutes. But financially, Jean found it easy to draw a connection.
"The industry is lost in Canada at the moment," he said. "It's driven by ideology not by will to make films. They try to emulate Hollywood when it's not possible. This is a national cinema. You can't compete. It's mathematically impossible."
"[Both] these films are sort of impossible to do here these days," he said. "It was an endless battle." "Song," which took five years to put together "was refused everywhere." And the fact that "Hommes" even made it to its FNC screening is "remarkable."
Jean began working on "Hommes" fifteen years ago in London, England. But when BBC, which was financing the project, wanted to control editing, Jean quit. Years later in Canada, Jean decided to again pursue "Hommes" when the National Film Board of Canada offered him a project. He began working with Sero Zero, a Montreal based sexual health organization. But as the film started coming together, Jean again ran into problems when the NFB insisted that the project was both meant for television, and had enough footage as it stood. Jean disagreed, and production was halted for some time.
Finally, after slowly winning that battle and editing down the project over a two year period (from 120 hours of footage), Jean was able to premiere the film Saturday morning at Montreal's Ex-Centris Theatre. "God knows we were ready after all these years," Jean said.
While FNC is certainly thriving, seeing another jump in attendance this year (143,000 unique visitors), they are not resistant to the same problems facing filmmakers like Jean. With art cuts a central focus of anti-Stephen Harper campaigning during the recent federal election, the festival's timely occurance in the midst of that election brought much dreary discussion to festival events and parties.
"There is no doubt that our festival is not immune to the government funding cuts being made in the arts world, which inevitably trickle down to profoundly affect all cultural institutions," said festival director Nicolas Girard. "What's even more troubling is that the events whose mandate is to promote art are no longer being supported in their development, which limits the opportunities the public has to meet, exchange and interact with its artists. By looking down on our prized cultural institutions, how is one to encourage the private sector to support culture in any way, when the government does nothing more than send off the message that funding the arts is useless and not financially viable?"
Though it may not change the state of the Canadian film industry, this year's festival certainly sent a message as to how worthwhile Canadian cinema can be.
Sign Up: Stay on top of the latest breaking film and TV news! Sign up for our Email Newsletters here.