Steven Soderbergh's 4-hour Ernesto 'Che' Guevara biopic, "Che" and Mike Leigh's much shorter "anti-miserablist" film, "Happy-Go-Lucky," were among the films screened for the press in the past few days at the 46th Annual New York Film Festival. Both screenings were followed by press conferences featuring the directors, and in "Lucky"'s case, its star Sally Hawkins. indieWIRE was in attendance, and has the highlights.
'Che' Takes New York
"Had enough time to think?" Soderbergh joked as he introduced himself to the audience of the New York Film Festival press screening of his 262-minute Ernesto 'Che' Guevara biopic, "Che." The screening, held at Midtown's gorgeous Zeigfeld Theatre, was divided into two parts, with an intermission and lunch in between.
Despite the length, the film focuses on two specific times in Geuvara's life – his involvement toppling the dictatorship of Fulgencio Batistain during the Cuban Revolution, and his later attempt at a revolution in Bolivia which led to his capture and death. This was the first New York screening of the film, after its premiere in Cannes (where it was shown, like NYFF, as one film) and its recent screening in Toronto (where it was primarily shown as two).
"The process of developing and making this film was so extended," Soderbergh said when asked about the process of production and formulation of the film's content. "We started talking about it when I was working on "Traffic"… So that's eight years ago. And what I found was that sometimes you say 'yes' and you're not sure why you said 'yes.'"
"There was a moment, around the time of Cannes," he said, "That I realized what they were really about to me and what drew them to me was this issue of engagement versus disengagement. That everyday in our lives – on a personal level, on a community level, on a global level – we are making a decision about how engaged we want to be or how disengaged we want to be. Do we want to participate or do we want to observe? I realized what was compelling about Che to me was once he made the decision to engage that he engaged fully and that he was able to sustain."
At one point during the conference, Soderbergh quoted J.G. Ballard in noting that "research is the refuge of the unimaginative." He admitted there were times when thought Ballard was "absolutely right." "We were just overwhelmed with information," he said. "As John Lee Anderson, who was one of our consultants, said at the press conference in Cannes: 'Look, there's a million Che's… He means something different to everyone.' At a certain point, we had to decide what to use and what not to to use and frankly, a lot of it was by exclusion. I went in with more of an idea of what I didn't want to do than I wanted to do. At least that's a start."
Soderbergh said he tried to avoid scenes that were "too typical." He said, "I didn't want to have the scene where somebody says, 'Hey, why do they call you 'Che'?' or, you know, [Che] in battle and his hat falls of and he runs over and picks up a beret."
The film was acquired by IFC Films during Toronto (as reported by indieWIRE), and will be in released in late 2008 and early 2009 using a unique and varied strategy.
"Here's our plan, currently," Soderbergh explained. "Whenever the movie enters a specific market whether New York, Los Angeles, San Francisco, Chicago, Dallas… For one week on one screen you can see it like you just saw it. There will be a specially printed program with the credits from both the films. And we're referring to that as the 'roadshow version,' the way they used to do in the 50s and 60s."
Soderbergh believes that is the ideal way to see the film. "It's a lot to ask of someone to throw away an entire day," he admitted. "But I guess my only argument is that we're cinematically making a demand on the audience that's very similar to the demands that Che made on the people around him. It's a big commitment and it requires a certain kind of personality to want to experience it."
New Yorkers can make that commitment next Tuesday, October 7 at the film's first public screening at the New York Film Festival. [Peter Knegt]
Leigh Plays Nice at "Happy" Screening
In 2004, Mike Leigh had an infamous Q & A session for the New York Film Festival screening of his "Vera Drake." An audience member asked Leigh "what Vera was thinking" when the police officer questions her. Leigh then asked the audience member what they had imagined Vera was thinking and feeling, and after hearing the reply, said: "Well, there you are. Now don't ask any more unnecessary questions."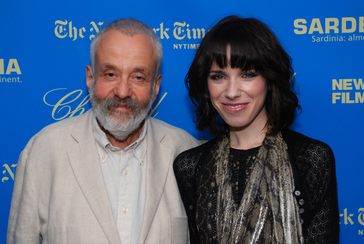 Four years later, Leigh introduced the NYFF press conference for his latest film, "Happy-Go-Lucky," by winking to the former event. "I say with absolutely sincerity that I am glad to be here because question and answer sessions – even the press ones – at the New York Film Festival are one of my favourite things in my life," he said to a roar of laughter from the audience. "And this is not a device to butter you up."
Leigh then contrasted the unspoken "Drake" conference by calling to mind a more positive experience at NYFF – for his 1993 film "Naked." "The very first question was from a guy who said, 'Mr. Leigh, do you think that Johnny will be dead within an hour of the end of the film,'" he recalled. "It was the most intelligent question I've ever been asked about that particular film. And I just wanted to share that with you."
Leigh, as well as "Happy" star Sally Hawkins, spent the next half hour or so sharing much about their film, a whimsical story of a cheerful, colorful schoolteacher named Poppy (Hawkins), whose optimism seemingly knows no bounds. The film has been described as Leigh's sweetest, a suggestion he has no problem with. "I wanted to make an anti-miserablist film," he said. "And I think we've succeeded in doing that. But just wait and see how miserable the next one is."
But, Leigh doesn't want Poppy as a chararcter to be as easily circumscribed. "The thing about Poppy is that to describe her as unadulterated happy is not really to understand her at all," he said. "She's got great depth of profundity… I think it's just not enough to talk about her as happy." Hawkins agreed. "Like many – or all – of Mike's characters she's a complex human being and many different things. There's a lot going on."
However you describe her, Poppy's unique sensibilities are sure to win over legions of filmgoers. Hawkins attributed much of her creation of the character to working within the freedom of Leigh's distinct film environment. "When you're working on a Mike Leigh film the scope and possibilities are endless," she said affectionately. "It's so incredibly creative. It's wonderful. We drew from everything… Any way you want to go its a road for possibility."
Hawkins worked with Leigh for six months before coming up with Poppy, one of Leigh's usual methods. "To me, the journey of making a film is a journey of discovering what the film is," Leigh said. "Like any art is, its about working and responding to the material… Not tied to preconceptions and just exploring to make the character."
Though a rarity, a few critics have noted Poppy as getting on their nerves. "I don't get it," Leigh said in that regard. "People say 'I want to strangle her' and I can't bear it. Even in today's New York Times there's a thing that says she's either the most endearing or the most irritating [character] or possibly both. I don't get how anyone who is really paying attention and going with the film could do anything other ultimately fall in love with her." I for one certainly agree. [Peter Knegt]
Get the latest coverage of the 2008 New York Film Festival in indieWIRE's special New York section.
Sign Up: Stay on top of the latest breaking film and TV news! Sign up for our Email Newsletters here.