"I've learned as filmmaker, doing this for thirty years now, that to survive you have to be able to adapt and adjust," "The Times of Harvey Milk" director Rob Epstein said. "In terms of production, I've shot on film and I've shot on video and I've shot on digital. You want to make those technological adjustments and make them work for you creatively and aesthetically. And I think the same is true for distribution." Epstein has made such an adjustment with the recent release of his Academy Award-winning doc on on VOD at Amazon.com. He discussed the 1984 film with indieWIRE, which chronicles Harvey Milk's life and death, as well as his thoughts on Gus Van Sant's "Milk," which is out in theaters today.
Like Van Sant's film, which directly reenacted some footage from "Times," Epstein's follows gay rights activist Harvey Milk, who became the first openly gay man elected to office when he was named San Francisco city supervisor in 1977. The following year, he and Mayor George Moscone were both shot and killed by former city supervisor Dan White.
A distinct difference between the two films is that "Times"' narrative continues on beyond Milk's death, following the infuriating story of White's trial. It details White's lawyer's infamous "twinkie defense" when he suggested White's mental state was of diminished capacity due to depression resulting from over consumption of sugar. This resulted in a reduced charge of manslaughter. When the film was premiered at the 1984 New York Film Festival, White had already been released from prison.
"I think that they are complimentary, 'Milk' and 'The Times of Harvey Milk,'" Epstein said. "'The Time of Harvey Milk' is about the public Harvey and 'Milk' is much more of a window into Harvey's personal story and what was going on for him in his personal life."
Epstein said he thinks Van Sant's film is "terrific." "I think it's a beautiful, and surprisingly tender portrait of Harvey and his inner circle," he continued. "And also an honest and sympathetic presentation of that life."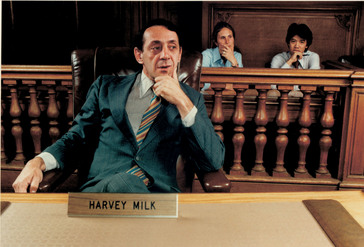 Milk and Moscone were killed on November 27, 1978, nearly thirty years to the day of both "Times" release online and "Milk"'s in theatres. But that is not the most compelling element of the films' timing. America is the midst of a storm of divisive activism and boycotts following the passing of Proposition 8 in California, and there are parallels between Milk's story – particularly with regard to his work stopping Anita Bryant backed Proposition 6, which would have banned gay teachers from working in California schools – are remarkable.
"It certainly is fortuitous timing for 'Milk' to come out now," Epstein said. "With the whole Proposition 8 state its a little uncanny to see those same issues played out in 'Milk' as well as 'The Times of Harvey Milk' around the Proposition 6 campaign. And in some ways, it seems like we're still waging the same fight. But in other ways, stepping back and looking at the bigger picture, we can also see how far we've advanced: The issue that is being debated now in terms of the whole continuum of rights is one of marriage rights."
Epstein – whose other films include 1989's memorial of people who died of AIDS, "Common Threads: Stories from the Quilt," for which he also won an Academy Award, and 1995's "The Celluloid Closet," an account of gay representation in Hollywood (and both co-directed by Jeffrey Friedman) – has worked with various elements of gay rights history in his work. But he says that he's never set out saying "'I'm going to make a film on a gay subject to change the way people think about gay people.'"
"I've never felt like I've had any uber mission," he explains. "[My films have] never been that thought out or that developed or that conscious. It's really been subject by subject, story by story, and finding out what I wanted to say with each subject and with each film. So, it's only in looking back that one might be able to see any kind of pattern. But it certainly hasn't been by any kind of design on my part. I would like to think that each film has its own particular approach both in terms of how the story's told, the form and the content."
Epstein also discussed his cautionary delight in his newfound ability to bring each of his approaches to audiences through online distribution.
"I think it's really exciting to know that we can download 'The Times of Harvey Milk,'" he said. "This is new terrain and it's a really exciting one. I would say its an experiment in that we'll learn about how it works and how well it works. But it definitely feels like the next frontier in terms of distribution and in terms of getting work out there."
Epstein's next project, also a collaboration with Friedman, is his first time working outside documentary. Its called "Howl," and is based on Allen Ginsberg's poem and the obscenity trial that resulted from its publication in 1957. It starts production early next year, and stars "Milk"'s James Franco as Ginsberg.
"The project came to us from Allen Ginsberg's estate and they approached us with the idea of doing a film based on the poem," Epstein said of the project. "Initially, we thought we'd do a fairly standard documentary approach but the more we got into it the more interested we became in reinterpreting that and working with documentary text but fashioning it more into a feature. So that's where we ended up. The film is actually a hybrid of narrative based on the obsenity trial that happened in 1957 and animation. In some ways it doesn't feel like new territory in that we've approached all of our feature documentaries as narrative film. So I think in terms of structuring the story it doesn't feel like so much of a leap."
Sign Up: Stay on top of the latest breaking film and TV news! Sign up for our Email Newsletters here.