EDITORS NOTE: This is part of a series of interviews, conducted via email, profiling dramatic and documentary competition and American Spectrum directors who have films screening at the 2009 Sundance Film Festival.
From the Sundance catalog: "Dare follows three very-different teenagers through the last semester of high school. There are Alexa (Emmy Rossum), the overachieving good girl who longs to break out of her shell; Ben (Ashley Springer), the melancholy outsider confused about his sexuality; and Johnny (Zach Gilford), the rich kid who has everything, including good looks, but hides behind his bad-boy persona. This unlikely trio fall into each other's lives and each other's arms, making a last-ditch effort to shake things up before they actually have to start living as adults."
Dare
Dramatic Competition
Director: Adam Salky
Screenwriter: David Brind
Producers: Mary Jane Skalski, Jason Orans
Cinematographer: Michael Fimognari
Editor: John F. Lyons
Composers: Duncan Sheik, David Poe
Costume Designer: Caroline Duncan
Casting Directors: Kerry Barden, Paul Schnee
Cast: Emmy Rossum, Zach Gilford, Ashley Springer, Ana Gasteyer, Alan Cumming, Sandra Bernhard
U.S.A., 2009, 92 mins., color
Please introduce yourself…
Except for college and some time spent abroad, I've lived most of my life in New York City. However, my family is from Memphis Tennessee via post-World War II Eastern Europe. I can't say exactly how this has affected me, but I do say "Y'all" a lot.
When I graduated from Emory University in Atlanta, I moved back to New York and started working in film. I worked every low level job (PA, grip, truck driver, camera assistant) while simultaneously performing every high level job (writing, directing, editing, shooting, and in a few rare instances acting) making my own shorts. After film school, I worked for a production company that makes promotional and fundraising videos, primarily for non-profit organizations. It was a great part-time job that allowed me spend every spare moment working with (writer) David Brind to get "Dare" made.
What were the circumstances that lead you to become a filmmaker? What other creative outlets do you explore?
I arrived at filmmaking very organically after a long string of different creative and conventional attempts at finding my path in my life. My father is a surgeon and my mother has a science background as well, so I never had anyone specifically pushing me to go into film. What I did have were parents who granted me the freedom to figure things out for myself. So I tried a few different paths; eventually, life took me where I needed to be.
In college, I started to take classes to fulfill requirements to attend undergraduate business school; after two years, I was accepted. I remember holding the acceptance letter in my hand and feeling like it was a noose around my neck. It felt wrong, and even though I couldn't really explain why, I knew I needed a change.
The next semester I switched my major to creative writing, went back to writing fiction and poetry and made my first real short film. For the first time in my life, I felt completely liberated, and passionate about my work. I wrote a feature screenplay for my thesis, and by the time I graduated I knew that telling stories through film and video was what I had to do.
How did you learn the "craft" of filmmaking?
I made my first film in high school. It was supposed to be in place of a term paper. Rather than tell you how the film came out, I'll just say that the teacher made me write the paper.
Although my first attempt at filmmaking wasn't a huge success, I was hooked. I made another short in college, and several more right after. Since Emory University didn't have a film program at the time, it was all very "Do It Yourself."
This was a great way to get started because I learned so much by trial and error. I kept (and still keep) a list of lessons I've learned after each shoot. Some of the first ones are so basic they seem really funny now.
A couple of years after college, I hit a wall in terms of how much and how fast I was learning. I knew I needed more knowledge, and I wanted to be in a creative community that shared my passion for film. I applied to Columbia University's Graduate Film Division. When I got there, I realized all of the DIY filmmaking I had done was a major asset. I already knew how to use cameras and the editing system. I also felt really comfortable on set. Consequently, I focused solely on the science and art of storytelling.
How or what prompted the idea for your film and how did it evolve?
The idea for the film came from David Brind, who I met at Columbia's film program. Columbia has a system where at the end of the first year everyone directs a short that someone else wrote. There's a mini competition for the strongest scripts. David's was by far the best, and he graciously allowed me to direct it. He produced and we made it that summer.
It was such a great collaboration, and the short left us with a strong "What happens next?" feeling. Consequently, we decided to develop "Dare" into a feature. David started writing it in the fall of the second year of school.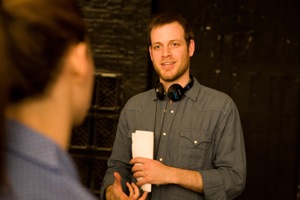 Please elaborate a bit on your approach to making the film…
With DARE I was present throughout David's process of writing the script, so I always felt intimately connected to the story.
If fact, when I read the first draft there were several scenes that popped into my mind as completely shot and edited images. Those scenes are in the movie, and they have not changed. (If only that worked for every scene!)
I like to previsualize the movie as much as possible. I read and reread the script countless times, each time making note of any images that come to me. I draw storyboards for those ideas and put them aside. Then I take the script and break it down into its most basic elements, making a section in a large binder for each scene, complete with notes on the everything from the characters' wants and needs to the actual visual design of the scene. The goal is to have the movie already shot and edited with storyboards in the binder before we ever shoot a single frame.
Production is so crazy and intense that having a plan for every scene is essential. When stronger ideas emerge, especially through collaboration, you can always throw out the preconceived ones.
So basically my approach is very simple – prepare.
What were some of the biggest challenges you faced in either developing the project or making and securing distribution for the movie?
"Dare" is a movie about the need to take chances when you're a teenager in order to begin to discover who you are. In keeping with the realities of a high school world, the story includes some challenging subject matter.
There are four scenes concerning the very first, intimate sexual experiences of the main characters. I wanted these scenes to feel as real as possible, with all of the adolescent awkwardness and thrills intact. Thankfully my cast, Emmy Rossum, Ashley Springer, and Zach Gilford were all completely committed. Their courage made scenes that could have been some of the most difficult in the film, some of the most truthful.
What are some of your favorite films, and what are your other creative influences?
I have eclectic tastes ranging from some of the biggest Hollywood films, to the smallest, most intimate independent voices.
I love Alfonso Cauron's "Y Tu Mama Tambien" for its total commitment to truth in its storytelling. In a similar vein, Thomas Vinterberg's "The Celebration" is a film I can watch over an over again. I'm also a sucker for Hitchcock, especially "Rear Window."
It's hard for me to say whether these powerful storytellers have rubbed off on me or not, but I strive to achieve their level of craft, honesty, and courage.
How do you define success as a filmmaker? What are your personal goals as a filmmaker?
In the end, the goal is to make people feel. That's why I love cinema, and why I go to the movies. I want to have an emotional experience. I hope "Dare" moves audiences. If it does, then I've succeeded.
What are your future projects?
I've barely come up for air while finishing DARE but I've have started reading a lot of scripts, and developing a few things with some friends. I really love collaborating with writers, so I'm always looking for someone who wants to join forces on one of my stories, or someone with a great story to tell who needs a director.
From Writer David Brind
How or what prompted the idea for your film and how did it evolve?
The idea to write "Dare" as a feature script came way after the short film's genesis. Since I also produced the short, I was on-set during the entire shoot. One night I was watching the monitor as Adam directed a small scene between Ben ("Light Boy") and Alexa, who was a peripheral character in the short. After each take, I kept running over to Adam to talk about how important this moment was–how it was about the connection between a closeted gay boy and his best female friend, who totally knew and accepted him, even without the words to say so. Rightfully, Adam alerted me that though this was interesting, it wasn't really part of the story of the short film. And so Alexa took root in my brain and became the jumping-off point for the feature script.
I have a thing for high school movies, always have. And I wanted to tell a story that both celebrated the standard characters of the genre (i.e. the good girl, the outsider, the bad boy), but looked at them from the inside out, as psychologically complex, changing individuals. Adam and I felt it was possible to retain the fun of the high school film while mining the depths of the characters a little deeper. And certainly, the characters in "Dare" draw their inspirations from my own high school experience as well as through observing teenage life up close and personal today. High school is an intense period of life in America, when we're all obsessed with how others perceive us, how we are treated, where we stand–part of the rites of passage are those moments in which we are stunned to realize that our actions have effects, even indelible ones, on others. This is something that Alexa, Ben and Johnny all come to find out in "Dare".
Sign Up: Stay on top of the latest breaking film and TV news! Sign up for our Email Newsletters here.