EDITORS NOTE: This is part of a series of interviews, conducted via email, profiling dramatic and documentary competition and American Spectrum directors who have films screening at the 2009 Sundance Film Festival.
From the Sundance catalog: "Toe to Toe tells the story of a love/hate relationship between lacrosse mates Tosha and Jesse, two senior girls at a competitive Washington, D.C., prep school. Tosha is a fiercely determined African American scholarship student from Anacostia, one of Washington's poorest areas, while Jesse is a privileged, but troubled, white girl from Bethesda, who deals with promiscuous tendencies that pull her toward self-destruction. The two forge a close and genuine friendship on the field, but that bond is tested when the obstacles presented by societal circumstances threaten to tear them apart."
Toe to Toe
Dramatic Competition
Director: Emily Abt
Screenwriter: Emily Abt
Executive Producer: Sarah Peter
Producers: Emily Abt, Susan Leber
Cinematographer: Alan Jacobsen
Editor: Jeff Marcello
Production Designer: Tommaso Ortino
Composers: Ion Furjanic, Sanford Livingston
Cast: Louisa Krause, Sonequa Martin, Silvestre Rasuk, Leslie Uggams, Gaius Charles, Ally Walker
U.S.A., 2008, 100 mins., color
Please introduce yourself…
My name is Emily Abt. I'm 33 years old and grew up in Cambridge, Massachusetts. I moved to New York when I was 18 to attend NYU where I majored in Political Science and engaged in student activism as the President of NYU's Women's Center. I started my first film 10 years ago when I was a caseworker in New York City. The documentary was about my former clients as they transitioned from welfare to work. I benefited from beginner's luck and that film aired on PBS's POV series in 2001. After that I was hooked on filmmaking and went to get my MFA from Columbia's Graduate Film Program. My next film, a documentary entitled ALL OF US, is about the disproportionate rate of HIV among black women and recently aired on Showtime. I've produced all my films, along with on-line campaigns, corporate and promotional films, through Pureland Pictures, a small production company in Brooklyn that I founded ten years ago. "Toe to Toe" is my first dramatic feature film.
What were the circumstances that lead you to become a filmmaker?
The films I make are an extension of my deep belief in, and commitment to, public service. My parents raised me to believe that "with privilege comes responsibility" so I've been engaged in some kind of public service my whole adult life. When I left casework and abandoned my plans to go to law school in order to pursue filmmaking, I had an important conversation with a friend and fellow public servant. I was feeling guilty; making films seemed like a far more self-indulgent path than the one I was on. This friend, he's a good friend, assured me that I could make films and still remain a public servant so that's what I've always tried to do. I'm also very much of a feminist and that influences the characters I portray and how I choose to portray them.
What other creative outlets do you explore?
I organize compulsively just like the character Tosha in "Toe to Toe". I guess that's not too artsy but it helps calm me down when I'm a ball of stress. I also greatly enjoy dancing and music, both of which I get to have fun with during the filmmaking process. And I love to cook.
How did you learn the "craft" of filmmaking?
I made my first feature before I went to film school. The process of making documentaries, and learning from my own mistakes, has been my greatest teacher. That said, I definitely wouldn't be where I am now without having gone to the Graduate Film Program at Columbia. The opportunity to workshop one's writing in a classroom with the guidance of someone who has been screenwriting for years was invaluable to me. It was in that setting where I got a lot of my bad writing habits beaten out of me. I couldn't take another eye-roll or groan from a fellow student so I finally started to give up some the preachy-ness that haunted my writing. "Story must come before politics" I was often told. I also really benefited from the opportunity to work with actors. At Columbia we had wonderful "Directing the Actor" classes where we'd relentlessly break down scenes and workshop them. More harsh feedback from my peers and professors in that setting – you develop a thick skin at film school! – was part of what prepared me to hit the ground running with the actors in "Toe to Toe." I also took some acting classes that helped me appreciate what great actors do – especially since I have stage fright! In an effort to fund my thesis film, I had the great fortune to land a Fulbright grant that brought me to London where I attended the National Film and Television School.
Those professors (they call them tutors over there) gave me a ton of extremely valuable coaching. They're all working directors/screenwriters themselves and they work with you one on one so you can really benefit from their hard-earned knowledge. That kind of mentoring is so hard to come by in the competitive world of filmmaking so while many folks say "you don't need to go to film school to be a filmmaker", I'm certainly a fan. That said, it's ridiculously expensive. There are so many ways to get into filmmaking, by honing a technical skill for example, but the key is to find good mentors. I also think it's important to embrace the business side of filmmaking early on. I've learned a lot about storytelling by making promotional and wedding videos too. You have to be entrepreneurial, and learn to create films that people will actually pay you for, to survive as an independent filmmaker.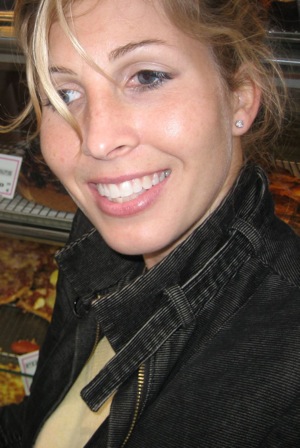 How or what prompted the idea for your film and how did it evolve?
"Toe to Toe" is my first narrative feature and is a more personal venture than my previous films. I'm intensely interested in race relations and especially intrigued by the social tensions that exist between white and black women in America. I was also inspired by the disturbing fact that interracial friendships end at age 14 for 87% of Americans. This reality is in stark contrast to the way Hollywood portrays American society as a sort of magical melting pot where people of all races easily integrate and can chuckle over race jokes without any fallout. What I love about Jesse and Tosha's relationship is that it's complicated and it deals with the messy, subtle forms of racial tension that are usually overlooked by mainstream media. Some of their conflict isn't even about race at all but gets amplified by the fact that they're from different backgrounds. These girls are authentic with each other, they don't always say the polite thing and they don't shy away from conflict with each other. I think there's beauty is that realness and it leads these two girls to a place where they're willing to sacrifice a lot for each other.
Please elaborate a bit on your approach to making the film…
My background in documentary filmmaking has been good preparation for "Toe to Toe" because making low-budget, social-issue documentaries forces you to embrace happy accidents and roll with the punches. Making documentaries also teaches you to be resilient and finish your film no matter what happens during production.
What were some of the biggest challenges you faced in either developing the project?
The process of making films is both challenging and joyous from start to finish, a real heaven and hell type of ordeal. I have high hopes for 'Toe to Toe"'s distribution but I'm a realist too so we'll see how it all shakes out.

What are some of your favorite films, and what are your other creative influences?
I'm influenced by so many things and that's what I love about filmmaking: whatever artistic craft you fancy, all those ingredients go into the pot together. I love Nan Goldin and Mary Ellen Mark's photography. I listen to hip-hop and R&B when I run and that reliably pumps me up for a good writing session. I collect language and phrases relentlessly and I'm always borrowing pens from folks so I can scribble down some little piece of conversation that I've overheard. I love countless films but some of my favorites are "Do the Right Thing", "Streetwise", "Boys Don't Cry", "Norma Rae", "Gloria" (the Cassavetes version), "Children of Paradise", "The Constant Gardener", "Hoop Dreams", "The 400 Blows", "Half Nelson", "Gone Baby Gone", "Me, You & Everyone We Know", etc.


How do you define success as a filmmaker, and what are your personal goals as a filmmaker?
Being able to create films is an honor and a privilege so just having the opportunity to continue doing so would be a big score. My goals as a filmmaker are to create work that challenge audiences to have compassion for unlikely heroes and also to inspire women to stand up for themselves and each other more. And I'd like to earn more money because debt is no fun.

What are your future projects?
I'm writing a new feature script and I have a documentary in the works called "Kings" about a DC based dance crew. My company, Pureland, continues to produce short-form work as well as oversee the distribution of our latest documentary "All of Us."
Sign Up: Stay on top of the latest breaking film and TV news! Sign up for our Email Newsletters here.