While the Sundance Film Festival contains a dense collection of independent cinema from several directions at once, the Slamdance Film Festival is comparatively less voluminous. With a mere ten films each in the narrative and documentary competitions — and nine additional features — Slamdance offers even less than the average regional festival. Its smallness befits the contents of the program, which in previous years has featured breakout hits such as Christopher Nolan's "Following," "King of Kong," and "Mad Hot Ballroom." Although Slamdance movies usually wind up at the festival after getting rejected by Sundance, they often benefit from greater exposure as a result. (Last year's fake ghost documentary "Paranormal Activities," made on a virtually non-existent budget, landed a deal with Dreamworks.) Before the onslaught of Sundance stories dominate the headlines, here's a look at five promising entries at Park City's other cinematic gathering.
"Son of the Sunshine"
Toronto-based filmmaker Ryan Ward directs this mature, immediately involving story of a young man suffering from Tourette's Syndrome. When we first meet Sonny (Ryan Ward), he remains shut off from the world around him. After a crucial surgery helps him control his vulgar tics, Sonny gets a second chance to make his presence felt. On paper, the premise sounds like the sort of thing that could easily devolve into unintentional humor or trite sentimental conventions, but Ward's bold, engrossing performance provides a solid basis for the underlying drama. When he forms a relationship with a disturbed girl in his neighborhood, Sonny stops fearing the way others perceive him. Ward subtly communicates this transition with an impressive range of conflicting expressions that recall Dore Mann in "Frownland," or a dozen other performances of dysfunctional youth desperately trying to get their lives back on track.
"Smile Til It Hurts: The Up With People Story"
Lee Storey, a participant in last year's IFP Narrative Rough Cut Lab, brings the result to Slamdance with this comprehensive survey of Up With People, the profusely jolly singing group that provided a conservative alternative to 1960's-era flower power. Although Storey's familiar approach avoids focusing on any single character, the documentary's generous lineup of present and past group members makes "Smile Til It Hurts" a detailed guide to this oft-neglected footnote in American counterculture. Without developing a blatantly critical tone, Storey exposes the movement for what it was: Propaganda for Moral Re-Armament, an old-fashioned group rooted in American traditionalism.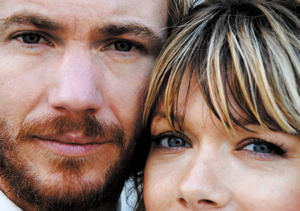 "Mississippi Damned"
This lusciously photographed period piece, set in a lower class southern community in 1986 and 1998, showcases writer-director Tina Mabry's ability to handle the complexities of an ensemble drama with her very first feature. An impoverished black family (including David Malcolm Kelley, who plays Walt on ABC's "Lost") cope with dreams of greater ambitions. Whether confronting sexual tensions (in one case, a latent homosexual relationship) or monetary woes, the characters in "Mississippi Damned" represent the voice of a discontented people, which comes through loud and clear.
"A Quiet Little Marriage"
Audiences only familiar with Mary Elizabeth Ellis as the neurotic waitress stalked by Charlie on FX's sitcom "It's Always Sunny in Philadelphia" will be surprised to discover the actress's strong dramatic range in this subtle story of a young woman desperate to get pregnant. Coping with her resistant husband, senile father and a highly dysfunctional brother-in-law (Jimmi Simpson, also a "Philadelphia" vet), Olive suffers from an incessant biological clock that won't stop ticking. Mo Perkins directs with a patient pace that allows for gradual, ponderous exposition — warning signs in many first-timer products on the festival circuit, but not here.
"Spooner"
Matthew Lillard stars in this offbeat romantic comedy about an aimless used car salesman named Herman Spooner seeking new opportunities for a better life. "Were you born to be a used car salesman?" he's asked by Rose (Nora Zehetner), the cutesy young woman he timidly pursues after finding fixing her car. "I was born to be a boat captain," he replies, "but that's not really something you can become, especially if you don't have access." Uneven in parts, Spooner nonetheless maintains a low key charm, providing gentle contrast to the usually sophomoric coarseness of the man-child genre. As his thirtieth birthday looms near, and his parents pressure him to move out, Spooner goes through a very natural transition from dreamer to man of action. Twenty-four year old filmmaker Drake Doremus occasionally recycles the tropes of tired indie comedies (particularly with the ceaselessly jolly pop soundtrack), and the definitely movie ends too soon, but Lillard delivers his best performance in years.
Sign Up: Stay on top of the latest breaking film and TV news! Sign up for our Email Newsletters here.