EDITOR'S NOTE: Throughout the festival indieWIRE is posting continuous updates. Check back here throughout the day to get the latest.
In today's Sundance Live, Peter Knegt takes notes from a panel on the Prop 8 controversy, Eugene Hernandez covers the anniversary celebration of Strand Releasing, Brian Brooks reports on the screenings of "William Kunstler: Disturbing the Universe," "Burma VJ," and Kimgjongilia, film critic Eric Kohn offers snapshot reviews of "Boy Interrupted," "The Greatest" and "Reporter", and Andy Lauer reports on the premiere of "500 Days of Summer."
6:15pm MST
Responding To Prop 8: Cooper, Rich Defend Sundance and the People of Utah
"This is my twentieth or twenty-first Sundance," cultural critic B. Ruby Rich said at a panel today at the Queer Lounge. "In 1992, when we did the panel here on GLBT film and video, it was an amazing landmark event. At which people came out. People stood up in the audience and said 'My name is such and such and I work for Disney and I'm gay.' It was a very, very powerful moment… Sundance has been a beacon for queer filmmaking and queer film activity. It's a place that's been much more welcoming that any other large film festival or even most small film festivals that I can name. I mean, try going to Cannes. Try going to the big festivals. You don't find anything, except for Berlin, like you find here."
Rich moderated the panel, which focused on LGBT civil rights, film activism, and most dominantly, the controversy surrounding Proposition 8. Sundance's Director of Programming John Cooper and "The Times of Harvey Milk" director Rob Epstein were among the panelists who sat down with Rich.
The passionate dialogue they collectively created spoke poignantly against the villainization of both Utah and the Sundance Film Festival in the months since the passing of Prop 8.
"In my experience here as a filmmaker," Epstein expressed, "the most exciting aspect of the Q&As has always been with Salt Lake City residents. I'm always surprised. I forget that residents come to this festival and have a whole other experience that those of us in the industry."
Cooper agreed. "Salt Lake has, and the whole Utah region around here has one of the most film literate communities there are outside of the two coasts," he said. "It's pretty amazing. I go down there and talk to the people… There's old people that know, shit man, they know more than me. They're quoting old movies, independent stuff too. It's fascinating."
But the argument went well beyond the cinematic interests of Utahans.
"Well first it was the call that Sundance needs to leave Utah," Cooper said. "Just like that because it's just that easy. Our organizations have no problem raising money at all and we just have thousands of millions of dollars in the bank. And we haven't spent years and years building a community here. I didn't want to leave here because I like the subversive nature of it. Personally, I like coming here to Utah."
Rich also said the fact that the festival occurs in Utah has an "extra subversive aspect to it," and the fact that the world media being here "meant that you could make a really big difference." "For me, it's a question of right aim, wrong tactic," Rich continued. "I think unfortunately, Prop 8 is one situation where it's not 'by any means necessary.' I think some of the means have been wrong and I think that was a very understandable and angry but ultimately silly kind of reaction. It also shows what people don't know. They don't know that Salt Lake City isn't a Mormon majority city. They don't know that the University of Utah is a very progressive university. People don't know what goes on in the rest of the country."
Cooper admitted her never thought Prop 8 would pass in the first place. "That's how naive I was," he said. But when it did, in part due to large contributions to the "Yes on 8" campaign from the Mormon church, people immediately criticized Sundance's relationship with Mormon-owned companies like Cinemark and Marriott.
"The whole thing about Cinemark," he explained, "it just came down to [the fact that] by November were so locked in here. You know, the festival's done. Everything is signed. It would have cost us close to, just to close Cinemark and not even find a place to do it, would have cost us probably half a million dollars… And that's on top of us having to cut two million dollars out of our budget already because we know that sponsorship and all these other places that used to give money are fading away. So it's a very scary time. It's like, do I really believe in something so much that I'm going to create financial hardship and maybe ruin an organization I believe in? No."
To an audience of many locals, Rich spoke about the challenges of LGBT life outside the obvious American cites.
"I used to say that being gay or lesbian was a great passport," she said. "It got you out of your small town and you got out of this state in the middle of the country. It got you out of these places that nobody else was getting out of. You know, they're still there selling used cars or something. I got out… There is a way in which there has always been a geography attached to being LGBT and there are people who defy that logic and stay where they grew up and hold on to an out identity. My hat off to all of you, because I think most people can't do that."
One of those people, a Mormon-identified transgendered lesbian, personified Cooper and Rich's words.
"We need you here," she said emotionally. "For those of you that don't know Utah, can you picture Salt Lake City with 30,000 people at Pride? We do, for the last five years… We have a movement here and we need your help. Especially creative queer people in film because we don't know where to go… So thank you for not listening to the boycott." [Peter Knegt]
4:35pm MST
"Kimjongilia" Offers a Rare Look inside the Hermit Kingdom
Utilizing her theater background, director NC Heikin employs both traditional Korean and modern interpretive dance for her world cinema doc competition film, "Kimjongilia." North Korea is governed with probably the most repressive totalitarian regimes in the world. Founded following World War II, Kim Il Sung ("The Great Leader") and his son and successor Kim Jong Il ("The Dear Leader") have maintained absolute power through a mix of a cult personality of divine reverence for the country's dictator and terror.
Heikin tells the broader story of North Korea's 60 year history, while focusing in on the individual stories of refugees who managed to escape the Hermit Kingdom.
"Necessity is the mother of invention," said Heikin following the world premiere screening Sunday in Park City about using scenes of dance to represent repression in North Korea. "I knew that before I did my first interview I wouldn't have footage of North Korean prison camps. I figured how could I represent this, so I used my background as an influence." The film also shows spectacular parades and spectacles used by the regime to glorify the state and Kim Jong Il, obtaining the footage through a very contemporary method.
"I bought the North Korean propaganda material online."
11:41am
SNAPSHOT REVIEW: "Boy Interrupted"
A tear-jerker with a point behind the gravitas, "Boy Interrupted" should be required viewing for anyone close to someone suffering from a mental illness. Both on camera and behind it, documentarian Dana Perry bravely surveys the circumstances leading up to her fifteen year old son Evan's suicide in 2005. Perry and her husband — also a filmmaker — captured nearly every episode in Evan's tumultous life on camera, allowing them to recreate the impact of his depression with a wealth of home video footage. Combining those scenes with input from nearly everyone in Evan's life, including his devastatingly puzzed psychiatrist and his high school friends, Perry crafts a compelling portrait of emotional insecurity.
Evan's eerie fascination with death from a radically young age gives way to premature teen rebellion, which suggests he grew up too fast. However, Perry's study remains fairly inconclusive. Like the supremely unsettling "Dear Zachary: A Letter from a Father to His Son," the movie serves the director and its audience at once. Unlike "Dear Zachary," however, "Boy Interrupted" doesn't contain any major plot twists in its construction, opting instead to simultaneously achieve two goals: It universalizes the drama while succeeding as a powerful manifestation of artistic catharsis. [Eric Kohn]
"William Kunstler: Disturbing the Universe"
William Kunstler may be remembered by many as the most hated lawyer in the United States. He rose from a privileged middle class background to become one of the country's most prominent attorneys. After an unassuming start in the law, Kunstler was swept into the civil rights movement and later defended the Chicago 8 who were charged with inciting a riot outside the 1968 Democratic National Convention. It was this case that had the most impact on Kunstler. Personally, it changed his belief that the law was an instrument of justice and instead viewed it as enabling those in power to exert their control.
The event radicalized him and shot him to fame. From that seminal moment, Kunstler was front and center in some of the most sensational political cases of the time including the uprisings at Attica Prison and the standoff at Wounded Knee. He later defended a black teenager accused of participating in a gang rape of a jogger in Central Park and accused terrorists – earning him the ire of even some of his defenders.
"The story is one of transformation – Bill's transformation," said Emily Kunstler, who directed "William Kunstler: Disturbing the Universe" with her sister, Sarah Kunstler – both the youngest daughters of the late Bill Kunstler. "It is possible for someone to change. Our dad at 50 changed. [His story] shows the power of the individual to make change and the power of the individual." [Brian Brooks]
11:03am MST
Saluting 20 Years of Strand
Standing up for an impropmtu toast to two indie cinema stalwarts on Satuday night at the Windy Ridge Cafe in Park City, UT, Focus Features CEO James Schamus praised an American duo as being, "among the few people of [their] generation who actually are going to be the future of independent film, because they've always been." He was referring to his good friends Marcus Hu and Jon Gerrans, co-presidents of the indie distribution company Strand Releasing, now celebrating its 20th anniversary.
Having made its name successfully backing queer films and international cinema, Hu and Gerrans have stayed small but have had a huge impact, particularly at Sundance where they've screened some 50+ films by a recent internal count. Strand celebrated their achievements on Saturday night — at a dinner backed by Fandango — with a large roomful of their closest friends and colleagues. The crowd ranged from actors Alan Cumming and Brady Corbet and Sundance fest programmers John Cooper, Shari Frilot, and John Nein to film producers Mary Jane Skalski, Scott Macaulay, Jennifer Chaiken and rep Steven Raphael; from IFC's Ryan Werner and Sundance Channel's Chris Vesper to former WIP execs Laura Kim & Paul Federbush, as well as fest organizers including: Rachel Rosen from Los Angeles, Kirsten Schaffer from Outfest and former Frameline head Michael Lumpkin, Also on hand were New York Times critic Manohla Dargis, writer B Ruby Rich and journalists from the Advocate, Planet Out, Screen and indieWIRE.
In an emotional moment, Hu stood up to thank the room for their ongoing support of his company, which he noted often comes in the form of shared expense accounts at festivals. Saving his warmest remarks for his longtime business partner Jon Gerrans, Hu choked up and sent a wave of sentiment into the group as he spoke.
"They always go to the voices that nobody else will listen to and make them appear naturally in the culture, often on the margins," Schamus said on Saturday, "But those margins as we know often become central to how we define ourselves." [Eugene Hernandez]
Risking Life To Tell The Truth in "Burma VJ"
After taking two awards at the International Documentary Film Festival Amsterdam (IDFA) in November, director Anders Ostergaard's "Burma VJ" is having its North American debut in competition at Sundance. The film itself follows a unique format, compiled mostly from material shot by undercover reporters in Burma who smuggle the footage out of the country, one of the world's most repressed.
Armed with cameras (which are not permitted in the country) the journalists are part of a network called the Democratic Voice of Burma (DVB). They capture dissent in a country that has spent decades under harsh military rule and risk imprisonment, torture and death. "Burma VJ" spotlights the experience of "Joshua," a Burmese journalist who seeks to expose the military's devastating rule and counter its official propaganda.
"At first I was working on a film that was more personal about [the people in] the DVB with only modest footage, but then September 2007 started happening," commented Ostergaard following a Saturday screening in Park City. In that month, a wave of protests swept the country's capital, Rangoon, with thousands of monks taking to the streets demanding regime change and an end to the house arrest of Nobel Peace Prize-winning opposition leader, Aung San Suu Kyi.
Because foreign journalists are banned from the country, Ostergaard compiled the sensational footage of peaceful street protests and harsh crackdowns by government thugs to tell Burma's story. "I was trying to make a virtue out of all these limitations," said Ostergaard. "How could we explain the Burmese situation with these limitations? So we decided to make a virtue out of necessity."
"Joshua" also made his way to Park City for the film, but could not partake in the Q&A due to security reasons. "Joshua" told indieWIRE following the screening that he believes the regime there is hoping Burma will again fade from the headlines so it can grasp on to power. "They're buying time and hoping people will forget," said the twenty-seven year old who continues to organize the DVB. That's one of the reasons we still have the cameras…[and] I can see the difference between September 2007 and now. People are more outspoken." The film opens at New York's Film Forum on May 20. [Brian Brooks]
10:23am MST
SNAPSHOT REVIEW: "The Greatest"
Every pity party has its limits, and "The Greatest" pushes most of them. Shana Feste's cliché-ridden story centers around bereaved couple Allen (Pierce Brosnan) and Grace (Susan Sarandon), whose teenage son Bennett (Aaron Johnson, primarily seen in flashbacks) dies in a car accident with his new girlfriend, Rose (Carey Mulligan). Months later, Rose shows up at the family's doorstep with a baby on board, which eventually leads to a series of infuriatingly bad scenes where Allen and Grace make peace with Rose as a part of their lives.
Despite numerous script problems, Brosnan turns in a subtle performance as a fast-thinking math professor in constant denial of his discontent, although Sarandon goes over the top in the moments that call for particularly violent emotional breakdowns. However, Feste actually displays an exceptional formalism in her first writer-director excursion — in the first half of the movie, that is — employing long takes and clever symbolism to mirror the family's distinct unhappiness. The second half, however, plays like a rejected soap opera. As he tends to do in overly melodramatic stories of troubled marriages, Michael Shannon, as the driver responsible for Bennett's death, steals the show. [Eric Kohn]
1:16am MST
SNAPSHOT REVIEW: "Reporter"
As the preeminent risk-taking journalist of our time, New York Times op-ed columnist Nicholas Kristof makes an ideal documentary subject. In "Reporter," director Eric Metzger discovers that potential. Following the two-time Pulitzer Prize-winning scribe on his 2008 trip to Congo — where he was accompanied by a duo of younger journalists to broaden the reach of his coverage — Metzger wisely avoids turning the details of Kristof's mission into a blind hagiography. Instead, he uses Kristof's techniques to illustrate the profound motives of humanitarian aid.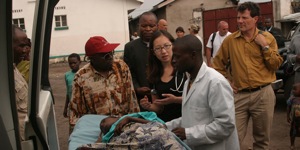 With a series of gorgeous, frequently haunting sequences, Metzger captures the wide-ranging responses of struggling Africans presented with Kristof and his trusty notepad. Standout moments include the discovery of an impoverished woman in desperate need of medical attention, and a morally conflicting encounter with the country's leading warlord, who creepily invites the team to dine with him. Without extensive cinematic manipulation, Metzger captures the full complexity of the inherent drama.
While in awe of Kristof's work, Metzger doesn't hesitate to question the methodology behind it. He emphatically grapples with Kristof's "dismal illumination" of the worst stories in every country he visits. Overall, however, the filmmaker acknowledges Kristof's success at packaging the world's greatest catastrophes the only way his readers will pay attention — as thrilling adventure stories. [Eric Kohn]
"500 Days of Summer" Premieres
The crowd that packed the Eccles Center Saturday night for the premiere of Marc Webb's "anti-romantic comedy" "500 Days of Summer" was, rather plainly, most excited about one aspect of the film in particular: its young star Zooey Deschanel.
As it turned out the night was doubly exciting for the actress as it was, she announced to the audience during the brief Q&A following the screening, her 29th birthday. Deschanel also received praise from her co-star Joseph Gordon-Levitt who said he jumped at the chance to work with her. "I'll be in movies with Zooey and be happy until the day I die," he said. Audience members further prodded the actress about her musical side project with M. Ward, She & Him.
Also on hand for the Q&A was director Marc Webb and writers Scott Neustadter and Michael Weber. Initially, Webb said, "I had no interest in doing a romantic comedy." However, after reading the script he fell in love with it, developing, as he put it, a "crush" on the screenplay.
Marc further elaborated on his use of architecture in the film, noting that he hoped to capture "a side of Los Angeles you don't usually see," referencing the fact that the film showcases several of LA's older, historic buildings.
"500 Days of Summer," which is told non-chronologically and features several unusual touches–a dance sequence, the use of split screen and animation, and more than a few semi-obscure indie rock references–charts the course of a young man's relationship with a woman who doesn't quite return the feelings he has for her. Despite these aforementioned stylistic flourishes, it's an accessible, breezy comedy, a crowd pleaser that certainly pleased last night's audience. [Andy Lauer]
Sign Up: Stay on top of the latest breaking film and TV news! Sign up for our Email Newsletters here.