Today marks a crowded release date for DVD and iTunes that finds five of 2008's most critically lauded films – Gus Van Sant's "Milk," Jonathan Demme's "Rachel Getting Married," Charlie Kaufman's "Synecdoche, New York," Tomas Alfredson's "Let The Right One In," and Mike Leigh's "Happy-Go-Lucky" – all officially around for home viewing pleasures. All five films placed in the top fifteen of indieWIRE's Critic's Poll, while between them they amassed dozens upon dozens of critic's groups awards, including best picture and best actor from the New York Film Critics' Circle for "Milk," and pretty much every best actress mention around for "Lucky"'s criminally Oscar-snubbed Sally Hawkins. indieWIRE runs down each option for you, to better your "media store" or at home decision making.
Option #1:
"Happy-Go-Lucky" (Miramax Films)
Director/Screenwriter: Mike Leigh
Featuring: Sally Hawkins, Eddie Marsan, Alexis Zegerman
Synopsis: Indefatigable Poppy (Sally Hawkins, giving hands-down the performance of the year), thirty, single, and flirty, all bangs and bangles, long legs and toothy grins, lives in north London, teaches grade school, parties with her friends and forges a strange serpentine path to betterment: trampoline therapy, flamenco classes, and driving lessons. At once an overgrown child and the only complete adult in the room, Poppy's inexhaustible verbal and physical energy frequently skirts the insufferable before pulling back to a soothing, saucer-eyed empathy. (care of indieWIRE's review)
iW Critic's Poll Rank: #5
Major Awards: Berlin Silver Bear, Golden Globe, National Society of Film Critics, New York Film Critics, and Los Angeles Film Critics awards for best actress, Sally Hawkins; National Society of Film Critics award for best supporting actor, Eddie Marsan; New York Film Critics and National Society of Film Critics awards for best director, Mike Leigh; Academy Award nomination for best original screenplay, Mike Leigh
Festival Plays: Berlin; New York; Telluride; Toronto
Box Office Gross: $3,512,016 (US/CAN); $13,933,067 (Foreign)
DVD Extras: Commentary by Mike Leigh, and 2 featurettes (Behind The Wheel Of Happy-Go-Lucky, Happy-In-Character).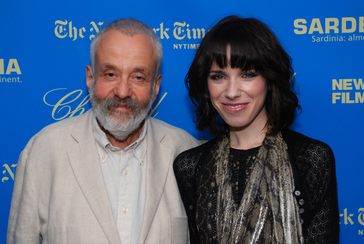 "Well, it's not a film just about happiness, that's simplistic, and I'm sure you agree. You know as well as I do you have to give a film a title. "Happy-Go-Lucky" evokes the spirit of the film, rather than a precise description of what's in the bottle. It's a film about positivism and coping with life in a mature, intelligent, focused way – not sort of mindlessly looking on the bright side and just being happy, as though she'd eaten magic mushrooms or smoked a lot of dope." – Mike Leigh in an indieWIRE interview
"Stealthy-smart, PJ Harvey-sexy, supernaturally expressive, and several disarming steps ahead of everyone else, Hawkins's full-bodied singularity calls to mind none other than the queen of mesmerizing overdrive, Gena Rowlands. Shot from above, she's flat on her back and stripped to a goofy ensemble of pink bra, orange panties, and flowery black tights; at the chiropractor's touch she winces and giggles, then gently jokes to put him at ease. She's daft and vulnerable and often damn near impossible to comprehend, but she's a marvel. And whether or not she's licensed, she's always driving." – indieWIRE's review
Option #2:
"Let The Right One In" (Magnolia Pictures)
Director: Tomas Alfredson
Screenwriter: John Ajvide Lindqvist
Featuring: Kåre Hedebrant, Lina Leandersson, Per Ragnar
Synopsis:Living in a grim, boxy housing complex that looks like the sad cousin to the apartments in Kieslowski's "Decalogue," delicate, blond preteen Oskar (Kare Hedebrant) must contend with divorced parents while also harboring fantasies of violent revenge against vicious bullies at school. His salvation comes in the form of mysterious, raven-haired neighbor Eli (Lina Leandersson), who first appears perched, gargoyle-like, atop a jungle gym. Though Eli outwardly appears to be of similar age to Oskar, her stoicism and physical strength (and eventually, her taste for, well, blood) point to another conclusion. . (care of indieWIRE's review)
iW Critic's Poll Rank: #14
Major Awards: Chicago Film Critics, Boston Film Critics, and Toronto Film Critics awards for Best Foreign Language Film; Chicago Film Critics award for Most Promising Filmmaker; Best Narrative Feature at the Tribeca Film Festival; Best Horror Feature at Fantastic Fest;
Festival Plays: Göteborg; Rotterdam; Tribeca; Seattle; Karlovy Vary; Fantastic Fest
Box Office Gross: $2,062,139 (US/CAN); $3,638,342 (Foreign)
DVD Extras: Deleted Scenes; Behind the Scenes Featurette
"From the opening moments, in which the screen is overtaken by silent, softly falling snowflakes that, with their lovely morbidity, might as well be leftover sprinkles from the closing lines of James Joyce's "The Dead," to an underwater climax as gory as it is hushed and idyllic, "Let the Right One In" means to push the contemporary vampire film into an ambitiously poetic realm." – indieWIRE's review
"Swedish director Tomas Alfredson both thrilled and chilled audiences with "Let the Right One In," a seamless blending of pre-teen alienation, first love, and vampirism. Oskar is a lonely and bullied 12-year-old, whose only friend is the mysterious girl who just moved in next door. She only comes out at night, she doesn't wear shoes in the middle of winter, and she has a strange odor, but she also seems to understand him like no one else does. Alfredson deserves praise for how he revitalizes classic vampire mythos without needlessly "re-imagining" the genre, and his two young leads are great. A worthy companion piece to Philip Ridley's criminally-underseen "The Reflecting Skin," "Let the Right One In" wonderfully portrays the heart that beats behind his characters' bloodletting." – iW's dispatch from Rotterdam
Option #3:
"Milk" (Focus Features)
Director: Gus Van Sant
Screenwriter: Dustin Lance Black
Featuring: Sean Penn, James Franco, Josh Brolin, Emile Hirsch, Diego Luna, Allison Pill
Synopsis:Breaking from Van Sant's recent dalliances with experimental art cinema, "Milk" has the basic structure of a conventional biopic. It begins in 1978, with Harvey recording a tape about his life, to be played in the event of his assassination. The tape becomes a framing device for a narrative that tracks Harvey from his fortieth birthday in 1970 New York City, where he meets his long-term lover Scott Smith (James Franco), through his election to the San Francisco Board of Supervisors and subsequent assassination by fellow Supervisor Dan White (Josh Brolin). Van Sant has always been more of a visual artist and consummate craftsperson than a deep or original thinker, and here he benefits from the screenplay's sturdy structure while still bringing a captivating visual flourish to the material, particularly in a few early, intimate scenes between Franco and Penn. (care of indieWIRE's review)
iW Critic's Poll Rank: #15
Major Awards: Academy Award, BAFTA nominations, New York Film Critics award for best picture; Academy Award, DGA nomination for best director, Gus Van Sant; Academy Award, Screen Actors Guild, Los Angeles Film Critics, New York Film Critics and National Society of Film Critics awards for best actor, Sean Penn; Independent Spirit Award for best supporting actor, James Franco; Academy Award and Screen Actors Guild nominations for best supporting actor, Josh Brolin; Academy Award and Writer's Guild of America awards for best original screenplay, Dustin Lance Black
Festival Plays: none
Box Office Gross: $31,111,155 (US/CAN); $11,837,722 (Foreign)
DVD Extras: Three "making of" documentaries; Deleted scenes
As a politically engaged gay man, I am the beneficiary of Harvey Milk's activism, and I have a clear personal stake in the commercial and critical reception of mainstream queer films like "Milk." So with no small bias, and a corresponding sense of urgency and advocacy, I implore you to see "Milk"—not because it's a perfect film or even a great one, but because it is inspiring and deeply moving, beautiful and sad, searingly personal and boldly political. – indieWIRE's review
Writing "Milk" only reinforced Dustin Lance Black's passion about issues, he explained recently, telling indieWIRE that he has always considered himself political while admitting to becoming obsessed with candidates and issues. Despite the sometimes unseemly side of politics, Black said that he finds opportunity through political action. "Politics is politics and there's always a lot of bullshit around it, but it's also an opportunity to educate people about the issues, which is the really exciting thing. Whether you win or fail, you're always affecting change… I'd like to get a gay marriage initiative in Texas… Will it ever pass? Probably not, but you will start to change minds. It lets you say, 'hey, we're not all creepsters, and maybe even some of your sons and daughters and friends [are gay]…'" – iW's profile of writer Dustin Lance Black.
Option #4:
"Rachel Getting Married" (Sony Pictures Classics)
Director: Jonathan Demme
Screenwriter: Jenny Lumet
Featuring: Anne Hathaway, Rosemarie DeWitt, Debra Winger, Tom Irwin
Synopsis:"Married" takes place over a few days as Rachel (Rosemarie DeWitt) prepares to be wed at her family's Connecticut home. Her sister, Kym (Hathaway) joins in on the celebration, fresh from rehab and bringing with her a history of considerable personal, and inter-personal, conflicts. Drama unfolds, and a remarkably affecting portrait of a complicated American family comes together. (care of an indieWIRE profile)
iW Critic's Poll Rank: #11
Major Awards: Academy Award, BAFTA, Golden Globe, Spirit Award, SAG nominations, Chicago Critics, NBR, Critic's Choice awards for best actress, Anne Hathaway; Toronto Critics, New York Critics awards for best screenplay, Jenny Lumet; Spirit Award nominations for best feature, best director, and best supporting actresses, Debra Winger and Rosemarie DeWitt.
Festival Plays: Venice; Toronto; London
Box Office Gross: $12,685,530 (US/CAN); $2,153,300 (Foreign)
DVD Extras: Deleted Scenes, The Wedding Band, A Look Behind the Scenes, Filmmaker and Cast Commentaries, Cast and Crew Q&A at the Jacob Burns Center
"The film's best scene (both in terms of performance and camera placement) comes after the rehearsal dinner, when Rachel upbraids Kym in front of their father for the bald-faced self-interest and rambling incoherence of Kym's "toast" at dinner. It's the first time we see the roiling anger below the surface of the family erupt, and the one-upmanship between the two girls is strikingly vivid. This is Lumet's most incisive stuff—the just barely concealed resentment, the angling for parental approbation—and if she didn't continue to burden the characters with wild behavior and over-the-top outbursts (a late-film "Mildred Pierce" slapfest between Kym and her mother, played otherwise with an unsettling reserve by Debra Winger, is a particularly risible moment) the film might have functioned better as a mini-portrait of a family trying to move on after a long period of grief." – indieWIRE's review
"Sometimes when you talk about process you sound like a bit of a nutcase," she laughed. "But I had a very specific visual image in my head for weeks of a bride in a bridal chamber admiring herself in a joyful way. [She's] having a private moment. And then her sister bursts in to the room and it creates a new moment and destroys the old one. That was in my head for weeks and it kind of gestated. In all honesty, I started listening really closely to what those two women were saying. They revealed stuff to me."" – iW's profile of writer Jenny Lumet.
Option #5:
"Synecdoche, New York" (Sony Pictures Classics)
Director/Screenwriter: Charlie Kaufman
Featuring: Philip Seymour Hoffman, Samantha Morton, Michelle Williams, Catherine Keener, Emily Watson, Dianne Wiest, Jennifer Jason Leigh, Hope Davis
Synopsis: Staring into the abyss through a kaleidoscope, Charlie Kaufman's "Synecdoche, New York" sees ecstatic, innumerable facets in the depths. Another of Kaufman's Alice in Wonderland narratives, his first directorial effort is more gnarled and coiled than his scripts for Spike Jonze ("Being John Malkovich," "Adaptation") and Michel Gondry ("Human Nature," "Eternal Sunshine of the Spotless Mind"), yet also more emotionally direct. Impossible to fully grasp on first pass, the film nevertheless has a rigorous—and perversely funny—through-line of extreme anxiety and sorrow. "I won't accept anything but the brutal truth," says his protagonist, theater director Caden Cotard (Philip Seymour Hoffman). "Brutal, brutal," he repeats, hammering home the cliched, self-conscious overstatement, but he means it every time. (care of indieWIRE's review)
iW Critic's Poll Rank: #9
Major Awards: Gotham Award, Spirit Award for best cast; Spirit Award for best first feature; Chicago Critics Award nomination for best screenplay; Spirit Award nomination for best screenplay
Festival Plays: Cannes; Toronto; Sarajevo; Athens
Box Office Gross: $3,072,434 (US/CAN); $46,448 (Foreign)
DVD Extras: Making-of featurettes and a Script Factory Masterclass with Charlie Kaufman.
"To describe any of the performances in "Synecdoche, New York" as deadpan presumes comedic intent that may exist on the page—and in effect—but every line is delivered sincerely, and every scene plays out as life or death. As director, Kaufman doesn't have the whimsical or ironic touch of Gondry or Jonze, making "Synecdoche, New York" a much heavier affair. Wherever they stand in the funhouse, regardless of absurd dress or situation, Kaufman's actors sell the truth of each particular moment. As a result, and seemingly against all reason, "Synecdoche, New York" has a crashing emotional power. Masked in age-enhancing latex, awkwardly enjoining themselves beneath the sheets and coughing away smoke as the surrounding house burns down, Hoffman and Morton exchange vows of love and regret, and somehow it's the saddest, loveliest thing I've seen all year." – indieWIRE's review)
"I often have a theme in mind when I'm starting. I know that I want everytihing to be in a world of, say, evolution, or guilt. But also I do a lot of things intuitively. I'm not often consciously aware of what I'm doing. It's like in a dream: There's something going on that's powerful but you don't know exactly why. As I'm writing, though, I start to see connections, and themes I didn't see, and that sparks other things. So then I go back and rewrite things or alter them. It's a combination of intuition and a lot of finessing. It becomes a combination of the rational and the irrational. I always go in circles. I have OCD to a certain extent, so I tend to do a lot of circular thinking. I think I do have OCD a bit."" – iW's interview with Kaufman.
Sign Up: Stay on top of the latest breaking film and TV news! Sign up for our Email Newsletters here.