On a superficial level, the AFI Dallas Film Festival looks like another victim of the troubled economy. Scaled down to the extreme, its third year had noticeably slighter ambitions. Twenty-five Lexis vehicles shuttled festival guests around last year; this time, attendees without cars of their own were forced to rely on a mere eight Audis. Only two theaters – the Magnolia and the AMC Northpark 15 – provided regular screening venues, whereas the earlier incarnations also screened films at the Angelika. Meanwhile, the previously ubiquitous Target symbol no longer adorned every part of the festival grounds, marking the departure of one less major sponsor (although the company still hosted the festival's main competitions). The festival's content also shrank: There were 260 features in the 2008 program, while the recent festival had a mere 177.
In this case, however, context makes a huge difference: Eight cars and a shuttle service generally satisfied this festival guest's major transportation needs; fewer theaters made it easier to watch more movies in succession; strong sponsorship from companies such as American Airlines and Bank of America remained in check alongside individual support from private donor Ruth O'Donnell Mutch and 166 community sponsors. Finally, the smaller program left a positive impression, since 260 features yielded a somewhat unwieldy lineup, but 181 at least brought the density down a few significant notches.
The festival organizers noted a substantial increase in ticket sales during the first half of the festival, with curious local audiences packing theaters for both adventurous fare such as David Lowery's "St. Nick" and conventional features like the upcoming Sony Pictures Classics release "Rudo y Cursi." That both movies received equal attendance testifies to the broad interests of Dallas audiences, a group guided not by art house or populist proclivities, but rather a case-by-case mentality.
Despite a hefty component of features from Sundance and other major festivals, AFI Dallas hosted a handful of premieres, several of which offered the thrill of discovery. Despite Dallas's reputation as a predominantly conservative town, the festival crowd generally tend to accept movies on their own terms – an important criteria for many of the noteworthy premieres in the recently completed program. These movies might not fit the industry protocol for sizable festivals with Sundance-level prestige, but they still play tremendously well for audiences given the chances to see them. Given its relatively strong local support, AFI Dallas can help push new work into the spotlight, even if it only lingers there for a fleeting moment. While I wasn't too keen on the narrative premieres (perhaps an aspect of the festival that could use some improvement), several new documentaries left distinct impressions.
"Americana," Topaz Adizes's fantastic portrait of two Californian high school students named Tim and Anthony preparing to enter boot camp, deserves that spotlight. Like the interpersonal SXSW soldier documentary "Severe Clear," it breaks free of the "Iraq war movie" stigma to focus on the humanity of young people driven to enlist. However, Adizes (whose short film "Trece Anos" played Sundance in January) goes one step further by smoothly navigating various international dialogues in a series of bold interstitial digressions. His camera takes us to European countries where traveling Americans engage in widespread interactions with their foreign counterparts about America's role on the global stage and whether it reflects the behavior of individual citizens.
Adizes's immersive structure forces audiences to contemplate Tim and Anthony's involuntary contribution to outside perception of the United States. Do these boys symbolize rebellion or conformist traditions? Are they slaves to ideology or valiant daredevils? Naturally, the ultimate verdict falls into no single category; the filmmaker avoids single-minded conclusiveness in favor of assembling a diverse collection of societal perceptions, almost none of which directly relate to this specific moment in history. As a result, "Americana" is timeless — and a gorgeous cinematic accomplishment, to boot. Expressively shot with light-and-shadow schemes that often appear to reflect the contemplative mood, "Americana" almost feels like a scripted feature. That might explain why it failed to gain a spot at Sundance or a few other noteworthy festivals located earlier on the calendar: Adizes's documentary technique bucks traditional expectations of the form.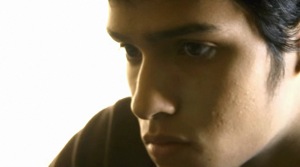 Many of the conversations that take place abroad were arranged ahead of time so that the subjects would engage in provocative discussion. Adizes frequently uses two camera setups, allowing him to edit scenes that almost seem a little too clean. A tense exchange about genocide that takes place between a hostile Serbian and a clueless American traveler offers up the kind of strikingly thrilling power play only a seasoned screenwriter would dream up. Adizes insists the moment was real, but I could care less if it's conventionally "real" or not: It doesn't matter if he contributed to establishing the conditions for the scene, because the ideas that come out of it retain a heightened level of authenticity. These moments reverberate throughout "Americana." It's quite possibly the best exploration of national identity since Edward Morin and Jean Rouch documented French working class frustrations in "Chronicle of a Summer."
Where "Americana" gives us the essence of modern American woes, "One Nation" explores the path that brought us here. A first-rate media collage tracking the series of iconic events that took place in 1968, the movie provides an introductory course to twentieth century American counterculture. The faces and sounds of Hendrix, Cronkite, Robert Kennedy and Martin Luther King, Jr. come and go as fast as Dallas directors Justin Wilson, Tony Wann and Jack Waldrip can splice them together, but that's not to say their editing finesse has no rhyme or reason. "One Nation" (part of the "Texas Competition" section) explores the tempestuous year in question a month at a time, giving the sense of a true journey through the rise of the baby boomers.
Recalling Brian Rafferty's "The Atomic Cafe," "One Nation" shows the way events, people and places develop new meanings over time so that merely curating footage from an era makes it possible to editorialize about it. Unfortunately, unlike "The Atomic Cafe," the filmmakers apparently don't have the rights to any of the material, which means getting it out to a larger audience will prove tricky — and potentially illegal. (I hear the Internet can be useful in these cases.)
Another local project that benefited from the boost of festival attention, "Torey's Distraction" surveys the experiences of a young girl born with Apert Syndrome, a genetic condition that distorts the skull and results in a misshapen face. Director Tisha Blood screened a work-in-progress cut, and the movie remains a bit rough around the edges. However, its central hook remains fluidly engaging, even when the story becomes tough to watch. Blood followed Torey Harrah and her supportive parents over the course of ten years and many risky surgeries, revealing the remarkable amount of devotion required for those coping with the condition. Blood broadens her study by showing us other children suffering from Apert Syndrome, so it's clear that the movie will become a landmark achievement within certain medical circles. The Dallas premiere revealed the legacy of the movie's production. Producer Melissa McKinnon helped shepherd the film to completion; her husband, Michael Cain, serves as CEO and Artistic Director of the festival. Hence, "Torey's Distraction" is not only a reflection of the AFI Dallas community, but a product of it.
2009 AFI Dallas winners
Jury Awards:
Target Narrative Feature: "Gigantic," directed by Matt Aselton (USA)
Cast: Zooey Deschanel, Paul Dano, John Goodman
Special Jury Prize: "Against the Current," directed by Peter Callahan (USA)
Cast: Joseph Fiennes, Justin Kirk, Elizabeth Reaser
Target Documentary Feature: "Prom Night in Mississippi," directed by Paul Saltzman (USA)
Special Jury Prize: "Suddenly Last Winter," directed by Gustav Hofer and Luca Ragazzi (Italy)
Current Energy Filmmaker Award: "Crude," directed by Joe Berlinger (USA)
MPS Studios Texas Filmmaker Award: "St. Nick," directed by David Lowery (USA)
Short: "Princess Margaret BLVD.," directed by Kazik Radwanski (Canada)
Honorable Mention: "Oil Change," directed by Todd Luoto
Honorable Mention: "Next Floor," directed by Denis Villeneuve
Student Short: "Hug," directed by Khary Jones (USA)
Animated Short: "Chicken Cowboy," directed by Stephen Neary (USA)
Audience Awards:
Narrative: "Skin," directed by Anthony Fabian (UK/South Africa)
Cast: Sophie Okonedo, Sam Neill, Alice Krige
Documentary: "Rock Prophecies," directed by John Chester (USA)
Short: "Lucy: A Period Piece," directed by Julie Sagalowsky (USA)
Sign Up: Stay on top of the latest breaking film and TV news! Sign up for our Email Newsletters here.