As documentary filmmakers hone their pitches to industry delegates at the Toronto Documentary Forum, attempting to attract funding and interest in their projects by finding the perfect hook, they would do well to look at a number of films screening at Hot Docs, which continues through this weekend – they share the best kind of hooks: indelible, well-chosen subjects and, usually implicitly, the complicated and delicate relationship their directors have with them.
Many of the festival's offerings focus on subjects who are often marginalized by society to a greater or lesser extent – ranging from those who are true outsiders due to physical, racial, cultural, or economic differences to those who are simply quirky or a little "off."
Among the former, one of the best is Rosie Dransfeld's verite world premiere, "Broke.," which uses the day to day dealings of a pawnshop to explore the realities of life for the poor, hungry, and addicted. While the curmudgeonly store's owner is the film's central figure, his interactions with all manners of down-on-their-luck regular customers are the core of the film and provide it with its humor and poignancy.
Also employing humor effectively to expose a very serious subject is "The Red Chapel," another world premiere, in which director Mads Bruegger brings two (South) Korean-Danish comedians to North Korea under the pretense of presenting a performance sympathetic to dictator Kim Jong-Il's regime. Key to the film is Bruegger's relationship with one of the comedians, Jacob, a self-described "spastic" with speech and physical handicaps. Jacob finds himself questioning the deceit implicit in their visit to North Korea, even as he notes both the way their hosts infantilize him and the disturbing absence of any other persons with disabilities in the country.
Lucy Bailey and Andrew Thompson's world premiere, "Mugabe and the White African," tackles another government and its repressive policies, by focusing on the legal struggle of a white Zimbabwean farmer and his family to keep his land in the face of President Robert Mugabe's corrupt and racist land reform policy. Exploring the question of what it means to be part of the white minority in an African country, the directors risk their own safety by secretly filming incidents of violence intended to intimidate whites off of their land.
The habitual criminal subject of director Helena Trestikova's "Rene" faces the legal system regularly over the 20 years the project was filmed. Following him in and out of prison, and encouraging his efforts to become a writer, Trestikova explicitly explores the documentary filmmaker/subject relationship, crafting an incredibly intimate portrait of a self-described "useless parasite on humanity" who is revealed to be far more complex.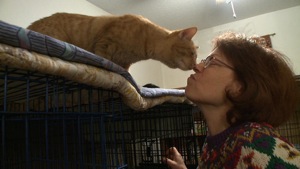 "Diary of a Times Square Thief," making its international premiere, also focuses on subjects operating on the seedy side of society. Acquiring a would-be writer's journal describing the dangerous world of 1980s New York City, director Klaas Bense seeks out its various characters, including addicts, former prostitutes, and the journal's author, to discover what has happened to these forgotten people.
Among the quirkier subjects, which may not deal with quite so heady topics, but nevertheless focus on people located somewhere on the fringes of "normal" society, two world premieres deal with feline lovers: Camilla Calamandrei's "The Tiger Next Door" and Christie Callan-Jones' "Cat Ladies." "Tiger" presents the layered story of a big cat collector who must find homes for the tigers and cougars he keeps on his property after he is cited with violations and concerns from neighbors. Presented as both a potential victim and victimizer, he makes for a fascinating, ambivalent subject, as do the four women featured in "Cat Ladies." Ranging from owners of three to over a hundred cats, Callan-Jones considers the stereotype of the "crazy cat lady" and what led them to their present circumstances and emotional investment in having cats, and in some cases, "rescuing" them off the streets.
Far from sensationalizing or trivializing their subjects, these films, and others featured in Hot Docs, instead expertly and sensitively remind us of the collaborative nature of the craft of non-fiction film – employing their subjects' participation to spotlight stories that would otherwise not be told, or not told nearly quite so well.
[Basil Tsiokos is Programming Associate, Documentary Features for the Sundance Film Festival.]
Check out indieWIRE's New Guide to Film Festivals (listings will be updated throughout the year):
JAN | FEB | MAR | APR | MAY | JUN | JUL | AUG | SEP | OCT | NOV | DEC
Sign Up: Stay on top of the latest breaking film and TV news! Sign up for our Email Newsletters here.