If the CineVegas Film Festival opened a mere two weeks earlier, one could imagine the opening night slot going to Warner Bros' newly released comedy "The Hangover." As the summer's first big hit, its tremendous eruption of popularity suggests that Vegas's party vibe lies squarely within the collective imagination of the moviegoing public. Alas, the timing didn't quite work out, and the festival opened with "Saint John of Las Vegas," a thoroughly mediocre Steve Buscemi vehicle that nevertheless contains all the requisite environmental details (particularly gambling and strippers). At the end of the day, "Saint John" did the job of setting the scene so the festival could redirect attention from the obvious local characteristics to more audacious aspects of the program. Besides, if anyone wanted to see "The Hangover," it was playing in the same theater at Palms Casino Resort where the majority of the festival unspooled. For most CineVegas audiences, however, "The Hangover" could wait.
Simultaneously bawdy and slyly motivated by artistic inspiration, CineVegas remains one of the most distinctive annual showcases of independent film in the country. With a program that's often intentionally outlandish and experimental — and sometimes ending up that way simply by nature of the off-kilter Vegas sensibility — it provides a safe haven for underground cinema that usually doesn't jive with the interests of Sundance or its big league ilk. CineVegas discovered its groove a few years back, but the recently concluded eleventh gathering illustrated precisely the kind of cinematic freedom the festival aims to single out.
Rather than invent a new perspective on underground filmmaking, CineVegas managed to connect its risky content to a larger history by giving its Vanguard Director Awards to George and Mike Kuchar. Few filmmakers have remained as consistently self-sufficient as the Kuchar brothers, whose wide-ranging features include George's 1966 narrative "Hold Me When I'm Naked" and Mike's landmark accomplishment in sci-fi extremes from the same year, "Sins of the Fleshapoids." The full history of their aesthetic evolution can be found in Jennifer Kroot's well-crafted documentary "It Came From Kuchar," which screened in the Pioneer Documentaries category, and the festival even included a program of the brothers' recently produced shorts on Sunday night. Accepting his award earlier in the evening, Mike Kuchar addressed his unique career trajectory. "Thank you for appreciating what I do," he said, "because I can't help it."
Many filmmakers at this year's CineVegas could probably relate to that sentiment. "Stingray Sam," a hilarious, strangely affecting and delightfully odd 67-minute miniseries about the exploits of a charismatic interstellar gunslinger from "The American Astronaut" director Cory McAbee, contains the diverse entertainment of an old school vaudeville show. McAbee, as the eponymous hero, croons his way through a number of catchy tunes while spinning an almost coherent space odyssey in the vein of Douglas Adams. Although "Stingray Sam" premiered last January at Sundance, it was somewhat overlooked in the festival's Spectrum section. At CineVegas, however, McAbee's endearing moving picture show found an accepting crowd.
With its dogged avoidance of mainstream storytelling, "Stingray Sam" had plenty of company in other parts of the program. CineVegas's Area 52 section, deemed by the festival as "an underground collection of cult and midnight movies for the most hardcore fans," offered a number of wacky options for audiences willing to accept them. Alex Ross Perry's "IMPOLEX" follows a World War II-era soldier wandering around the forest with a German rocket while idly engaging with unlikely characters ranging from a tree-hugging octopus to the soldier's former flame. Though visually redundant, Perry's directorial debut relentlessly believes in its far-out premise to the point where some viewers can accept the movie on its own inexplicable terms. The real crowd-pleasing success of the section, however, belongs to Frankie Latina's "Modus Operandi," a mondo B-movie that holds nothing back, including absolute nonsensical mayhem. Revolving around some kind of CIA mission gone wrong, the uber-violent feature — shot with Super 8 film, which Latina identified in a Q&A as the format "they shot the Kennedy assassination with" — barrels forward with ongoing faith in its obscene thrills. Hyperbolic nudity and gore abound: The climax involves Danny Trejo marrying a stick of dynamite to an empty eye socket. Coming soon to not a single conventional movie theater near you, "Modus Operandi" is a movie utterly content with its own insanity.
You could also apply that description to "Thor at the Bus Stop," a lo-fi but structurally fascinating ensemble piece in the Nevada Filmmaking section directed by Mike and Jerry Thompson. Although sloppy in parts, this busy narrative at times feels like "Slackers" reimagined as an absurdist fairy tale. Aimlessly drifting from one character to another, the movie exists in a bizarro world with its own internal logic and tracks a host of maniacal personalities. These include a frustrated guy impaled on a traffic sign, a thuggish fellow named "White Trash Chuck" intent on rescuing his sister's pilfered lunch box, and, of course, a certain Norse god reliant on the local transit system. Unique in its design and occasionally sloppy in its execution, "Thor at the Bus Stop" deserves to be seen as a welcome subversion of the oft-overdone ensemble epic. "Crash" haters will find solace in the Thompsons' avoidance of a unifying theory to connect pull it all together.
As in previous years, the festival's Jackpot Premieres were a mixed bag, but that's the gamble of any good festival program. Highlights include the top winner of the section, Kyle Patrick Alvarez's "Easier with Practice," the low key story of a socially awkward writer (Brian Geraghty) who becomes drawn into a phone sex relationship after receiving a mysterious late night call during the course of his book tour. The whole conceit hinges on Geraghty's restrained performance as a sympathetic persona responsible for digging his own grave of personal ineptitude. Plot-wise, the movie veers from gentle character study to thriller and back again, with a knack for capturing its main character's solitude in a string of quiet scenes.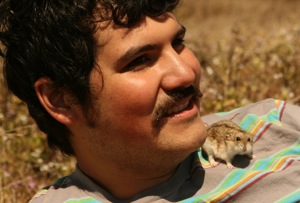 With similar grace, the utterly gorgeous family drama "Redland," a Terrence Malick-like portrait of isolated life in the time of the Great Depression in rural America, relies on poetic stillness to convey its intrinsic humanity. First-time writer-director Asiel Norton's use of Panavision cameras and special lenses create the look and feel of something dreary and ancient, an accomplishment that overcomes the trim nature of the plot. For most audiences, the movie with the strongest narrative content was "Etienne!", which follows a solemn young man as he takes his hamster on a road trip before it dies. Occasionally distended and overreaching in its bittersweetness, the movie still retains a certain charm that bodes well for the future of nascent director Jeff Mizushima.
Despite the name of the section, nothing in the Jackpot Premieres was truly a "Vegas movie," at least not like the true darling of the festival, "All In – The Poker Movie." The name speaks for itself, but Douglas Tirola's competent survey of poker's renaissance in American culture definitely offers enough intriguing factual tidbits to entertain poker veterans and newcomers alike. Attributing the resurgence of interest to "Rounders," the advent of the Internet and the rise of Chris Moneymaker — poker's Horatio Alger story — Tirola thoroughly explains how we got to this point in the game's popularity. Anyone watching the movie this past week later walked out of the theater and into the center of a casino, allowing the subject of the movie to appropriately sink in. Now there's a Vegas experience with a little more value to it than "The Hangover."
As it turned out, Warner Bros actually brought a far better Vegas experience than "The Hangover" could possibly provide: A special screening of Hal Ashby's "Lookin' to Get Out," the countercultural filmmaker's 1983 gambling dramedy that never received the acclaim it deserved, since the released version screwed up the filmmaker's original creative intentions (the director's cut hits DVD at the end of the month). Nick Dawson, a writer and editor for Filmmaker Magazine, recently unearthed Ashby's original cut and explores its content in his newly released tome, "Being Hal Ashby: Life of a Hollywood Rebel." The book bears the stamp of approval from "Lookin' to Get Out" star Jon Voight, the recipient of this year's Marquee Award. Voight came to Palms on Sunday for a post-screening discussion about the movie with Dawson and Ashby's daughter, Leigh McManus, then showed up at the awards ceremony to put Ashby's career in the proper context. "Hal was the maverick in Hollywood that everyone wanted to work with," he said.
Pausing for dramatic effect, the actor looked around the room, where filmmakers young and old — few of whom seemed poised to take a populist route with their careers — stared back at him. Finally, he reached a pertinent conclusion about his late colleague: "He would've been comfortable with all of you."
Previous coveage of CineVegas: Winners | Filmmaker Interviews | Weekend Dispatch | Chatting with Dennis Hopper | Lineup
Sign Up: Stay on top of the latest breaking film and TV news! Sign up for our Email Newsletters here.