Japanese director Hirokazu Kore-eda returned to U.S. theaters over the weekend with his subtle "Still Walking," which won praises from critics, including the New York Times, which deemed the feature "a quiet, stirring film," while indieWIRE gave near universal praise save for an "unsatisfying ending." While the film did a decent $10,000 per screen average in its initial roll out, and Kore-eda has screened in the States before with mostly well received titles, "After Life" and "Maborosi," the understated filmmaker still remains something of an unfamiliar personality outside of his core fans, but he has had a respectable presence here, ever since he opened "Maborosi" in 1996.
"I am ecstatic about the American release," Kore-eda told indieWIRE nearly 13 years ago. "I look forward to hearing how the audience there receives my film. I love Samurai films, Yakuza films and animation, but it would be nice if people there realized through my film that that's not all that's being made in Japan."
And that is certainly the case with "Still Walking." The film, which premiered nearly one year ago at the Toronto International Film Festival, is a well-tuned look at underlying family dysfunction. Forty year-old Ryota returns to his parents home after a long absence with his wife and his step-son, confronting his respected father who dishes out disapproval liberally. Ryota also has a secret – he's unemployed, something that is a source of shame in Japan, which has historically enjoyed lifetime employment through most of its post-war history.
Ryota's mother, meanwhile, maintains the decorum of the house, preparing food for her now grown children and grandchildren, while subtley churning out disapproval with kindness. The unseen giant in the home is their deceased ledest son, Junpei, who died in a terrible accident fifteen years earlier. The patriarchal father compares Ryota to the idealized memory of this older brother, and the mother welcomes her dead son's best friend to their home, heaping hospitality and kindness on him, though she secretly blames him for his death. She even bows down to the floor as he exits in a mock deference of respectfulness, and then reveals she only does so to make him feel guilty. For Kore-eda, the story churns through the slight of hand gestures and double entrendre-laced conversations.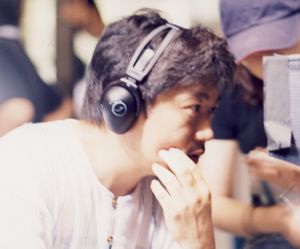 "When making documentaries, the most important thing I learned was to listen, observe gestures and facial expressions," Kore-eda told indieWIRE, referencing his past doc work such as "Without Memory" (1996). "It is important to watch facial expressions and see gestures in people's ears and eyes. When I watch an actress say a line, I watch how they deliver the lines with gestures."
Continuing, Kore-eda adds, "The situation in this film is itself fictional, but half of the mother's lines came from my own mother. The story-line here isn't from my life experiences directly, but it is nevertheless peppered with my past experiences."
What may be surprising to American audiences – and fellow filmmakers – is that Kore-eda typically does not work with detailed scripts, though "Still Walking" was a relative departure to his typically loosely scripted approach to filmmaking.
"I made a film called 'Distance' (2001) that was very experimental. The actors had to improvise on the spot, but it was a bit of a handicap because I felt the actors were considering what I wanted from them, so I had duplicates of me running around the set – which wasn't what I wanted. There's a difference between people being free and the atmosphere of 'freedom.' So with 'Still Walking,' I said there would be no improvisation. When we weren't shooting, I'd work with the actors and listen to their delivery. When I heard their voices their words would sometimes seem unnatural, so we'd change things, so there was a different kind of improvisation – a collaboration with the actors and me the director."
While familial conflict and sibling rivalry are universal connections that cross cultural boundaries, the Japanese approach to death may be a bit surprising to American audiences. Every August, Japan celebrates "Obon," a week-long holiday in which it is believed that deceased ancestors return home. Their presence in the home is enshrined with small altars, which are adorned with the favorite food and beverages enjoyed by the relative when alive. Though the family gathering in "Still Walking" takes place after Obon, the mother is convinced Junpei is present in the home when a small butterfly makes its way into the kitchen.
"The attitude toward the dead is different between Japan [and America]," observed Kore-eda. "The distance between the living and the dead is contracted. Japanese feel an intimacy with the dead, at least for people up to my generation."
While "Still Walking" will open this coming weekend in Los Angeles, Chicago and Washington, D.C., Kore-eda's most recent project, "Air Doll," will have its North American debut soon after in the upcoming Toronto International Film Festival. The film, which had its world premiere in Cannes, is a 180 degree turn from "Still Walking." "Doll" is a story about a blow-up doll that becomes a real person and abandons her status of simply a sex object. "This film is very different," Kore-eda said directly. "I think some people will be surprised."
Sign Up: Stay on top of the latest breaking film and TV news! Sign up for our Email Newsletters here.