Today, for the first time, a feature film is being released on USB. Ron Mann's "Know Your Mushrooms," a doc investigating the near-secret world of fungi that premiered at SXSW earlier this year, is being released on a 4-gigabyte re-usable USB flash drive. What's more, the USB key comes in the form of a little fungi, and is included in a "hand-crafted" wooden box with an actual Alaska morel mushroom, hand picked by the film's star, "fungi-master" Larry Evans. Mann – a celebrated documentarian known for films like 1982's "Poetry In Motion," 1992's "Twist" and 2000's "Grass" – talked to indieWIRE about his decision to take a different route with "Mushrooms" home-viewing release.
"In the early 90s I was a CD-ROM author at Voyager where I repurposed many of my films for that format," Mann told indieWIRE. "'Poetry in Motion' – a film I made about contemporary American poets – was actually one of the first films to be digitized on Quicktime. Back then Quicktime ran at 10 frames per second – ha! One thing that I learned at Voyager, was that technology never stops and one format led to another – laser disc to CD-ROM to DVD. And the other thing is that if you wait long enough the price drops."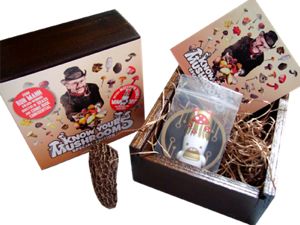 When Mann was SXSW, he passed by the Mimobot booth, where they were selling customized USB flash drives. "One of the drives was a mushroom and I thought wouldn't it be perfect to release the mushroom film on a mushroom drive," he said. "The 4 gig drive would allow me to fit an almost HD quality file size."
This marks the first time that a film is being released on a USB flash drive. "A year ago, a UK company released Ivan Reitman's film 'Ghostbusters' on a USB flash drive however that locked file streamed to a computer," Mann explained. "The 'Know Your Mushrooms' file is unlocked and maybe played or uploaded to any device. The concern over an unlocked file for the film industry is unauthorized file sharing, but come on, you can just as easily rip DVDs and file share right now. And as an indie filmmaker, I want people to file share my films instead of 'GI Joe: Rise of the Cobra.'"
Will this file sharing effect sales? "All I know is I'm almost sold out of our initial run of 500 units and I'm ordering more," Mann said. "Given the interest, I'm going to release next my film 'Grass' on a USB drive in the shape of a marijuana joint."
"Mushroom"'s collector's box is on sale today, and is available online at filmswelike.com, in specialty stores, and on Amazon through Warner Music Canada. As Mann, noted, it's almost sold out, though it will have a "traditional" DVD release on September 15th.
Sign Up: Stay on top of the latest breaking film and TV news! Sign up for our Email Newsletters here.