Back when the IFP celebrated its 20th anniversary, the Independent Feature Film Market (now called Independent Film Week) had reached a sort of zenith after a decade of growing importance. In fact, in the late 90s, films from off Hollywood — just outside the studio system — were frequently being hailed by critics and the Academy alike. Meanwhile, indie filmmakers were banging down the doors to get their work into the annual fall Market (and paying a premium price for the privilege), hoping that the IFP would be their gateway to the expanding, studio-backed specialty film world. After all, that path had worked for Kevin Smith and "Clerks," who was inspired by Richard Linklater and "Slacker." Both used the IFFM as a stepping-stone into festivals, and ultimately distribution. The dream of being the next overnight success on the order of Kevin Smith was a myth that still seemed possible in the mid-90s. Make your movie and wait for Harvey Weinstein to discover you at Sundance. Next stop Oscar night.
Along the way, in the 90s things seemed to get better and better (new specialty divisions were formed by each Hollywood studio) before they actually got much worse in this decade (many Indiewood companies eventually shut down). Unlike some of their less fortunate cousins (AIVF, Film Arts Foundation), the Independent Feature Project and its annual market survived. But, not without adapting dramatically over the past decade. Facing changing needs of filmmakers and industry alike, organizers effectively killed the market event in favor of developing networking outlets and initiatives to more directly support fewer films each year. And now in its 31st year, the IFP is a different sort of organization with an entirely different annual market event (that kicks off tomorrow in New York City).
Back in the '90s at the IFFM — in a troubling game of cat and mouse — bearers of the color-coded buyers badges would hide their lanyards while navigating the circus atmosphere on the sidewalk outside the event. As the buyers pushed past the filmmakers — some of whom were wearing costumes or holding signs to attract attention — postcards would be shoved into their hands. The acquisitions execs from the studio specialty divisions — October Films, Miramax, Fine Line Features — hoped to slip into the Angelika Film Center in downtown New York unnoticed for fear of being bombarded by the masses that were trying to lure attendees to one of the many concurrent screenings offering clips from an unseen independent feature film seeking a dream deal. Very few tangible pacts were struck in those days, with much of the action coming from programmers who would pursue projects for their film festivals. The buyers were there just in case.
John Pierson, who literally and figuratively wrote the book on '80s and '90s American indie filmmaking, shepherded Richard Linklater and Kevin Smith out of the IFP and IFFM, but later damned the event as a dumping ground. Ten years ago it was filled with hundreds of finished feature films, many made by filmmakers who maxed out their credit cards or borrowed money from family and friends. Most of those movies never saw the light of day past a twenty minute screening at the Angelika. But some did.
Pierson's 1995 book "Spike, Mike, Slackers & Dykes" follows the lives of some of the films that did make it, but this off balance ratio of success and failure couldn't have been what the IFP founders had in mind when they created the organization and the market event.
The Beginning
At the very moment in the 1970s that the modern tentpole Hollywood blockbuster was born with the releases of Steven Spielberg's "Jaws" and George Lucas' "Star Wars," American independents sought to foster a community, lure an audience, and hopefully create a business for films made outside the dominant studio system of that time. In short, independents were talking about how to start an American independent film movement.
In the shadow of Robert Shaye finding success releasing edgy genre films by John Waters at independent New Line Cinema and John Cassavetes taking "A Woman Under The Influence" out to theaters in the '70s, the Independent Feature Film Market and its parent organization, the Independent Feature Project (IFP), were formed. They grew out of a moment when international art films were hailed by film festivals and embraced by critics, and maverick directors such as Martin Scorsese, Robert Altman, and Francis Ford Coppola were adopted by the Hollywood studios. Yet, a group of American independent filmmakers, rooted in '60s activism and telling stories by and about people often on the margins of society, felt like they were left on the outside looking in.
In the mid-70s, Jeff Lipsky, who would later found October Films with Bingham Ray, ushered Cassavetes' "Woman" to theaters and later did the same for Ray and Joan Silver's "Hester Street," while documentary directors Babara Kopple ("Harlan County U.S.A."), Peter Adair ("Word is Out"), and Julia Reichert ("Unions Maids") also employed D.I.Y. strategies. In the wake of these DIY marketing initiatives, and inspired by the film production collectives Cine Manifest and Focal Point Films, Sandra Schulberg became the catalyst for filmmakers who wanted their films seen by paying audiences in movie theaters, rather than museums. "We wanted to offer an alternative to the studio films in the same theaters where Hollywood movies were shown. Essentially, we plotted an invasion," Schulberg explained, and that required a precise strategy.
They felt locked out, so the filmmakers strategically developed a plan to support their grassroots goals. Building the movement from the ground up, the filmmakers sought to engage the press as a way to build audience interest and create a demand for their work, and they worked directly with theater owner, bypassing independent distributors who were mainly interested in foreign films at the time. They also forged business bonds with international buyers who acquired their work at the newly established IFP market event, which has long been held in September.
"We approached it like a community organizing effort," Schulberg said, noting that their targeted efforts in specific regions of the country ushered in a crop of promoters and reps who would continue to work in the new American independent film community for years, including Jeff Dowd and Janet Cole.
"These movies we were making were part of a struggle," explained Warrington Hudlin, a film producer and concurrent founder of the Black Filmmakers Foundation, who, along with others joined Schulberg at the start of this new independent movement.
Reluctantly, the venerable New York Film Festival paved the way. The event, which opens typically in late September, brought the French New Wave, Italian Neo-realism and New German Cinema to discerning Manhattan audiences, and gave credibility to a small crop of new American independents in a 1979 festival sidebar at Lincoln Center, including Robert Young's "Alambrista," Richard Pearce's "Heartland," Haile Gerima's "Bush Mama," Mark Rappaport's "The Scenic Route," John Hanson & Rob Nilssons's "Northern Lights," and Victor Nunez' "Gal Young 'Un." Outside of that sidebar, Schulberg booked an alternate venue to screen more films, including work by Andy Davis, Jan Egleson, Eagle Pennell, as well as Martha Coolidge's "Not A Pretty Picture" and Hudlin's "Street Corner Stories."
"We as a group felt that we were telling stories that were never going to be told by the studios," Hudlin explained. "Yet we were convinced that there was an audience for these films."
"The films in this special program are part of a growing independent American film movement, linked together not by any single artistic or political point of view, but by a common insistence on the freedom to explore a wider range of feelings and ideas than is normally possible in the commercial film industry," Schulberg and Miles Mogulescu of The Film Fund wrote in program notes to 1979 New York Film Festival attendees. "If there is a common thread running through them it is a commitment to an American cinema that mirrors the diversity of American society, that is entertaining while being provocative, that combines technical quality with an awareness of the issues of the day, that comes from the land and the stories of its people rather than from a dream factory."
Notable Narratives
In the early '80s, the independent films of the moment were coming out of New York and many were getting their start at the IFFM. The Market was a proving ground for a number of notable American indies. In 1980 is was Louis Malle's "My Dinner with Andre," while years later, Joel and Ethan Coen emerged with their acclaimed first feature "Blood Simple" and in 1986, Jim Jarmusch scored with his early feature, "Down by Law."
Particularly noteworthy in the history of the event was its intersection with foreign sales agent turned filmmaker Whit Stillman. In a conversation, he recalled the early '80s Market screenings at the Plaza Hotel as an "elegant affair." Working as a seller for Spanish films, Stillman hung out at the event hoping to poach buyers from the Market. He later brought Fernando Colomo's "Skyline" to the Market and found success shepherding the movie to the New Directors, New Films series and scoring a stellar New York Times review.
But, it was a few years later that Stillman found personal success at the IFFM. His acclaimed New York indie, "Metropolitan" wasn't an immediate hit with buyers at the event, but a PBS scout liked the movie and the director scored a deal with Lindsay Law's American Playhouse, allowing him the funds to get his film out of DuArt and take it to a festival. He subsequently carved a path to success via Ira Deutchman and New Line, eventually inspiring the launch of venerable '90s specialty division Fine Line Features (which ultimately morphed into the late Picturehouse).
— continued on the next page —
Narrative hits out of the market were infrequent as the '90s continued, but the ones that did make it were notable. Todd Haynes' "Poison," and Todd Solondz' "Welcome to the Dollhouse," and Ed Burns' "The Brothers McMullen" were among the projects boosted into festivals, and then distribution, with the support of the IFFM, making the event more and more coveted among a new generation of aspiring American indie filmmakers.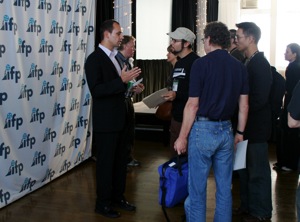 There would be other narrative successes nurtured at the IFFM and eventually plucked for distribution, but not before the event would be forced to change dramatically. In 2002, reacting to the lack of deals for new dramatic work, the IFP discontinued its focus on completed narrative features, emphasizing the nurturing of new talent and works-in-progress. Recent films that have found success and mainstream attention include "Maria Full of Grace" in 2004 and recently Ryan Fleck's "Half Nelson" followed by Courtney Hunt's "Frozen River."
Doc Days Dominate
It is the IFP's strong track record in non-fiction work that has truly distinguished the Market event. Even in the early days, documentaries were a strong suit of the IFFM, particularly as the 1980s became the '90s. In 1989, it was Michael Moore with "Roger & Me," shepherded by successful rep John Pierson. The director's look at GM boss Roger Moore went on to major mainstream success and launched his career, while two years later Jenni Livingston's look at Harlem drag balls, "Paris Is Burning" made its own mark. After a successful indie run at downtown Film Forum, it was acquired by Miramax and released successfully.
The career of documentary filmmaker Doug Block spans the decades of the IFFM. In 1987 he was there with his first film, "The Heck With Hollywood," so he has a long view on the event. "I think one of the great and unheralded things about the IFP, and why they're the essential organization for indie film, is that they've always supported docs as wholeheartedly as fiction films," Block expained, "I don't think the role of docs has really evolved much at the IFP Market over the years, it's always played a central role."
Ten years ago, Liz Garbus and Jonathan Stack's "The Farm" was a high point. The film went on to an Oscar nomination, but like many acclaimed indies this past decade, never secured traditional theatrical distribution. With or without immediate distribution deals for the documentaries, the IFP has aggressively championed non-fiction. In 2003, the event showcased Slamdance Film Festival co-founder Paul Rachman's "American Hardcore" a few years before the movie would find its way to Sundance and then a deal with Sony Pictures Classics. It also nurtured "Mad Hot Ballroom" two years later, before that movie scored a Paramount Classics deal at Slamdance.
"It's an important stop for docmakers because nobody else does what they do — set you up with buyers at a relatively early stage of your work-in-progress," noted filmmaker Doug Block, who later used the event as a stepping stone for his films "Home Page," "51 Birch Street" and most recently, "Almost Gone." He noted that despite the opportunity to network and connect in an intimate industry setting, it remains difficult for doc directors.
"I don't delude myself that it's not a hugely difficult time out there, and that the economy is crashing around us as we speak," Block added in a conversastion last fall, "The irony is as doc filmmakers who deal with reality, we simply have to proceed with blinders on — I mean, what else can we do?"
It's a sentiment that echoes non-fiction filmmaker Joe Berlinger's comments ten years ago when IFP's Market was twenty years old. "All this talk about it being a golden time is misleading," Berlinger ("Brother's Keeper") told the New York Times at a lunch celebrating the event's two decade mark. "It's very difficult to get into major distribution." He and filmmaking partner Bruce Sinofsky would instead forge their own independent path generally self-distributing their work.
DIY and Beyond
Every once in a while, the IFFM would reward the ingenious, persistent and clever filmmaker. For every few hundred desperate directors roaming the sidewalk peddling a new film, there was a savvy D.I.Y. filmmaker like Sarah Jacobson, director of "Mary Jane's Not A Virgin Anymore," who developed a strategy that used the IFFM for what it was best at offering: networking and access. One year she and her mother/producer were there with a trailer, the next year she had finished a film and eventually made here way to a Sundance premiere, before hitting the road and distributing the film herself. Jacobson's D.I.Y. approach harkened back to the early days of the event and the ethos that drove a group of indie filmmakers to form the IFP and IFFM.
As the IFP market reached its peak from the '80s to the '90s, new leadership struggled to get their arms around the event. The success of the Market, and the growth of IFP chapters in New York, Los Angeles, Minneapolis, Seattle, Chicago (and other cities) throughout the '90s lead to the creation of a national organization in 2002. They hired a national executive director, hoping to mobilize the 10,000 U.S. members of the organization, but efforts failed. While unity between IFPs in New York and Los Angeles lead to a settlement with the MPAA after a DVD screener ban, the chapters couldn't put together a bi-coastal coalition and a final nail in the coffin of IFP unity came when the L.A. chapter separated from the others and adopted the name Film Independent. Earlier this year, longtime IFP head Michelle Byrd announced that she'll be leaving the organization at the end of the year. A search for a replacement is currently underway.
As the IFP event reached its 30th anniversary last year, Byrd finally abandoned the term "market" altogether. It was a way of reiterating that the mission of the program had changed considerably. Independent Film Week now showcases virtually no finished films, instead offering just 150 or so works-in-progress and projects in development. Emphasizing networking, career development and mentorship, over deal-meaking.
"When the organization was founded there was no organized independent film movement with any kind of structure or business model," explained outgoing IFP head Michelle Byrd at last year's event. "How could we harken back to that level of energy, enthusiasm and contemplate what the future might hold — that was totally what we were hoping for [this year]."
She explained that two things had to change – the name of the event itself and the fees charged to participating filmmakers attending with projects. Byrd said that she sought to use last year's anniversary to make a clear statement. She and her IFP colleagues decided to open the 2008 event with Barry Jenkins' low budget "Medicine For Melancholy," a hit at SXSW and the Los Angeles Film Festival that was later acquired by IFC Films, "to reclaim what an independent film is most like for 99% of the world."
"The elimination of the word market would just free us to not continually have to defend [the] metrics for success," Byrd noted. "To say it's based on sales would mean the event is a failure. You have to take a stand and issue a press release as a seller. That's not what it is set up to do." She continued, "Not to say that there is not a desire to have business done, but that overwhelming pressure of sales, we just needed to eliminate it."
Looking Ahead
In the wake of a period at the movies in which films from studio specialty divisions seemed particularly strong, industry insiders and pundits began to worry publicly last year that the system had become bloated. There were too many movies vying for attention at the end of the year and quality American films from Indiewood were cannibalizing each other at the box office, forcing the studio arms to spend wildly to try to get a leg up. Meanwhile, a new generation of American indie filmmakers were again on the outside looking in, generally unserved by the established traditional theatrical distribution systems.
"So now, we are left seduced and abandoned," explained Warrington Hudlin, who continues to work in Hollywood a bit, but remains committed to independent work. In the wake of the closure of numerous studio specialty divisions that weren't serving indie filmmakers anyway over the past year, he feels, "We need to go back to where we started."
Such feelings dominated the many conversations at last year's IFP conference, exploring new platforms for distribution and considering the future of film festivals. "Now, we are sort of back where we started, where we are having to re-invent the distribution system all over again." Sandra Schulberg noted as the IFP's 2008 Independent Film Week came to a close in New York City. She sat in on many of the sessions at this year's conference, drawing distinct connections between year one and year thirty and thinking about how to start to preserve the work that came at the beginning of this era.
"In 1978 and '79, it was pretty obvious that the delivery system that counted was the theater," Schulberg said," The same movie theaters where you went to see Hollywood movies."
Now, some filmmakers and producers are pondering whether theatrical is the best route for their work at all. "It isn't up to a third party to determine whether they are in movie theaters," noted distribution Peter Broderick, who published a guide to new and old modes of distribution in indieWIRE during last year's Independent Film Week.
"You can have distribution, you just have to decide what kind you want and then you figure out which partners are possible," wrote Broderick, "We are sort of in this transitional moment where people are more open to what the possibilities are."
And now, others have taken up the cause of creating a more self-sustaining independent film movement. Namely, established producer Ted Hope, who has been involved in making some sixty independent films over the years. He's become an outspoken advocate of independents joining forces to support themselves and working together to reach audiences. Yesterday, inspired by high quality work at the current Toronto International Film Festival that he fears won't find a way to audineces, he published a list of, "18 Actions Towards A Sustainable Truly Free Film Community."
"The time is now," Ted Hope wrote yesterday, "If we don't fully own the absolute necessity to change how we've all been working, we won't be working — and we won't have the illuminating, inspiring, transforming films that we now enjoy. It's your choice, but action is required."
The IFP Independent Film Week kicks off tomorrow and runs through next week in New York City. More information is available on the IFP website.
Sign Up: Stay on top of the latest breaking film and TV news! Sign up for our Email Newsletters here.