"It was one of those things that was such a good script, but it's about a girl, so it might never get made," "An Education" star Carey Mulligan told indieWIRE. "So when it did, and we were finally on set, I couldn't believe we were there. These films fall apart, and it's so heartbreaking that they do."
Luckily for Mulligan, the only hearts breaking over "An Education" should be those of audiences members. As Jenny, a bright sixteen year old negotiating her womanhood in the midst of a relationship with a very unsuitable suitor (played by Peter Sarsgaard), Mulligan has been enchanting essentially anyone lucky enough to see the film since its debut in Sundance earlier this year. The press instantly began touting her work in the film as one the year's major breakthroughs and when the film finally opens in theaters this Friday, North American audiences are likely to agree.
Earlier this week at the Regency Hotel in New York City, indieWIRE got a chance to sit down with Mulligan. As charming and poised as one might walk out of "An Education" suspecting, the twenty-four year old seemed to have a good handle on the media storm brewing in her regard (and the pending awards campaign that seems all but assured in ending with her Oscar nomination).
"I'm aware of it because people have been talking to me about it a lot at these sort of things," Mulligan said. "But I mean, before Sundance I'd never even been to a festival. So the idea of that stuff being said does seem crazy… but at the same time, it's brilliant. Because if it means people will go 'oh, by the way, this film's supposed to be really cool because they keep saying this thing about it' then that person will go and watch it. And that's nice. But as an idea, it's completely surreal and impossible to grasp so it's neither exciting nor scary."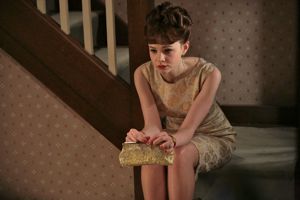 Mulligan said she owes a great deal of her acclaim to the film's director, Lone Scherfig. A Danish director ("Italian For Beginners," "Wilbur Wants To Kill Himself"), Mulligan described her as essentially the antithesis of egomanical.
"It was a really happy set," Mulligan smiled. "Lone doesn't see making films as a stressful process. She doesn't come in in the morning thinking this is going to be really tough. She comes in and she's like 'were making a film, how lucky we are.' She comes and sits in the makeup room and chats to the makeup artist, talking about getting free Christian Dior perfume. You know, she's a girl about it. But then she's also incredibly professional. She's in charge, there's no question who's running the show. But it's never heavy handed. She doesnt work on a punishment-reward scheme. You don't feel like when you do well she's nice to you and when you don't, she's horrible. She's just incredibly measured the whole time. There's no politics. She doesn't run the set through an ego. She just runs it through wanting to tell the story the best way possible. Which makes for a kind of calm place."
Mulligan began acting when she was nineteen, scoring a supporting role in Joe Wright's "Pride & Prejudice." After not getting accepted to drama school ("I went past Juliiard earlier and I was like 'awww,'" she said. "Because I was desperate to go to drama school for so many years and I still sort of think I have that in me somewhere"), she contacted screenwriter Julian Fellows ("Gosford Park"), who had given a talk at her high school.
"I said, 'you know, I'm heading to university but I don't think there's really any point to me going," Mulligan recalled. "'What do you suggest?' And he took me and a couple of other people out to dinner who'd written similar letters. And then he introduced me to this casting director who knew another casting director who was meeting young girls that had never acted before to play the younger sisters in 'Pride & Prejudice'… And that ended up being my first professional experience."
-this article continues on the next page-
Since then, Mulligan has worked on British television and stage, nabbing a few small film roles along the way. "An Education" is her first lead role, though she didn't always realize it.
"I never felt like I was the lead," she said. "When someone would ask what I was doing I'd say, 'well, I'm doing this film, 'An Education." I never said 'I'm the lead.' Because I never felt like that. I always felt like I was doing this ensemble film that Nick Hornby wrote and I'm in it a lot. But it never dawned on me that I was in it pretty much all the time. Until I was just about to go to Sundance and I thought 'oh, God, I'm in it all the time. What if it's terrible?' And then I was hugely scared."
Before Sundance began, Mulligan's co-star Peter Sarsgaard told her that he wasn't coming to the festival, and that he didn't think she should get her hopes up about the film getting acquired for distribution.
"He said it all the time," she said. "'It's Sundance… And there's so many films there.' So he was really managing my expectations. So I sort of went thinking 'ah, well.' But then when it got picked up I was ecstatic. So everything else has just been a bonus."
One of those bonuses is the now nine-month journey she's taken since Sundance, traveling around with her "Education" team.
"Since the Toronto Film Festival, it's been me, Lone, Dominic [Cooper, one of the film's supporting actors], Peter… Nick Hornby's been with us," she said. "So when it is a gang, it's lovely. I mean, Peter and I did 'The Seagull' together as well, so he's become like an older brother. Dominic and I have known each other for years, so we were just happy to make a film together. It feels like a proper gang, and that's great because I've never done a junket before really so I've never had that great thing of getting to have a reunion tour with people, you know? It's really nice. You get to stay in hotels and have dinners and mess about together. And now we're just on the cusp of it coming out. So it's very exciting."
Mulligan said the experience also afforded her one very special celebrity sighting.
"I met Penelope Cruz in Toronto and almost wept," she said. "I've never felt like that about meeting anyone ever before. I've been like, 'aw, that was awesome.' But when she walked away from the table, I was like 'oh God!' I had this real moment because I was thinking she's so unbelieveable!"
As "An Education" finally makes its way into theaters, Mulligan seemed unphased by any pressure placed on the film from the months of mounting buzz.
"Once my parents had seen it, and my best friends, that was kind of over," she said. "Obviously I don't want to get ravaged by the critics, but I don't feel the pressure anymore. I never expected it even to get picked up. So I don't expect anything, really. It'll be nice for it to be out. But you know, that also means we'll stop going on fun trips together and I'll be quite sad."
There was one moment though, in Toronto, where Mulligan wasn't quite so relaxed.
"I got really nervous about going to the premiere because I'm crap at having my picture taken," she said. "I suddenly thought 'oh God, this is awful' and I felt really sorry for myself. I don't think I was feeling well either. And someone was like 'get over it. Can you imagine if you were promoting a film that you hated?' Though I probably have that to look forward to at some point."
"An Education" opens this Friday in New York and Los Angeles, and expands through October.
Sign Up: Stay on top of the latest breaking film and TV news! Sign up for our Email Newsletters here.