Last night at the London Film Festival, to an audience of possibly 90% women, a lively and at times quite provocative discussion went down about a topic that's come up quite a bit this year – women and filmmaking. 2009 has been seen by many as landmark film for female-directed, written or produced cinema, which certainly finds evidence London's programming. To name but a few: Lone Scherfig's "An Education," Claire Denis' "White Material," Xiaolu Guo's "She, A Chinese," Jane Campion's "Bright Star," Lindy Heymann's "Kicks," Sophie Barthes' "Cold Souls," Mia Hansen-Løve's "Father of My Children," Catherine Breillat's "Bluebeard" and Sam Taylor Wood's "Nowhere Boy." And in honor of this notable but still stunningly disproportionate trend, the festival put together "Snipping Away at the Celluloid Ceiling," a panel featuring five women associated with some of those films to discuss whether or not there's a "sea change" in female-associated filmmaking, and what exactly that characterization means in the first place.
Noted by panel moderator Briony Hanson (director of London's The Script Factory, a organization which offers programs for developing filmmakers) as "an embarrassment of riches," the five women consisted of "She, A Chinese" director Xiaolu Guo, "Precious: Based on the novel 'Push' by Sapphire" producer Lisa Cortes, "Bright Star" producer and longtime Jane Campion collaborator Jan Chapman, "Kicks" director Lindy Heymann, and Finola Dwyer, producer of "An Education" and chair of the BAFTA film committee. For a good ninety minutes, they shared their occasionally conflicting views on the state of women in film. indieWIRE was there, and has compiled a "best-of" compilation of quotes on some topics that were brought into their discussion.
1. Jan Chapman and Lindy Heymann: On If There's Currently a Sea Change
JC: "I must say its sort of cyclic. I mean, in Australia, five of the twenty-one features that were made this year were made by women. Which is pretty good, unfortunately… I feel like at the moment that it does feel like there are more women directors around. But there's always this stunning image in my mind, which is when I went with Jane [Campion, the only female winner of the Palme d'Or] to the 60th anniversary of Cannes. You saw everyone who won a Palme d'Or up on the stage, and there was one woman. I cannot forget that image. I think we've got to face the fact that the percentages are not really in our favor."
LH: "But there's very few mediocre female directors. I know that sounds a bit glib, but it's true. When we talk about male directors, how many of them are actually fantastic!? But then when you look at examples of women… Maybe it's just that women don't want to put themselves out there if they don't feel they are the best."
2. Xiaolu Guo, Lindy Heymann, and Finola Dwyer: On Theme and Subject In Female-Helmed Films (and, Subsequently, Kathryn Bigelow)
XG: "The main problem for me is the theme and the subject of the script. Because when you send the script out, whether you have a female name or a male name, the script is meeting this violent judgement from the financiers. And I do feel some or most of the female writer-directors are much more interior and sensitive about family or love or longing… And then there's a very male script, for example the male cliche of big history, political issue, the war, the fight… Myself, I would never write about this. I'm not interested. But the financier is… Popular cinema is so male, and violent. I cannot imagine a female director making 'Kill Bill,' and I love 'Kill Bill,' but I think it would be so different if a woman made 'Kill Bill.'"
Moderator Briony Hanson: "Do you think that's completely true though? Because there are filmmakers like Kathryn Bigelow, who can easier turn her hand to a war movie. I mean, she may approach it in a slightly different way, but…"
XG: "But she has Spielberg behind her. How are we going to get that!?"
LH: "I think something's happening with women in terms of the kind of stories they want to tell. You know, Kathryn Bigelow, she seems to be out there on her own. But then there's Catherine Hardwicke as well. Certainly, I wouldn't mind making a thriller or action film at some point. Why not? But I wonder if to go to financier, and sit in front of, say, ten men in suits… They are going to look at you and go, 'do we trust her, or do we trust a guy?' It's about somehow finding a way to sweep aside everyone's assumptions I think."
FD: "Kathryn Bigelow is a great example, but it's not really a surprise to me that there aren't a lot of female action directors. I don't tend to go and see an action film. So they're not really the stories that I want to tell and I suspect that's probably true of quite a lot of females. If what [Xiaolu Guo] is saying – that women have a tendency to want to tell stories that are smaller and might not have much of an audience – you know, those films would have problems getting made whether it's a man or a woman."
3. Lindy Heymann and Jan Chapman: On Having a Sustainable Career
LH: "You make a film, and you get noticed as a female director or female writer. And then it's just hell trying ot go on and trying to have a career like Jane Campion's, for example. I think that's the big question: How many female directors actually have career making movies, and don't just do one sporadically."
JC: "Jane would agree. We discussed this today, actually. Something seems to happen… I mean, there's often just as many girls at film school as boys. And even making their first feature… I don't know what it is that happens. I don't know whether female directors are slightly more sensitive. I had one director, Cate Shortland, that I worked with on a film called 'Somersault.' It was a fabulous film. It's been a few years now, and she hasn't made a second one. I know this happens to men too. When that film won all of the Australian Film Awards – the whole 13 – which you would think is a great thing… but as a result, she had this incredible kick-back from the press about how it wasn't really that good. And she was terribly hurt. I think, sometimes, to be honest, women take things like that to heart. And find it a little more difficult… It's tough persevering and fighting on. Maybe we do have to sort of guard ourselves."
-this article continues on the next page-
4. Xiaolu Guo and Lisa Cortes: On Whether There's a Female Aesthetic
XG: "I think this question of female aesthetics, if we really take it seriously… is quite a complex question. Because we can easily say 'aesthetics are not that sexist.' They can be male, female, bisexual, whatever. But I think it's in your conscience when you shoot. When you film a male body or a landscape or a street, there's something quite subtle inside your decision. It's from your personal history, your reality… For example, Claire Denis… She shot in her film 'Beau Travail,' this young man's body. And when you look at the film, you really sensitively feel, this is a female's eye look at the nude male body. It's so sexual. And it would be completely different if a male director does that."
Moderator Briony Hanson: "But what if it's a gay male director?"
XG: "Yes! That's what I thought, when I didn't know Claire Denis was a woman. I thought, 'it must be a gay director.'"
Audience member: "Do you think a woman could have made Spielberg's 'E.T.'?
LC: "I think a woman could have made 'E.T.'. Or 'Close Encounters.' When you go to Spielberg's office, what's so interesting is that he collects Norman Rockwell… All over his office is all these Rockwell posters. So, thematically for him, it's always about home and hearth. Now, is home and hearth the domain solely of women? Not necessarily. But that's what we need to start looking at when we talk about the feminine aesthetic. What is that? What is that domain? Yes, I think one of the directors up here could do 'Close Encounters.'"
5. Finola Dwyer, Jan Chapman and Lisa Cortes: On Women Working In Other Areas of Film (Specifically Cinematography)
FD: "I mean, I wanted to do cinematography when I was in school. But I couldn't get taken on because the equipment was too heavy [laughs].
JC: "I have a great friend, Mandy Walker, who's a female cinematographer. She shot 'Australia.' She's a very womanly woman. She's actually got a case on the camera for her lipstick! And she's so outstanding… but I think that 96% of cinematographers are men."
LC: "I think it's part of the old school. So many cinematographers came up through the camera department. They come up through that physical world. In the States, it's a union. Most of the union is men. It's like you get grandfathered in. And I do think that once we step outside the union world, the commercial world… and you go to the independent world, with people just picking up and expressing themselves. Because then there's so much more happening than whether it gets a commercial release.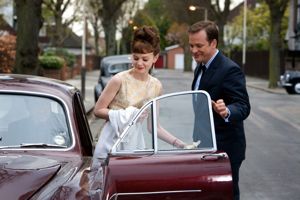 6. Jan Chapman, Lisa Cortes, Xiaolu Guo and Finola Dwyer: On Working Independently and Outside The (American) Studio System
JC: "I must say, I've really felt lucky to have grown up in Australia and not been part of that American studio system… I feel like in Australia because there isn't a male-dominated studio system – there's a kind of a government funding, particularly in development – it's possible to get your stories to a good enough level where you have something quite substantial to show. There's a lot of women producers in Australia, and I do feel that there's a freedom.
LC: "I think that it would be great if we could say that we live in a post-sexist and post-racist society. But we don't. I'll put that out there. All of the films that I've done – with the exception of the first film, 'Monster's Ball,' were done independently. They were done independently for two reasons. One, we saw the tremendous upside that our distributor had in our films… And they were also done independently because of the voice. I don't know if you saw 'The Woodsman,' a film that we made with Kevin Bacon, but there's very important scenes that have to deal with the women who have been victims of pedophiles. And I'll never forget the letters we got back when we went to distributors that said 'well, if you could take those scenes out, we'll give you the money.' Well that was the heart of the film."
XG: "For me, it's how powerful the machinery can be in telling you what to do. You can have a very independent, very little script. But if it's produced by Universal Pictures or whatever, then something completely and fundamentally is going to change… It's clear prostitution!"
FD: "Maybe you (Xialou), are being a bit – and deliberately, which is good – provocative. It's good to stir it up. But if you take a small, delicate little flower of an idea to a studio… Well, I'd never do that, and they'd never make it. But I know what you mean. The minute you get into bed with the studio, generally, it's a whole different ballgame. Because it's a whole lot of different pressures and conditions that get put on… With 'An Education,' we made it for a very small budget. We always knew we were going to have to do that, because it wasn't a big story. But we deliberately wanted to make it independently. We wanted to keep the control and make it the way we wanted to make it."
JC: "I spent my whole life as a producer trying to protect the visions of the directors that I've worked with. And that's meant working independently, mainly. Not being part of a studio. Not having seventeen people tell you what their view of a scene was. I hold great store in independence, and I do feel that's the way you protect, particularly female points of view. By just letting them have their point of view."
Sign Up: Stay on top of the latest breaking film and TV news! Sign up for our Email Newsletters here.