With Thanksgiving two days away, the film industry's fiscal seasons are-a-changing. While fall technically continues through December 20th, in the film world it's now offically "holiday season," a time for Oscar heavyweights and big-budgeted family fare. So indieWIRE decided to devote this week's Box Office 2.0 column to examining the winners and losers of a season past.
Keeping with our namesake, this obviously doesn't mean congratulating "Couples Retreat," "2012" and "The Twilight Saga: New Moon" on defying America's better judgement. It means taking a look at some of the season's indie successes and disappointments, from the unheard of success stories of "Precious" and arguable indie "Paranormal Activity" to the unfortunate ruts of distributors like Miramax and Fox Searchlight. While this "winner and loser" format unfortunately misses out on a few grey areas, it should give a good idea as to how the fall went down (though for more on the season's greyest of grey areas – IFC Films' "Antichrist" and Apparition's "Bright Star" – check out this column from a few weeks back).
Overall, the season has seen a considerable uptick from a year ago. Fall 2008 saw only four films – "Fireproof," "Religulous," "The Duchess," and "Rachel Getting Married" – cross the $3 million mark by Thanksgiving. This year, we have nine (see the chart on page 3 of this article). More over, everyone can breathe a sigh of a relief in the simple fact that Kirk Cameron is not ruling this fall's box office.
Winner: Precious: Based on the novel 'Push' by Sapphire
Up until the very last minute people doubted Lee Daniels' Sundance winner. indieWIRE's Eugene Hernandez wrote a piece entitled "'Precious,' $1 Million or $100 Million?" two weeks before it opened, which brought with it comments that widely suggested it would be more the former than the latter. But then "Precious" – released by Lionsgate – opened to an astounding $104,025 average from 18 screens, and a week later became the only film this decade to place in the overall top 3 while playing on under 200 screens. Doubters were silence, and "Precious" rallied. Three weeks in, the film has grossed over $20 million with impending awards boosts still to come. While $100 million remains an uncertainty, betting against the film at this point is probably not in anyone's best interest.
Loser: Black Dynamite
Another Sundance 2009 debut geared at African-American audiences (though the comparisons truly stop there), Scott Sanders' "Black Dynamite" had a healthy festival life (it screened everywhere from Edinburgh to Rio de Janeiro to Oslo) before bombing in theaters this October. Grossing only $228,477 over two weeks before being removed from theaters, this second release from newly formed Apparition was one the fall's major indie disappointments.
Winner: The Film Department
In June, 2007, Mark Gill and Neil Sacker announced the formation of The Film Department, an independent film finance, production and sales company. The company gained significant press due to the fact that they raised $200 million in initial capital, planning to fully finance their films and license them to domestic and international distributor. The proposed plan with The Film Department was 6 films a year for $10-35 million. Over two years later, the company's first film – "Law Abiding Citizen" – was released through Overture Films to a potent $21,039,502 opening weekend and a $70,018,193 final gross. Mark Gill (who formerly worked with the Weinsteins) joked at the 2008 Cannes Film Festival that the chances of a company like The Film Department succeeding are about 5%. "19 out of 20 of these don't work,"he said. "It's just great to be working for people who don't want to kill you or eat you." With "Citizen," Gill's assumingly having his cake and eating it too.
Loser: Fox Searchlight
No wonder Searchlight brought "Crazy Heart" out at the last minute. After a summer buoyed by "(500) Days," the distributor saw three high profile films crash and burn. $40 million budgeted "Amelia," directed by Mira Nair and starring Hilary Swank, has grossed only $13,766,323 in the wake of tepid reviews. More modest "Whip It," the directorial debut of Drew Barrymore, nearly recouped its $15 million budget with a $12,994,912 gross but remains a disappointment considering its warm reviews and star power (it also marked Ellen Page's first starring role post-"Juno."). And while "Amelia" and "Whip It" were more aggressive wide releases, Searchlight tried the limited route with Jared Hess's "Gentlemen Broncos," and failed yet again. The film has grossed a mere $105,431 since opening last month.
Winner: Paranormal Activity
Though not tracked by indieWIRE's box office charts due to the fact that it was released by a studio, "Paranormal Activity" is very much an independent film. Oren Peil's micro-budgeted horror film screened at the 2008 Slamdance Film Festival and was acquired by Dreamworks and Paramount in a truly rare series of events (Steven Spielberg plays a pivotal role). The film was marketed virally, and opened initially on 12 college town screens to a $6,489 average. Then it lept 587% on an expanded 33 screens, averaging $16,212, and then managed a massive $7,066,000 from 159 screens the following weekend. This weekend-to-weekend awe of expectation defiance continued pretty much all the way through to its now $106,082,922 gross, or over 7,000 times its $15,000 budget.
Loser: The Boys are Back and Extract
It's a bit of a stretch, but while "Activity" marked the biggest indie success story of the year, the fall of Miramax marked the opposite. In the wake of serious internal probems, the distributor saw its fall slate tank. Miramax's few hopes at redemption after early 2009 financial misfires like "Adventureland" and "Cheri" include Mike Judge's "Extract," which managed just over $10 million in wide release, and Clive Owen drama "The Boys are Back," which came out of mild reviews at the Toronto International Film Festival to last only 6 weeks in theaters. Along the way, it grossed only $809,752, making "Cheri" and "Adventureland" look like relative success stories.
-This article continues on page 2-
Winner: Boondock Saints II: All Saints Day
In January 2000, the $6 million budgeted "Boondock Saints" grossed only $30,471. Miraculously, the film became a DVD phenomenon and grossed $50 million in sales. So director Troy Duffy was given another shot at theatrical release with a $8 million budgeted sequel. Four weeks into its release, the film – released by Apparition – has grossed $3,552,730, a 1000% increase over its predecessor. And while its final gross should end up somewhere in the $5-8 million range, it's all but certain DVD sales should make the film considerably profitable.
Loser: Ong Bak 2
The opposite phenomenon occurred with Magnolia's release of the sequel to Thai thriller "Ong Bank: The Thai Warrier." While the first film, also released by Magnolia, grossed $4,563,167 in Winter 2005, its sequel has struggled to cross the $100,000 mark. After five weeks in release, the film has grossed only $82,131.
Winners: An Education, Coco Before Chanel and Broken Embraces
Playing it slow and steady has so far proved successful for Sony Classics' release of both "Coco Before Chanel" and "An Education." After potent debuts in just a few theaters ($35K PTA for "Chanel" and $39K PTA for "An Education"), the films have steadily expanded. "Coco" held a $3,000+ PTA for seven straight weekends, and currently sits at $5,288,153 gross – the highest for a foreign language film this year (French film in general had a nice fall, with IFC Film's "Paris" nearly hitting the $1 million mark). "An Education" – perhaps SPC's best chance at Oscar love – helf onto a $9,000+ PTA for four weekends running, and stands at $4,268,905 as it continues to expand into awards season. SPC topped off the season very nicely with the debut of Pedro Almodovar's "Broken Embraces." That film averaged a stunning $53,556 from 2 theaters, the biggest Almodovarian debut of all-time.
Loser: The Damned United
Sony Classics didn't have a perfect fall record in the disappointing $385,049 gross of Michael Sheen-starring soccer drama "The Damned United." Oddly enough, it was the company's only male-centric fall release. Which brings me to….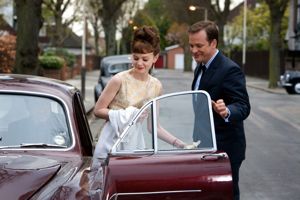 Winners: Female Protagonists, Female Directors and Female Audiences*
Even with aforementoned "losers" like Mira Nair's "Amelia" and Drew Barrymore's "Whip It," this fall was truly a landmark season for women and film. Never have female-centered options dominated the indie landscape this way, with "Precious," the season's top grossing film by far, leading the way. The film may have been directed by a man, but it featured an almost entirely female cast and most certainly raked in its box office due in large part to female audiences hungry for options. And beyond "Precious," there were surprisingly many. Lone Scherfig's "An Education," Jane Campion's "Bright Star," Anne Fontaine's "Coco Before Chanel," Claire Denis's "35 Shots of Rum," Pedro Almodovar's "Broken Embraces," Cédric Klapisch's "Paris," Sebastian Silva's "The Maid," Cherien Dabis's "Amreeka"… It's an incredibly long list of generally fantastic cinema.
And on top of all of it, these movies are making money. Of the top ten grossing limited released narrative films of 2009, four were directed by women ("Hurt Locker," "Coco," "An Education" and "Bright Star"), and three more ("(500) Days of Summer," "Precious" and "Away We Go") were most certainly aimed at female audiences, and feature either a female co-lead ("Summer" and "Away") or a nearly all female cast ("Precious").
Losers: *Except anyone that paid to see "Amelia"
I'm sorry Mira Nair. I loved "Monsoon Wedding" and even teared up a bit at "The Namesake." But seriously…
-For lists of the fall season's top ten grossing limited releases and top ten indie openers, continue to page 3-
Top Grossing Limited Releases of Fall 2009*
1. Paranormal Activity (Paramount) – $106,082,922
2. Precious (Lionsgate) – $21,277,521
3. Capitalism: A Love Story (Overture Films) – $14,266,331
4. A Serious Man (Focus Features) – $7,476,004
5. Coco Before Chanel (Sony Pictures Classics) – $5,288,153
6. Bright Star (Apparition) – $4,390,226
7. An Education (Sony Pictures Classics) – $4,268,905
8. Good Hair (Roadside Attractions) – $4,061,847
9. The Boondock Saints II: All Saints Day (Apparition) – $3,552,730
10. New York, I Love You (Sony Pictures Classics) – $1,466,395

*-Films that opened on less than 100 screens before platforming wider. Grosses include North American numbers only for films opening September 1st-November 23rd.
Top Grossing Limited Openings of Fall 2009**

1. Precious (Lionsgate) – $104,025 (18 theaters)
2. Fantastic Mr. Fox (Fox) – $66,475 (2 theaters)
3. Capitalism: A Love Story (Overture Films) – $57,991 (4 theaters)
4. Broken Embraces (Sony Pictures Classics) – $53,556 (2 theaters)
5. A Serious Man (Focus Features) – $41,890 (6 theaters)
6. An Education (Sony Pictures Classics) – $39,754 (4 theaters)
7. Coco Before Chanel (Sony Pictures Classics) – $35,468 (5 theaters)
8. Brief Interviews With Hideous Men (IFC Films) – $18,510 (1 theater)
9. The Maid (Elephant Eye Films) – $17,036 (1 theater)
10. Crude (First Run) – $16,595 (1 theater)
*–Films that opened on less than 100 screens before platforming wider. Measured by per-theater-average. Grosses include North American numbers only for films opening September 1st-November 23rd.
"Box Office 2.0" is a new weekly column by indieWIRE Associate Editor Peter Knegt. Check out his previous editions:
Box Office 2.0: Assessing 2009's Dox Office From "Capitalism" to "The Cove"
Box Office 2.0: Two Notable DIY Releases That Opened In "Precious"'s Shadow
Box Office 2.0: Snap Judgements & Great Expectations
Sign Up: Stay on top of the latest breaking film and TV news! Sign up for our Email Newsletters here.