New York, NY, November 16, 2009 — The annual New York Film Critics Circle awards dinner on January 14, 2001 gathered the group of leading U.S. film critics at Windows on the World atop the North Tower of New York City's World Trade Center. For many reasons, it's a night that is hard to forget. In addition to honoring new movies, the critics wisely saluted innovative film distribution initiatives at a time when niche film releasing was seeing some clever signs of life via the Shooting Gallery Film Series and Cowboy Booking.
For many of us who were there that night, it's one of the last times we remember celebrating at the top of the World Trade Center. For Boston film critic Gerald Peary it was the first time he picked up a camera to shoot a documentary about film criticism.
Peary spent nearly a decade making "For the Love of Movies," working with producer Amy Geller to examine the history and future of film criticism. The doc, popular on the festival circuit for months now, has just opened in movie theaters in San Francisco and Boston, with more dates to come.
"We were uncovering a history of criticism that had never been known," Peary told me back in March as we sat in a 6th Street restaurant in Austin where the finished film debuted. He went back to the beginning of motion pictures to explore how writing about film emerged, evolved and then declined. About eighteen months earlier, he and Geller screened a work-in-progress version of the movie in Telluride, right before the economic downturn at print publications began to severely impact critics.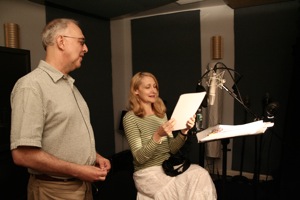 "When you get critics talking about movies, about their deep love of movies, they say wonderful things," Amy Geller told me during the chat in Austin. But, she noted, the early version of the film that I saw in Telluride lacked an ending. But, the distressing conclusion to Gerald Peary's "For The Love of Movies" became apparent as he and Amy Geller worked to finish the movie while more and more film critics were losing paid gigs at numerous print outlets. Nearly 60 have lost jobs, according to The Salt Lake Tribune's Sean Means, who's been tracking the contractions.
Among the writers who were interviewed in "For The Love of Movies" is A.O. Scott, who began his tour as a lead critic for The New York Times nearly ten years ago, in January of 2000. In a survey of the past decade in this week's New York Times Magazine, Scott estimated that some 5,000 movies were reviewed by The Times in this decade. They critique every film that gets a theatrical release in New York City.
5,000 movies.
How many thousands more will be made and distributed in some fashion during the coming decade. And will there be a rich critical dialogue around those movies in the future?
Over the course of the next ten years it's likely that even more than 5,000 films could find some sort of substantive release, but the definition of distribution will evolve considerably as digital devices and platforms augment (or in some cases replace) traditional models of getting movies to audiences. What can we do to foster a dialogue around these films as moviegoers find new ways to filter content and movies are curated by people and groups in new ways?
Critics are crucial part of this dialogue and process.
"It's really important to think about critics," Peary, a self-described lover of smaller indie films, told me, "It's frightening what's going on both because my friends are losing their jobs and also because we know that this kind of review is really important for the kinds of movies I love."
"At a time when American critics are being laid off and fired, and when their influence has diminished," Peary says on the film's website, "'For the Love of Movies: The Story of American Film Criticism' is an unapologetic defense of a profession under siege."
At indieWIRE, we've been talking a lot about film criticism over the past year. Particularly as a group of writers — David Ansen, Scott Foundas, and Robert Koehler — have recently moved directly into film programming. We've been trying to make sense of where film criticism is going and exploring how indieWIRE can support writers and their work. In addition to developing partnerships with leading critics with distinctive voices, we've also now developed a vibrant new section of our site that we are formally unveiling today.
We're calling it criticWIRE.
Nearly ninety critics and bloggers now have a page on the indieWIRE site, most including links and feeds to their own blogs and Twitter accounts. And many featuring grades of new movies with direct links to their reviews. The list of critics is growing, culled from the participants on our annual critics poll, and criticWIRE will continue to evolve as we survey upcoming films and some of the higher profile movies from earlier in the year.
And in a few weeks, we'll take a deeper look at the best of the year and the decade in our yearly poll of critics and bloggers.
As always, we'd appreciate any feedback, ideas or comments. Thanks very much.
Eugene Hernandez is the Editor-in-Chief & Co-Founder of indieWIRE and can be reached on his blog, through Facebook or via Twitter: @eug.
PREVIOUS WEEKLY COLUMNS:
11.09.09: Building Buzz | 11.02.09: I want it like I wrote it. | 10.26.09: "Precious," $1 Million or $100 Million? | 10.12.09: Critics (still) Matter | 10.05.09: Is There a Doctor in the House? | 09.28.09: The Indie Summit | 09.21.09: The Oscar Marathon | 09.14.09: DIY v. DIWO | 09.08.09: SPC v. IFC | 08.30.09: Saving Cinema | 08.23.09: Nadie Sabe Nada | 08.16.09: Movies, Now More Than Ever | 08.09.09: It Came From The 80s
Sign Up: Stay on top of the latest breaking film and TV news! Sign up for our Email Newsletters here.