New York, NY, November 2, 2009 — This week: Miramax, Madonna, and Michael Jackson.
There's an incredibly telling moment at the heart of "This Is It," Kenny Ortega's new documentary about Michael Jackson. It comes as Jackson and his musical director Michael Bearden are working out a stirring rendition of "The Way You Make Me Feel." Bearden and Jackson aren't quite seeing eye-to-eye on the song's tempo. "I want it like I wrote it," Jackson says gently but firmly. He reiterates that he wants the song played the way his fans love and remember it.
Seated near me at an evening showing in Times Square on the film's first night in theaters last week, a few folks in the half full theater started to clap after that exchange.
Nostalgia.
I can't shake the sadness evident in that moment of "This Is It." It evokes Norma Desmond in "Sunset Blvd." The fifty London shows that Jackson was in the middle of rehearsing when he died this summer were to be his "final curtain call" he said. He needed money to pay off huge debts just as much as he seemed to crave an embrace from fans.
Made from sometimes rough looking video footage that was apparently only meant for Jackson's personal archive, the doc features an often strange and frail looking perfectionist, saving his voice and going through the motions at times to preserve himself for a big show that would never happen. The applause mainly comes from his small, eclectic crew of dancers who cry when talking about the opportunity to work with him and then cheer him on during practice.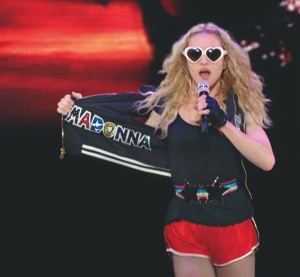 Which brings up Madonna. There's a loose thread here.
Around the same time that Harvey Weinstein and Miramax rode the wave of interest in Harlem drag balls that was popularlized in Madonna's "Vogue" — with the acquisition and release of Jennie Livingston's exceptional "Paris is Burning" — the New York-based distribution company also unleashed "Madonna: Truth or Dare" at Cannes and then in theaters. Alek Keshishian's movie captured, in full color, her "Blond Ambition" tour, but more entertainly featured, in black and white, Madonna's playful moments with her adoring (and sometimes cat fighting) dancers.
A few hours before seeing Michael Jackson's "This Is It" in Times Square, I was inside Viacom's MTV branded 1515 Broadway building, watching Madonna's latest concert tour on a computer screen. Madonna's "Sticky & Sweet: Live from Buenos Aires" launched the new EPIX hybrid network this weekend and CEO Mark Greenberg previewed the venture in a conference room last week.
After listening to a brief presentation and then spending some time watching an EPIX stream of "Raging Bull" on a Macbook Pro, I was drawn to a large screen in the center of the room. Madonna was still dancing in her "Sticky & Sweet" show, this time in a strange sequence that featured performers who were dressed up to look like earlier versions of herself. A Madonna-esque Marilyn Monroe from "Material Girl" and a variation of her big cone breasted persona from that performance of "Vogue" that was popularized in "Truth or Dare." On the big screen, the real Madonna came up behind the fake Madonna and rubbed the impersonators cones.
I stood in the conference room awestruck by the sight of Madonna caressing her former self. NY Press film critic Armond White implored me to go see the new Michael Jackson movie.
And then there's Miramax…
Another wave of '90s nostalgia hit on Friday afternoon when word came of even more dramatic changes at Miramax Films.
In the wake of the departure of Disney chairman Dick Cook, the massive cutbacks at Miramax were announced last month, days before Rich Ross was named to run the company. At the time, it seemed that Miramax's head Daniel Battsek would remain at the helm of the specialty division even as the company and its focus were dramatically downsized. But yesterday, Battsek sent word that he and Ross had decided it was time for him to go.
"After further reflection and discussion about the change in direction for Miramax, Rich Ross and I have agreed that I will step down as President of Miramax, effective the end of January, 2010," he said in an email to the company. "With this decision, we have also agreed that the best chance of success for Miramax is for the company to be located in Los Angeles, and I will work with the group on a transition plan."
As I wrote in my weekly column in early October, just after the first round of depressing Miramax news emerged from Disney, the "essential destruction of Miramax is sad, not only for the many people who will lose their jobs, but also because it marks the near demise of what was once an (indie) household name. From 'The Thin Blue Line', 'Sex, Lies and Videotape' and 'Paris Is Burning' in the late '80s and early '90s, through 'Pulp Fiction', 'Bullets Over Broadway' and 'Kids' a few years later, I always associated the Miramax name with quality. I would see as many of their films as possible, often on opening weekend (and again on video months later), because Miramax was a name I could trust that was releasing movies by many of my favorite filmmakers."
Miramax leaving New York? For Los Angeles?
The concept simply doesn't compute. Not for a company with a logo that features the Manhattan skyline.
Miramax, you are dead to me.
I got an email from a leading industry figure yesterday, in the wake of Disney's Miramax announcement. One of the most important people in this business, responding to indieWIRE's emailed insider news alert, wrote just one word: "Ugh."
It makes sense when someone like Michael Jackson says, "I want it like I wrote it," or when Madonna dances with earlier versions of herself. Safety and security in what we know. But, we can't have it like it was written. The film community is changing dramatically and can't dance with old versions of itself any longer.
That "ugh" is a feeling a lot of folks are experiencing. So many folks in New York's film community are out of work and even more are losing their jobs. It's still hard to imagine exactly what a recovery will look like, but models are emerging and evolving giving us a hint of what's to come.
Any ideas?
Eugene Hernandez is the Editor-in-Chief & Co-Founder of indieWIRE and can be reached on his blog, through Facebook or via Twitter: @eug.
PREVIOUS WEEKLY COLUMNS:
10.26.09: "Precious," $1 Million or $100 Million? | 10.12.09: Critics (still) Matter | 10.05.09: Is There a Doctor in the House? | 09.28.09: The Indie Summit | 09.21.09: The Oscar Marathon | 09.14.09: DIY v. DIWO | 09.08.09: SPC v. IFC | 08.30.09: Saving Cinema | 08.23.09: Nadie Sabe Nada | 08.16.09: Movies, Now More Than Ever | 08.09.09: It Came From The 80s
Sign Up: Stay on top of the latest breaking film and TV news! Sign up for our Email Newsletters here.