What's been a slow awards season build since Toronto and Venice kicked things off two months ago is about to become an accelerated horserace. With Fox Searchlight's announcement yesterday that they were bumping up awards bait "Crazy Heart" for 2009 Oscar consideration, it's reasonable to believe that the final piece of this year's candidate roster is complete. And while there are still a few major question marks remaining – namely Rob Marshall's "Nine," Peter Jackson's "The Lovely Bones" and Clint Eastwood's "Invictus" – beginning with tomorrow's release of "Precious: Based on the novel 'Push' by Sapphire," every weekend from now to the next decade will offer us another piece of the puzzle. Focus Features has already jump started the For Your Consideration campaign mania with an ad for the Coens' "A Serious Man", and the folks at the Academy have made what one can only assume was a down-to-the-wire decision regarding who would be hosting their annual festivities. Remarkably, there's only about four weeks to go before we'll get the Independent Spirit Award nominations and the National Board of Review winners, which kick-off a nearly every-other-day blitz of precursors leading up to February 2nd's Oscar nominations. In other words, it's on.
Before things get really heated, let's assess where things currently seem to stand, at least regarding those six major categories at the heart of the millions of dollars about to be poured into campaigning. While in one sense it's still a bit too murky to say anything with total certainty, it's definitely late enough in the game to at least get a good sense of where we're headed. I mean, take a look at these Oscar predictions from roughly a year ago. While, sure, I might have been a bit off-the-mark with "Revolutionary Road," most categories ended up 3 for 5, and supporting actor was a clean sweep. So, one year later, here goes nothing:
Best Picture
This shiny new 10-nominee situation makes this category so much more fun to consider. While I'm completely in agreement with criticisms that the new rules cheapen the prestige of a best picture nominee (though on the other hand: "Chocolat," "Crash," "The Cider House Rules," "The Curious Case of Benjamin Button"…), when it comes to the act of awards prognostication, it's double your pleasure.
At this point, I think we can say with 99.9% certainty that three films are in: Kathryn Bigelow's "The Hurt Locker," Jason Reitman's "Up In The Air," and Lee Daniels' "Precious." While "Locker" needs to work hard to hang on to the buzz that met its mid-summer release, and both "Air" and "Precious" need to perform reasonably at the box office when their releases finally come (stay tuned to indieWIRE this weekend for full coverage of how "Precious" fares in its first weekend out), it would be quite the downfall for them not to make the top ten.
Beyond that, I'd wager that there are roughly 17 films with something of a chance at the remaining 7 slots, some of them much better off than others ("An Education" and "Up," for example, are looking pretty good right now). It's within the six films that few among us have seen – "Invictus," "Nine," "The Lovely Bones," "Avatar," "Brothers," "It's Complicated" – that this game could really change, though I have little confidence in the latter three (particularly "Avatar," and I know I'm in the minority there). As for "Invictus," "Nine" and "Bones"… Simplistically put, they are this year's "The Curious Case of Benjamin Button," "Revolutionary Road" and "The Reader." Films made for Oscar, and hyped as such from the second they start production. But as we know from last year's batch, not all of them end up making it work.
What should also be really interesting is what happens to the many films living on the brink here. "A Serious Man," "A Single Man," "Inglourious Basterds," "Bright Star" – these are, let's face it, films that would not stand stand a chance at the shortlist in a five-slot-year. As a fan of all four, I think I'd forget my ten-slot apprehension if at least a couple of them ended up making the cut. As far as things stand now, I've got one. Ranked in terms of likelihood, here's my rundown:
Locks:
1. Up In The Air
2. The Hurt Locker
3. Precious

Good Bets:
4. An Education
5. Up

Seem Likely… But, No One Really Knows:
6. Invictus
7. Nine
8. The Lovely Bones

For The Last Two Slots:
9. The Last Station
10. A Serious Man
11. Inglourious Basterds
12. A Single Man
13. Bright Star
14. Crazy Heart

Seem Unlikely, But No One Really Knows:
15. Avatar
16. Brothers
17. It's Complicated

Very Dark Horses:
18. The Road
19. Julie & Julia
20. Where The Wild Things Are
Best Director
One thing about the decision to have 10 best picture nominees is that all of a sudden, best director is the new best picture. The five films that end up being represented here quite likely would have been our best picture lineup had the change not been made. With that, I'll wager that the directors of best picture's three best bets – "Up In The Air," "Precious" and "The Hurt Locker" – are looking good here, with "Locker"'s Kathryn Bigelow pretty much locked in (because she deserves it, yes, but also because, let's face it, if after all this they don't nominate a woman…). The other two seem likely to come from that as-yet-unseen triad of "Invictus" (Clint Eastwood), "Nine" (Rob Marshall) and "The Lovely Bones" (Peter Jackson). Those hoping for a double dose of female this year shouldn't count out "An Education"'s Lone Scherfig just yet – I'd wager she's next in line.
Lock:
1. Kathryn Bigelow, The Hurt Locker

Good Bets:
2. Lee Daniels, Precious
3. Jason Reitman, Up In The Air

Seem Likely… But, No One Really Knows:
4. Clint Eastwood, Invictus
5. Rob Marshall, Nine
6. Peter Jackson, The Lovely Bones

It's Possible:
7. Lone Scherfig, An Education
8. Michael Hoffman, The Last Station
9. Joel & Ethan Coen, A Serious Man
10. Tom Ford, A Single Man
11. Jane Campion, Bright Star

If Only For The 'Battle of the Ex-Spouses' Factor:
12. James Cameron, Avatar
-This article continues on the next page-
Best Actor
Yesterday's aforementioned move of "Crazy Heart" might have sent light waves through a few categories, but it was here that wave was tidal. Jeff Bridges – who has never won an Oscar despite four nominations – is now a heavy contender for his work as a washed up, alcoholic country singer in "Heart." Most of his main competition – namely "Nine"'s Daniel Day-Lewis, "Up In The Air"'s George Clooney (who, nomination wise, is this category's surest thing), and "Invictus"'s Morgan Freeman – have all been recently given statuettes, which turns this into a two-man race between Bridges and Colin Firth, who won considerable raves in Venice and Toronto for his work in Tom Ford's "A Single Man" (and who has the Weinstein machine behind him). And while I can name seven additional actors that might factor in here, if there's any category where five nominees seem close to locked up, it's this one:
Lock (but he won't win):
1. George Clooney, Up In The Air

Very Good Bets (and they could win):
2. Jeff Bridges, Crazy Heart
3. Colin Firth, A Single Man

Seem Likely… But, No One Really Knows:
4. Morgan Freeman, Invictus
5. Daniel Day-Lewis, Nine

Bubbling Under:
6. Jeremy Renner, The Hurt Locker
7. Matt Damon, The Informant!
8. Viggo Mortensen, The Road
9. Hal Holbrook, That Evening Sun

Very Dark Horses:
10. Michael Stuhlbarg, A Serious Man
11. Ben Foster, The Messenger
12. Sam Rockwell, Moon
Best Actress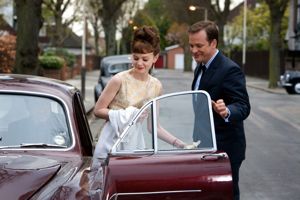 Like its male counterpart, the lead actress category seems to be significantly locked down already. In fact, the three performances that could very well duel it out for the win come from films most in the industry had seen by July: Carey Mulligan in "An Education," Gabby Sidibe in "Precious" and Meryl Streep in "Julie & Julia." While latecomers could definitely shake things up – though I'm skeptical about "Brothers," if I'm horribly wrong Natalie Portman could be a major competitor here – but as this stands, four women (adding in recent race entry Helen Mirren) are looking pretty sure, with a final slot very much up for grabs:
Locks:
1. Carey Mulligan, An Education
2. Gabby Sidibe, Precious

Lock (unless she's better in the other movie):
3. Meryl Streep, Julie & Julia

Good Bet:
4. Helen Mirren, The Last Station

Seem Like a Good Possibility… But, No One Really Knows:
5. Saorise Ronan, The Lovely Bones
6. Marion Cotillard, Nine
7. Natalie Portman, Brothers

If She's Better In This Movie:
8. Meryl Streep, It's Complicated

Dark Horses:
9. Abbie Cornish, Bright Star
10. Audrey Tatou, Coco Before Chanel
11. Penelope Cruz, Broken Embraces
12. Michelle Monaghan, Trucker
-this article continues on the next page-
Best Supporting Actor
"Inglourious Basterds"'s Christoph Waltz seems like this category's only sure thing, with "An Education"'s Alfred Molina mildly fragile in having to contend with potential vote splitting with his co-star Peter Sarsgaard. Either way, these two seem like the men to beat at this point, while their main competition seems pretty clear. Both Matt Damon (heavily accented in "Invictus") and Stanley Tucci (villanous in "The Lovely Bones") on paper (and in trailers) appear to be playing roles the Academy loves to reward in this category, while the literal granddaddy of supporting actor winners – the often snubbed older actor – looks to be rearing its head with Christopher Plummer's work in "The Last Station." However, some have suggested Plummer is outshined by Helen Mirren in the film, and others have complained he should be campaigning lead. Perhaps a la Kate Winslet, the Academy will agree and he'll end up battling Mr. Bridges.
Lock:
1. Christoph Waltz, Inglourious Basterds

Good Bet:
2. Alfred Molina, An Education

Seem Likely… But, No One Really Knows:
3. Matt Damon, Invictus
4. Stanley Tucci, The Lovely Bones

For The Last Slot:
5. Christopher Plummer, The Last Station
6. Anthony Mackie, The Hurt Locker
7. Peter Sarsgaard, An Education
8. Robert Duvall, The Road (or Crazy Heart)

Seem Unlikely… But, No One Really Knows:
9. Tobey Maguire, Brothers

But They're Hosting:
10. Alec Baldwin, It's Complicated
11. Steve Martin, It's Complicated

Very Dark Horses:
12. Christian McKay, Me and Orson Welles
13. Woody Harrelson, The Messenger
14. Paul Schneider, Bright Star
Best Supporting Actress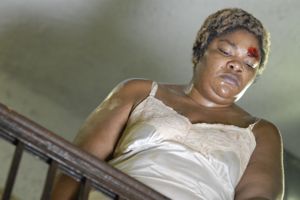 Ever since "Precious" first screened in Sundance this past January, we've known this much is true of the Oscar race: Mo'Nique is in. She's the biggest lock this year has going for it, lack of campaigning be damned. Beyond her, though, lies the most competitive of all this year's acting races, with eight women fighting it out for four slots, and a few others siphoning votes behind them. There's Julianne Moore in "A Single Man," both Anna Kendrick and Vera Farmiga in "Up In The Air," and a new (and good) possibility in Maggie Gyllenhaal's work in "Crazy Heart." And then there's four women (or potentially more, as I'm simply going off hearsay buzz) in two as-yet-unseen films: "Nine" and "The Lovely Bones," each offering a classy bunch of previous winners: Penelope Cruz, Judi Dench, Susan Sarandon and Rachel Weisz (not to mention Nicole Kidman and Sophia Loren, but allegedly they aren't "Nine"'s star performers). It's gonna be a while before we know how all of this is going to shake out, but in the meantime it's nice to have a race that is very much up in the air.
Super Lock:
1. Mo'Nique, Precious

Good Bets:
2. Julianne Moore, A Single Man
3. Anna Kendrick, Up In The Air

Staying Here Depends On What Happens With The Ladies Listed Below:
4. Vera Farmiga, Up In The Air

Seem Possible… But, There's Just So Many Of Them:
5. Penelope Cruz, Nine
6. Judi Dench, Nine
7. Susan Sarandon, The Lovely Bones
8. Rachel Weisz, The Lovely Bones

Late Competition?
9. Maggie Gyllenhaal, Crazy Heart

Insane But True:
10. Mariah Carey, Precious

Very Dark Horses:
11. Melanie Laurent, Inglourious Basterds
12. Samantha Morton, The Messenger
13. Marion Cotillard, Public Enemies
14. Rosamund Pike, An Education
"For Your Consideration" is a weekly column by indieWIRE Associate Editor Peter Knegt. Check out his previous editions:
For Your Consideration: Oscar's Gay Tendencies
For Your Consideration: 11 Underdog Performances
Sign Up: Stay on top of the latest breaking film and TV news! Sign up for our Email Newsletters here.