This week, indieWIRE published our annual critics poll, with 114 participants deciding that Olivier Assayas' French family drama "Summer Hours" lead some 200 films that received votes in the best film category. But many of the critics also included their written thoughts on the year in film, and indieWIRE decided to compile them nicely for you here. From defending their poll votes to arguing for or against the year's oft-suggested designation as a weak year for cinema, it's an excellent overview on the great cinematic debates of '09.
The Results:
Best Film of '09 | Best Film of the Decade | Best Lead Performance | Best Supporting Performance | Best Director | Best Documentary | Best Screenplay | Best First Feature | Best Undistributed Film
The Comments:
"Here's Tilda Swinton, in The Limits of Control: "I like really old films. You can really see what the world looked like, thirty, fifty, a hundred years ago. You know: the clothes, the telephones, the trains, the way people smoked cigarettes, the little details of life… Sometimes I like it in films when people just sit there, not saying anything." And here's Zoe Kazan, in Me and Orson Welles: "What do you mean, 'what happens'? Nothing happens. Why does something have to happen? … Why does everything have to have a big plot?" Jarmusch and Linklater probably thought they were justifying their people-watching hangout films, but they've also done a very good job of explaining why my favorite film of the year was '35 Shots of Rum'." – Mark Asch
"More and more, it feels like the movies aren't made for anyone who's likely to be writing about them. The Twilight Saga is the biggest cinematic cultural event of the year, but it's happening in almost complete isolation from the critical community. At the same time, people who are interested in commenting seriously about filmed art continue to find more fodder on television than in the theaters (what is there to say, after all, about a 3D rerelease?). On the airwaves and through the coaxial cable, opportunities for distinctive visions keep expanding, and the result is half a dozen serialized stories of Dickensian proportions and ambition scattered across the dial. The story of 2009, though, was the unexpected explosion of giddy entertainments in theaters: Drag Me To Hell, Zombieland, District 9, Duplicity … Call it the Pride and Prejudice and Zombies effect: We're ready for some high quality birthday cake over here, and we're goddamn well going to enjoy every bite. So why was Watchmen such a drag? Zach Snyder didn't get the zeitgeist memo, it seems. The joy of the handmade was in evidence in Selick's utterly distinctive Coraline and Anderson's fantastic Fox. It's an aesthetic that's easy to fetishize for sheer details, but both auteurs make its incremental wonder part of their characters' experience of the world, and by extension, theirs and ours as well." – Donna Bowman
"Much of the year's best and most personal artistry comes from Hollywood; it gets drubbed at the box office and by many critics too." – Richard Brody
""Precious" reinvents personal, urban drama. "Avatar" reinvents sci-fi, adventure, action films." – Dwight Brown
"What's with all the people voting for Tilda Swinton as Julia but not for Julia itself? Her performance *is* the movie; I don't even see how it's possible to think she's phenomenal yet still be underwhelmed. What, script problems? She steamrolls over the fuckers." – Mike D'Angelo
"Take your "this was a weak year" complaints elsewhere. I had no problem making a top 10, and I could easily list 10 more top-notch films released this year. Granted, the studio offerings were mostly poor, and the end-of-year "award season" offerings underwhelmed, but all in all, cinema seems to have weathered an incredibly tough year better than virtually every other industry/field." – Peter deBruge
"What a year! The top half of my list seemed to settle all on its own, but it took a long time to settle on the latter five. So many titles were just misses. It was almost painful to not include Pixar's latest miracle, "Up." "The White Ribbon," "Night and Day," "The Headless Woman" and "Police, Adjective" all made lasting impressions, and I continue to be very fond of "Two Lovers" and "Up in the Air." Spike Lee's capturing of "Passing Strange" was a fantastic (and important) achievement, but I couldn't justify its inclusion. Not including a documentary in my top 10 surprised me, and then choosing a "best" proved almost impossible until I went with the one that was simply my "favorite.'" – Aaron Dobbs
"I guess the party line is that this was a poor year for cinema, and I think I agree. But what to make then of the fact that this year's Sundance Film Festival had one of its strongest lineups in years, and the fact that all those initially-allegedly-disappointing Cannes titles (Inglourious Basterds, Wild Grass, Doctor Parnassus) actually turned out to be quite great? Really, is it the movies that suck, or is it we who have completely lost our ability to wonder and imagine and embrace? Perhaps Avatar's greatest achievement has been to bring back showmanship and genuine awe to mainstream cinema. Let's see if someone can do the same for independent and foreign cinema." – Bilge Ebiri
"2009 was a hell of a year for cinema, but why no "Worst Movie of the Year" category? "Precious" is just offensive and liberal guilt-baiting enough to win the Best Picture Oscar." – Aaron Hillis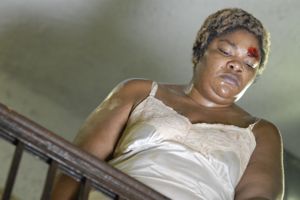 "Biggest misconception about A Serious Man (aside from the usual mystifying comments about the Coens "hating their characters" and all that) is the focus on its Jewishness, as though that were an especially daring choice and a kind of self-made ghetto (and stop talking about the Book of Job, please–this is not that). The movie is about Jewish people, but I had the funny feeling it was universal. And about the prologue: with their last three pictures the Coens are in a midst of a project that looks at stories, how they are told, why they are told, and how they can be used (frequently used in the wrong ways). How stories help us get along, and how they fail us. So along with the fact that very important scenes in all three films appear to be missing, they spend a large chunk of A Serious Man on a dybbuk story whose relevance to the rest of the tale is utterly baffling. Well, of course they do." – Robert Horton
"The gap between the hand-made film ("Police, Adjective"; "Sweegrass"; "Let Each One Go Where He May"; "To Die Like a Man") and the machine-made film ("Nine", "Avatar") grew ever wider. There are many ideological divides in cinema, but none is more important than this. Despite the ever-growing machine, we are living in a golden age of the hand-made film." – Robert Koehler
"A solid year for movies that instigate conversation and productions made by "visionary" filmmakers, meaning people doing stuff because they want to do it rather than because, you know, it's their job. Of course, the job factor figures into it, too. Here's to another twelve months of finding that happy medium!" – Eric Kohn
"Thankfully receiving distribution, but should not go without notice: Sweetgrass. Best American film of the year is about…sheep."Jay Kuehner
""Fantastic Mr. Fox" coasts so breezily and assuredly through its 87 minutes that only afterwards does its apocalyptic ambivalence about humankind's ability to save itself seep through. This anthropomorphic ensemble seems bound in eternal competition (both emotionalyl and materially). They risk destroying themselves and their environment because they're slaves to animal instincts that no amount of linguistic or behavioral sophistication can curtail. For me it's the pinnacle for a year in which a slew of animation films bravely charted dark emotional frontiers. In hopes that our fair poll may someday include slots for two quintessentially cinematic categories, I'll give a shout out to Anthony Dodd Mantle (for the 2nd straight year) for his crisply surreal HD lensing in "Antichrist," and to Agnes Varda's cutting and splicing of her life story into a seamless stream of wonders in "The Beaches of Agnes."" – Kevin B. Lee
"I had about twenty-five to thirty titles I broke down as contenders for my top ten. Five of my films, including my best film, Assayas' "Summer Hours," were 2008 productions; that's not uncommon. There are some films from this year's festival circuit I saw that I would have put on the list had they opened commercially. It echoes my top ten of the decade list in the dominance of French realist art cinema, Asia and the astounding creativity and daring of Romanian cinema. Of my top ten, English is the dominant language in only the Wes Anderson and the Coens' film (even that film has significant passages in Yiddish). English-language cinema dominates the world markets, but certainly not artistically, I'd argue." – Patrick Z. McGavin
"Maren Ade's Everyone Else is certainly one of the finest achievements of the year but it's slated for release in 2010 and therefore oddly absent from this poll entirely. As a Canadian and someone whose time is mainly spent watching non-commercial film, may I be exempt from this US release rule svp?" – Andrea Picard
"I have no idea why, but most things don't make me laugh, yet somehow 2009 was a gold mine of stuff I found absolutely hilarious: Fantastic Mr. Fox, In The Loop, Harmony and Me, Beeswax. Also, Thomas Haden Church is the funniest supporting player in America right now: in two otherwise lousy movies I had to review (Imagine That, All About Steve), he absolutely transformed every scene. Give this man a leading part before it's too late. That more people aren't paying attention to Zoe Kazan in Me and Orson Welles is kind of a travesty. Sincerely irritating, devoted to her enthusiasms without any kind of preconception about how she's coming off, ramblingly awkward and logorrheic, she's the prototypical Linklater character in a nutshell, equal parts endearing and annoying." – Vadim Rizov
"Given this is indieWIRE, let's tip our hat to the most successful independent film of the year (or of any year): "Paranormal Activity." Still, why does that fact seem to be bothering so many people? It's not like "Precious" wasn't a horror film too, just a less effective one." – Joshua Rothkopf
"Carax is back! Greenaway never left! Soderbergh rebounds! Herzog is delirious! Sokurov is indispensable! Tarantino is inexcusable! Movies are magical!" – David Sterritt
"A very poor year for American filmmaking in particular. An economic crash, widespread social misery, two disastrous wars have not yet stirred the artists to think seriously about things. That will come…" – David Walsh
"One day Jared Hess' "Gentlemen Broncos" will finally be recognized for its originality–in humanist terms it is the 2001 of 2009." – Armond White
"A thin year, particularly compared to 2008. Was it a sign that some of the best films I saw were being made (ostensibly) for children?" – Stephen Whitty
"From directors like Kathryn Bigelow and Lone Scherfig to the career revivals of Sandra Bullock and Meryl Streep (as well as the growing box-office might of female ticket buyers), 2009 feels like a watershed moment for women at the movies." – Susan Wloszczyna
The Results:
Best Film of '09 | Best Film of the Decade | Best Lead Performance | Best Supporting Performance | Best Director | Best Documentary | Best Screenplay | Best First Feature | Best Undistributed Film
Sign Up: Stay on top of the latest breaking film and TV news! Sign up for our Email Newsletters here.