Unseen as a lead actor until his big screen debut at the Cannes Film Festival in May, twenty-something French actor Tahar Rahim was receiving audience accolades for his breakthrough acting performance for his star making turn in Jacques Audiard "A Prophet" (Un Prophete). Days after the film's debut, it won the Grand Jury prize at the prestigious event and has since been popular on the circuit with stops in Telluride, Toronto and Sundance to name a few.
Tahar Rahim, a young actor who worked towards his moment in the Cannes spotlight for only a few years, was born in France in 1982. In "A Prophet," opening today in U.S. theaters today (Friday), he plays Malik El Djebena, an illiterate young lone wolf and small-time crook sentenced to prison for six years. While in jail he falls in with a Corsican mob and quickly learns how to survive on the inside, and at the same time building a criminal reputation on the outside during occasional one-day prison leaves. By the end of his sentence, he's risen among the ranks atop an emerging new gang.
Audiard's "A Prophet" was quickly compared to Scorsese's nearly twenty year old "Goodfellas" many times back in Cannes for its engaging examination of a seedy, gangster-driven underworld. Tahar Rahim's "Malik" is not unlike Ray Liotta's "Henry Hill." An innocent who quickly comes of age in the mob, yet he can't evade the inner demons he's stirring with his shady activity. The young Arab is schooled in the ways of the mafia by a Corsican godfather, leading to an inevitable conflict and culture clash.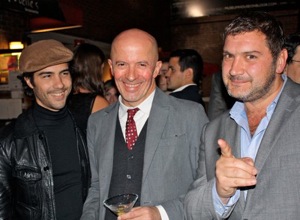 "I had to create somebody totally different and it was extremely difficult," Rahim explained, via a translator, back in Cannes, "I had to make up the role." The physically challenging performance forced him to work hard to create the role. "I studied," Rahim added, "I studied documentaries and various films about prisons and the prison environment."
"[He's] naive in a way," director Audiard explained, during a press conference. "Almost a virgin, who ultimately builds up his identity within his community. He's got no background, he is homeless. And at the end, he's got a story and an identity and a home to go to."
Rahim studied cinema in Montpelier, France, ultimately deciding that what he really wanted to do was act, so he moved to Paris to study the craft. While he has very few credits, one was on a series written by one of the film's co-writers, Abdel Raouf Dafri. Jacques Audiard met the younger actor rather randomly in the back of a car while Rahim was working with another friend and the director quickly realized that the actor would be perfect for the lead role in his new film.
After studying and experimenting to create the character, Rahim said he was given tremendous freedom and learned a great deal from Audiard and co-star Niels Arestrup, who played his mob mentor in the movie. Audiard explained that he worked with Rahim to create a different sort of mafia character. Not a "Scarface" figure, but rather a new type who is more angelic than psychopathic.
"I locked myself up," Rahim said. "I imprisoned myself in an idea, as it were, [and] found it difficult to figure out what I was doing."
"Then the puzzle came together," he concluded. "And I no longer thought about the character."
Sign Up: Stay on top of the latest breaking film and TV news! Sign up for our Email Newsletters here.