"It's hard to put it all into words," "The Hurt Locker" actor Jeremy Renner told indieWIRE regarding the attention the film and his performance have received on the awards circuit. "I can say it's palatable. I can actually swallow this pill to kind of be tossed into all this. It's been such a long trajectory from Venice and Toronto and then Anthony [Mackie] and I got nominated for Spirit Awards [in 2008] and the film wasn't even close to being released [theatrically]. And now I'm surrounded by Mickey Rourke and Sean Penn and all of these phenomenal actors. That's huge! What am I doing here?"
Renner said the experience has been "a lot of those little plateaus" where he could "just breathe and sort of celebrate the triumph of where we started from to that moment. And it just kept building and building," he explained. "And the critics' responses came out with just glowing reviews, completely unexpected. And then the awards things started coming out. It becomes a little easier to swallow. The reality of it is certainly there I couldn't be more blessed it's taken so long, because I can truly enjoy this ride."
It's actually been nearly 18 months since audiences first laid eyes on "The Hurt Locker," at its world premiere at the 2008 Venice Film Festival. Since, the $11 million budgeted Iraq War thriller has followed a fantasy trajectory. Picked up by Summit Entertainment shortly after it screened in both Venice and Toronto, the distributor waited until this past June to release the film, where it managed very strong reviews and decent box office for a film of its size and subject matter. No one expected – even then – for it to become what "The Hurt Locker" is now: A nine-time Oscar nominated best picture frontrunner coming off a near clean-sweep of precursors from this past weekend's BAFTAs to the DGAs to the PGAs.
Renner himself is also very much part of this awards mix. The actor – relatively unknown prior to "Locker" (he was perhaps best known for his Spirit Award nominated performance as serial killer Jeffrey Dahmer in 2002's "Dahmer") – has received honors from the Gotham Awards, National Society of Film Critics, Chicago Film Critics and Boston Film Critics for his work on the film. And on Oscar night, he will compete against the likes of George Clooney, Jeff Bridges, Morgan Freeman and Colin Firth for the Academy's best actor statuette.
In the film, Renner plays Sergeant William James, who becomes the team leader of an Explosive Ordnance Disposal (EOD) unit during the post-invasion period of the Iraq War when a remote-detonated improvised explosive device kills the former team leader. Joining Sergeant J.T. Sanborn (Anthony Mackie) and Specialist Owen Eldridge (Brian Geraghty) on the team, Renner's character borders on dangerous recklessness as the three of them complete a series of tense missions.
Renner got involved when he spoke with the film's director (and a likely winner on Oscar night), Kathryn Bigelow, over the phone, convincing her that he was the right guy for the part.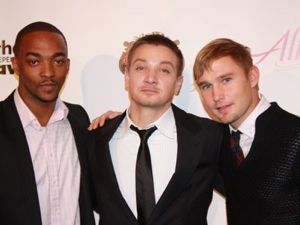 "It ended up being a kind of romantic, excitable conversation about how I was excited about this role and this movie," he recalled. "I read it in London while shooting '28 Weeks Later,' and then I had to fly out to Los Angeles for dinner with Mark Boal who is the writer. He made sure I was the right guy for the role that was also an interesting part. I've never been on a movie for a year before shooting, so we had the grand luxury of taking our time and training talking with the writer and Kathryn about the movie. So, it was really a very isolated experience that I feel very lucky to be apart of."
Renner said that working with Bigelow "was pretty much all in preparation and discussions over coffee." She had said to him early on that she wasn't going to direct him aggressively.
"She gave me the trust by saying you're the only guy for this part," Renner explained. "She said, 'I'm not gonna get in your way.' And I said, 'Great! I'm not gonna tell you how to direct the movie so it's gonna be awesome!' That kind of respect went throughout the cast and crew – we were really collaborators. With Anthony and Brian, specifically, there was more of an application of what Mark [Boal] and I had been working on for over a year. Those guys are tremendous actors and couldn't be better human beings. So we had a strong connection instantly. It worked out because I needed them everyday. We all needed each other throughout the whole shooting experience."
Renner said that despite all the recent kudos, the biggest moment for him with regard to "Locker" happened back in August, 2008, when the film first screened in Venice.
"It wasn't for an English speaking audience, and it was for 1,500 people," he said. "There was a ten or fifteen minute standing ovation at the end. We realized, 'Wow! People are really digging this!' We weren't sure even then [where it wash headed], because it wasn't an English-speaking audience – if there were things lost in translation or whatever it was. It certainly was the first realization that people were really digging this. We went to Toronto just a few days later, with another sizable, English-speaking, audience, and it was well-received there."
In just under two weeks, "Locker"'s long journey from Venice to potentially toppling billion dollar "Avatar" as Oscar's best picture of the year will finally come to an end. That must be an odd sensation for Renner, who has been on and off the publicity train for the film from its festival runs to theatrical release to awards campaigning.
"It's not ended yet, my friend," Renner said. "I can tell you what it's like when it does end. I'm sure that there will be some sort of sigh of relief, letdown, or I don't know. It's kind of like, 'What's it like to be hit by a truck?' 'Well, I'll let you know when that happens.' I'm gonna assume that there's gonna be some kind of a letdown from this high."
This is part of a series of profiles and interviews that indieWIRE will be publishing in the days leading up to the 82nd Academy Awards that profiles various nominees.
Sign Up: Stay on top of the latest breaking film and TV news! Sign up for our Email Newsletters here.