The latest skirmish in the ongoing feud between controversial New York Press film critic Armond White and Village Voice film critic J. Hoberman emerged in recent days with the publication of White's review of Noah Baumbach's latest, "Greenberg" and scathing summary of the past week.
White – clearly inflamed by Hoberman's choice of reprinting White's controversial review of Baumbach's second feature "Mr. Jealousy" – posted an outspoken article where he addressed the whole debacle while accusing Hoberman of breaking "rank with professional ethics," and using "the injunction to launch a personal attack on a fellow scribe." Naturally he defended his "Mr. Jealousy" review, vehemently stating that the "calumny is absolutely untrue." "By deliberately misleading his readers and followers, Hoberman has demonstrated the unhealthy alliance between the film industry and journalism that threatens journalistic independence and prevents criticism from being trustworthy," he continued. "No wonder critics have lost touch with the public and become expendable even to editors and publishers."
Though the article purports to be a review of "Greenberg" (which he disliked to no one's surprise), White used the forum to launch a personal attack on Hoberman, bringing up everything from Hoberman's critical take on Pauline Kael's review of "Shoah" to his "traitorous praise" for "Green Zone", a film which White accounts for "encouraging insurrection in the American military."
Hoberman predictably responded to White's article, with his humorous verve intact. He wrote: "Responding today to what he deemed my 'personal attack against a fellow scribe', Armond uses his review of Baumbach's new movie "Greenberg" to characterize me as the unprofessional, pro-censorship, illiterate, warped, vicious, calumnious, sneaky, underhanded, self-serving, morally reprehensible, small-minded, vain, corrupt, lying perpetrator of "a racist lynching" — a contemptuous, pathetic, angry, conspiratorial, despotic, crypto-Communist brownshirt "attempting to besmirch opponents and write them out of history." Of White's many accusations Hoberman sums them all up as "good-natured stuff!"
Now, critics have been known to disagree – it's their job. Gene Siskel and Roger Ebert's inflamed disagreements over a film's merit milked TV gold on their seminal show. But despite how heated things got on set, the two shared an evident mutual journalistic respect for one another. Judging by the nature of this particular feud, the two won't be making amends anytime soon.
It all started when a recent anonymous e-mail from a certain John Doe hit the web, announcing that White had been disinvited from a critics screening for Noah Baumbach's latest "Greenberg." The email started like this: "Some of you may think that Armond is a pretentious pompous fool who has no idea what he's talking about, but he is still a fellow film critic." And ends on this light note: "Hail the First Amendment. Fuck the talentless hacks!" John Doe also went on to compare publicists to Nazis. Not the kindest choice of words.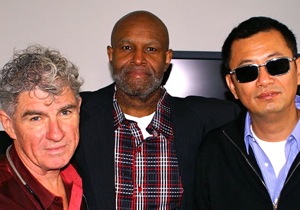 Well, publicist Leslee Dart took full responsibility, avowing that the distributor Focus Films invite While to a later screening. Dart told Hoberman that through a clerical error this never happened, and White was simply never invited.
Hoberman, on his blog, proceeded to reveal that Dart's reason for keeping White from seeing the film was in fact due to White's "long-standing hostility toward Baumbach's mother, former Village Voice critic Georgia Brown." The two famously never got along, but things sunk to the basest of levels when White accused Brown of racism on "The Leonard Lopate Show," back in the 80's. Hoberman took it upon himself to uncover White's print review of Baumbach's second feature "Mr. Jealousy," in which White closes with this: "I won't comment on Baumbach's deliberate, onscreen references to his former film-reviewer mother except to note how her colleagues now shamelessly bestow reviews as belated nursery presents. To others, "Mr. Jealousy" might suggest retroactive abortion." Hoberman suggests that the punch line implies that Brown should have had Baumbach aborted, not something any mother wants to hear.
One can always count on critics (especially White) for making juicy news. This feud is no exception.
Sign Up: Stay on top of the latest breaking film and TV news! Sign up for our Email Newsletters here.