On May 7th, as a film trailer has been making clear since last fall, "the babies are coming." More specifically, Thomas Balmes' documentary, "Babies." Following four infants from four different parts of the world, Blames' film is taking on "Iron Man 2" on Mother's Day weekend in a release wider than most documentary films can ever dream of. But if the intense popularlity of that trailer suggests anything (or the fact that it was attached to mega-hit "The Blind Side"), the audiences could be coming, too. And tonight they most definitely will as the film opens Hot Docs in Toronto, Canada.
Balmes, the father of three young children himself, has been working as a documentary filmmaker since 1992, perhaps most notably with 2000's "The Gospel According To The Papauns," which followed the conversion to Christianity of a Papuan Chief, and 2005's expose of a Nokia cell phone factory in China, "A Decent Factory." He sat down at the Apple Store in SoHo earlier this week to discuss his latest – and inarguably most high-profile – project.
"I did not want to compare or be judgemental or fantasize or exoticize any specific culture," Balmes said during the conversation. "All the different countries I picked do not really represent these countries specifically. I mean, the American family is living in San Francisco, but I'm not sure if it's especially American. They could be French, for example… I mean, I recognize myself in the American father in the way he is parenting."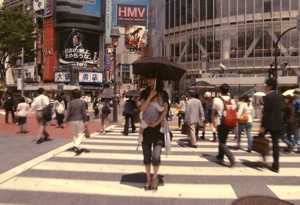 Balmes said his goal was to try and find four countries which were developed differently and had different relationships to modernity and all these tools we are surrounded by.
"From the Namibian desert to Mongolia, which has a bigger connection to the Western way of living," he explained, "to America, and then to the final country, Japan, which I felt has a kind of science fiction feel. You could be in 'Blade Runner' when you're in the center of Tokyo and babies grow up there in such small spaces and everytime they go out they are exposed to giant screens and speakers in the streets. So I was really more into that difference in environments than specifically speaking of each culture or each culture."
After he picked the four countries, Balmes and his team organized a casting session. In some cases the first round brought three or four hundred families, and as they narrowed it down, Balmes would spend a few days with prospective families to investigate their potential. In the end, it was often the family that decided against the film, not the other way around.
"The committment we were expecting from them was kind of tough," he laughed. "I mean, I had just had a baby and it could have been perfect. But we spoke a little bit with my wife and she said 'no way.' Even me being there doing that was too intrustive. Just imagine having a family have this French guy in their living room for such a long time…"
Balmes eventually found his babies and began to film their every move. He said the process seemed to rarely disturb the children, who took to the cameras as simply a natural part of their surroundings.
"These babies were born with a film crew around them," Balmes said. "So they have been used to that. So we were not really disturbing to them. In fact, the film ends at a moment where they became too conscious that we were there… Before that moment, there was rarely any eye contact with the camera."
Balmes explained that the concept for the film comes from its producer, Alain Chabat (who is additionally a famous French actor and director). For a year Chabat and Balmes worked together to determine how Balmes might best work with this particular subject.
"What was great is that he was really keen on letting me treat it the way I wanted to treat it," Balmes said of working with Chabat. "Which is very unusual nowadays because most of the documentaries being produced for theatrical release are very scripted and don't leave much freedom in the treatment. What I really liked about this was project was the possibility to do what I would describe as the most basic documentary you can do: Pure observation and absolutely no script."
"It's still totally subjective," he continued. "But it's a subjectiveness from my point of view… and from the framing and the editing. It's a very open film. It's not only a film about babies. I think there's a lot you can read from it. Which is why it's so exciting to have such a wide release with what to me is such an experimental project."
"Babies" will open the 2010 Hot Docs Canadian International Documentary Festival tonight in Toronto, followed by a release across North America next Friday. For more on Balmes' talk at the Apple Store, check out these videos.
Peter Knegt is indieWIRE's Associate Editor. Follow him on Twitter and on his blog.
Sign Up: Stay on top of the latest breaking film and TV news! Sign up for our Email Newsletters here.