A victory for both personal and political cinema is how winners described the Cannes Film Festival's awards as the 2010 event came to a close. A challenging Thai art film by an acclaimed international auteur (with a difficult to pronounce name) won the top prize at the festival tonight (full list of winners).
Apichatpong Weerasethakul "Uncle Boonmee Who Can Recall His Past Lives" won the Palme d'Or as the 63rd Festival de Cannes closed this evening here on the Cote d'Azur in the South of France.
Wearing a white tuxedo, the director — simply called 'Joe' by many in the international film community — delivered an emotional speech on stage, accepting his Palme d'Or. On one hand he thanked his mother and on the other he spoke of this being an important moment for his home country, Thailand, a nation currently rife with a major political conflict.
In fact, Weerasethakul almost didn't make it to Cannes this year due to the strife back home.
"Thailand, I think needs some kind of hope," Apichatpong Weerasethakul explained, "Because we are so serious and very depressed about the confrontation of different ideologies. So, I hope that more or less, the news [that] Thailand has won the prize for art and culture is going to be some kind of cool water to calm down the situation a little bit."
Pausing for a moment, he added simply, "Hopefully."
Free Panahi
Actress Juliette Binoche, awarded the best actress award in Cannes for her starring role in Iranian filmmkaer Abbas Kiarostami's "Certified Copy," also spoke out about a troubling political situation tonight. On stage inside the Palais des Festivals she held up a printed sign that read, "JAFAR PANAHI," referring to the current imprisonment of the Iranian filmmaker. Panahi is now in day nine of a hunger strike to protest his captivity, she told indieWIRE after the ceremony.
"We wait for his freedom and his liberation," Binoche said tonight in Cannes, "[He is] in prison for his ideas. A country needs its artists and its intellectuals. The country becomes more alive, more true."
Concluding the thought, she added, simply, "We hope for the liberation of Jafar Panahi."
Another film and filmmaker that won a prize during a striking political moment came from Africa. "We make films like little candles that you light," filmmaker Mahamat-Saleh Haroun, from Chad, said, accepting the festival's Prix du Jury for his new film, "A Screaming Man."
"I define my film as a political film," Haroun said tonight, but added that he appreciated the jury's ability to view it in terms of its cinematic language rather than just its message. "Perhaps they were more concerned with the cinema than the politics," he said.
Yet, he added that he hopes to inspire people in his home country.
"I hope to make the Chadian authorities more sensitive and more aware," the director said after the ceremony.
The Future of Cinema?
The notion of individual expression influencing social and political movements was striking on the final day of the Cannes Film Festival. In particular, the idea of 'personal cinema' was referred to a few times on awards night.
"For me, I think cinema is a personal pursuit," Apichatpong Weerasethakul said tonight in France, after winning the Palme d'Or to conclude the Cannes Film Festival.
He spoke passionately and at length as an advocate for new kinds of storytelling that do not rely on the traditions of filmmaking and also empower minority voices.
"We need diversity in the moving image," Weerasethakul said, "I have tried to present a different kind of cinema that pushes the boundaries, to challenge audiences to think about the possibilities of what cinema can do, because it is such a young medium."
Concluding the thought, he added, "It's such a young medium, so I hope that [this award] will be an inspiration for young people to try new ways."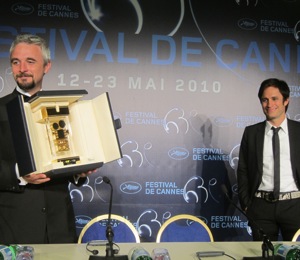 The festival's award honoring a new filmmaker, the Camera d'Or, went to Michael Rowe for his first feature, "Año Bisiesto" from Mexico.
Backstage with Rowe, acclaimed Mexican actor, from the Camera d'Or jury, beamed at the chance to honor the filmmaker and his film. Praising the movie, Garcia Bernal stated his feelings simply, but emphatically.
"I believe that the future is very good, very bright for cinema."
—
Catching up with Cannes: DAY 1 | DAY 2 | DAY 3 | DAY 4 | DAY 5 | DAY 6 | DAY 7 | DAY 8 | DAY 9 | DAY 10 | DAY 11 | DAY 12
More: Latest Reviews | Guide & Grades | Complete Coverage
Blogs: Anne Thompson | Todd McCarthy | Sydney Levine | Eric Kohn | Eugene Hernandez
Winners: Full list of Cannes prizes.
Sign Up: Stay on top of the latest breaking film and TV news! Sign up for our Email Newsletters here.