Each day at the Cannes Film Festival (May 12 – 23), indieWIRE is publishing a frequently updated dispatch from France. All times listed are local French time.
Catching up with Cannes:
DAY 1 | DAY 2
11:45 PM: Cardinale & Delon, Toghether Again — Cannes reunited a classic screen couple tonight here at the festival during a memorable night. Claudia Cardinale and Alain Delon, stars of Luchino Visconti's "Il Gattopardo" (The Leopard), took the stage to a rousing standing ovation prior to the restored version of the acclaimed 1963 Italian film.
Martin Scorsese and Cannes festival director took the stage to introduce Cardinale & Delon after a nearly 45 minute delay at the Debussy theater tonight. "This is one of the greatest films I've ever seen," praised Scorsese tonight, "It's a film that I live by every day of my life." Continuing he gushed, "This is a film of the greatest and most refined artistry."
Winner of the Palme d'Or back in 1963 here in Cannes, the film stars Burt Lancaster alongside Claudia Cardinale & Alain Delon, in the story of the Sicilian societal transition from aristocracy to democracy, during the Risorgimento.
"It's a movie about the passing of time," noted Scorsese, adding that it's further about, "Knowledge that the world is shifting beneath our feet. It's always changing."
The end of the screening brought rapturous applause from the crowd, which jumped to its feet as Cardinale and Delon returned to the stage. The audience clapped in sequence for a few minutes as the actors and Scorsese waved and bowed. [Eugene Hernandez]
9:31 PM: criticWIRE @ Cannes – Grades have stated to come in for criticWIRE's first trip to the Croisette. Check out a full list of links to film pages here, but in brief: Of the films screening in the official selection, Im Sang-soo's The Housemaid has the highest grade average (with a decent "B"), while fest opener Robin Hood, Mathieu Amalric's Tournee, and Xiaoshuai Wang's Chongqing Blues have all managed less promising "C+" averages so far. There's still plenty of grades to come in, and plenty of films to screen, but at this point criticWIRE is suggesting a somewhat lackluster batch of films. One bright spot comes out of Un Certain Regard, where 101 year old Manoel De Oliveira's "O Estranho Caso de Angelica" has averaged a high "B" from 4 different critics. [Peter Knegt]
8:20 PM: Rounding Up News From the Marche – Lots of smaller news items and slate announcements from the third day of the Marche du Cannes have made the rounds on indieWIRE's iW NOW blog. A quick summary: Magnet Releasing, genre arm of Magnolia Pictures, announced from Cannes that it has acquired world rights to "Mandrill," the new action film directed by Ernesto Espinoza; Arrow Entertainment has taken world rights (aside from North America) for Oscar winner Brigitte Berman's documentary "Hugh Hefner: Playboy, Activist and Rebel"; MK2 has announced that legendary French thesp Gérard Depardieu and breakout newcomer Tahar Rahim ("A Prophet") have joined Emilie Dequenne ("Rosetta") for Belgian director Joachim Lafosse's newest, untitled film; Mexican based shorts fest Expresión en Corto International Film Festival, participating in the Cannes Market's Short Film Corner, is launching the 4th edition of their annual themed contest, "Speak Out Against Domestic Violence," with top prize of $50,000 Mexican Pesos; Luxembourg's Iris Productions is bringing four new films to buyers on the Croisette, through Little Film, including Luxembourgian Academy submission "Réfractaire"; Drake Doremus' (most recently helmer of Sundance 2010's "Douchebag") romantic comedy "Spooner" has been added to the Cannes Market slate of Moving Pictures Film & Television (MPF&TV). [Peter Knegt]
7:22 PM: "Blue Valentine" Producer Schools Students – Lynette Howell, producer of "Half-Nelson" and "Blue Valentine," led an exclusive roundtable discussion for student interns at the American Pavilion in Cannes this afternoon. She spoke about how she got her start as a producer, after having moved from Liverpool to LA to pursue an entertainment career, and doled out advice to film students who hope to replicate her success. One quality Howell emphasized was self-reliance: "No one lays the roadmap out," she told the students. "You have to create it for yourself." She also spoke about the importance of networking, stating that her first short film was financed by a "friend of a friend." When asked by a student about other qualities a successful producer must have, Howell cited "fearlessness" as the most important trait.
"Blue Valentine" screens in Un Certain Regard at this year's Cannes Film Festival. [Caitlin Nascher]
6:17 PM: Todd McCarthy and Anne Thompson both take on "Wall Street: Money Never Sleeps" – McCarthy: "The ride is as bumpy as the stock market is these days in "Wall Street: Money Never Sleeps." A 23-years-on sequel to the still-entertaining original in which Michael Douglas created his signature role of Gordon Gekko, the new film initially takes good and opportunistic advantage of contemporary financial woes to detail the malfeascence of bankers and traders. But the script feels like a pasted-together hodgepodge of elements that co-exist without credibly blending together, topped by a climax that feels particularly hokey in its effort to leave audiences comfortable rather than disturbed by what they've just seen. It's surprising for Oliver Stone to propagate an air of complacency about the financial state of things, but that's the effect of the outrageously false feel-good ending. There are moments that bare more teeth than "W." did, but they're mostly in the first couple of reels." [More on Todd McCarthy's blog]
Thompson: "Like the 1987 film, this Wall Street installment is Oliver Stone in mainstream studio mode. Sure, his political slant on the financial crisis comes through loud and clear—the son of a Wall Street broker is preaching to the choir at this point—and he uses cigar-chomping alpha male Josh Brolin, who played George W. Bush in W., as this film's embodiment of Wall Street greed and villainy, Bretton James. (After playing Bush, "I'm still confused," cracked Brolin at the press conference.) But James, who is part of a sprawling ensemble, is less fleshed-out and articulate than Douglas's Gordon Gekko in the first film. He's a caricature." [More on Thompson on Hollywood].
6:03 PM: Predicting "The Future of Filmmaking" – In Cannes today, Pamela McClintock of Variety moderated a panel entitled "The Future of Filmmaking: How to Make and Release a Movie in Today's Climate." Panelists Lucy Walker, Jonathan Sehring, Mark Ankner, John Sloss, and David Fenkel spoke about the issues facing filmmakers in today's economic and technological climate, including a discussion of changing methods of distribution and exhibition.
During the Q&A, the panel was asked to give advice to beginning filmmakers. Ankner stressed the importance of doing research and getting involved in labs: "Educate yourself on the opportunities you have to present your work." When asked how they thought their careers would change in four years, Sloss joked about getting a job in retail, but went on to assert that he doesn't believe the industry will change that dramatically. Walker added that new possibilities are opening up for filmmakers to get financial backing by partnering with known brands, while Fenkel stressed that the Internet provided "tools and opportunities" for savvy filmmakers.
Overall, the panel was optimistic about the future. Embracing change was a theme throughout the discussion, although the panel emphasized that the burden is now on filmmakers to get the attention of an increasingly competitive market. [Caitlin Nascher]
5:45 PM: Eric Kohn on Cristi Puiu's "Aurora" – "A slow burn thriller taken to the extreme, Cristi Puiu's "Aurora" continues the Romanian writer-director's obsession with time as his main narrative device," Kohn writes of the film. "Whereas Puiu previously applied a patient, naturalistic approach to the final day of a dying man in 2005's "The Death of Mr. Lazarescu," his new three-hour opus studies a dead man walking." Read the full review here.
2:05 PM: Stone Back on Wall St. — "I am confused whether capitalism in its present form can work," Oliver Stone questioned today at the Cannes Film Festival, "It seems not – it seems extreme and unregulated."
The director met the press to discuss his new film, "Wall Street: Money Never Sleeps," a sequel to his 1987 movie, "Wall St." Gordon Gekko is back, this time he's just out of prison. Stone also took the time to talk about three new documentaries he is lining up. [More in today's indieWIRE dispatch]
1:43 PM: McCarthy's Early Word — So-So So Far, writes Todd McCarthy today, surveying a group of films early on here at the Cannes Film Festival. McCarthy takes a look at Mathieu Amalric's "On Tour" ("A busy, unstructured, piece-meal, moderately lively look at a desperate French promoter shepherding a bunch of brassy American practitioners of New Burlesque"), Sabina Guzzanti's "Draquila, Italy Trembles" ("Politically, comedically and politically, Guzzanti is the Italian Michael Moore"), Wang Xiaoshuai's "Chongqing Blues" ("middle-of-the-road fare with just enough going on to keep you on board, if just barely") and Im Sang-soo's "The Housemaid."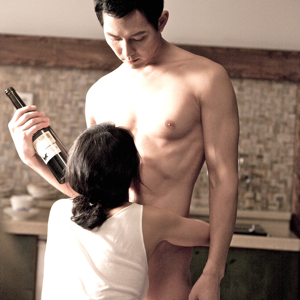 McCarthy saves his praise for the Korean film, calling it, "sexually juicy, stylistically sleek, [and a] dramatically over-the-top melodrama. He continues, "Officially a remake of a 1960 South Korean picture of the same name, this update reportedly bears little resemblance to the original, with two central characters having been added. But it does carry some crippling baggage of another era in its reliance on what feel like dated notions of extreme class warfare, with lower-stationed people bowing and scraping and otherwise allowing themselves to be completely trampled by their economic betters." [More at Todd McCarthy's Deep Focus]
12:35 PM: Huston Picks Riklis Drama — "Robin Hood" Actor Danny Huston, in Cannes for the opening film this week, got up early to eat breakfast with the pres today and to announce that he will star in "Playoff," a co-production between Germany's Egoli Tossell Film, Topia Communications of Israel and France's Fidelite Films. Directed by Eran Riklis ("The Syrian Bride"), from a screenplay by Gidon Maron and David Akerman. The film is inspired by the life of "legendary" Israeli coach, Ralph Klein. Riklis and Huston and the film's producers said at a beachside restaurant in Cannes today.
Forty years after surviving the Holocaust, Max Stoller (Huston) is offered the job to coach the West German national basketball team – a team that is completely hopeless. Everybody believes Max will reject the offer, but despite public outrage in Israel and his mother considering it a betrayal, he accepts and goes to Frankfurt where his father had been lead away by the Gestapo. Once in Germany, he is seduced by the place he knew as a child, and is attracted to a young Turkish woman. While helping the young woman locate her husband, he discovers his own family secrets and realizes his life has been based on betrayals and desires – nothing heroic.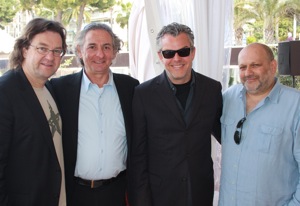 The film, which also stars Amira Kasar, Max Riemelt and Hanns Zischler, begins principal photography in Frankfurt, Germany on June 29th. [Brian Brooks]
11:40 AM: Tipped for Friday — Day Three: Im Sangsoo's "Housemaid" and Oliver Stone's "Wall Street – Money Never Sleeps" anchor the first Friday of the Cannes Film Festival.
"Housemaid" is screening in competition here in Cannes and the buzz out of yesterday's screening was strong. Insiders buzzing on the party circuit last night said that early on here, the film is the strongest of the fest, so far. It is a re-make of Kim Ki-young's 1960 Korean classic, "The Housemaid," the story of, "A man [who] has an affair with his housemaid." [Eugene Hernandez]
Sign Up: Stay on top of the latest breaking film and TV news! Sign up for our Email Newsletters here.