Last summer indieWIRE reported the winners and losers of the first half of 2010, generally suggesting things had taken a downward turn in comparison to the year before. A year later, it seems reasonable to exclude the "losers" element of a similar story as relatively there's really quite few of them. Sure, there could be repetitive ramblings about the troubles of fallen distributors like Apparition or a few kick-em-while-they're-down blurbs about the little engines that couldn't. But let's try some full-on optimism on for size instead.
This year's overall domestic box office grosses are still tracking ahead of last year by a little over 1% – though early year receipts from "Avatar" and "Alice in Wonderland" remain large reasons why this is the case. Back in April, indieWIRE's report on the year's first quarter of 2010 was tracking 10% ahead of 2009. A few months later, that number has dropped quite considerably thanks to a generally lackluster summer (though recent hit "Toy Story 3" and today's release of "The Twilight Saga: Eclipse" may turn those tides).
indieWIRE also noted in that report that "the specialty world has been having a tough time" in the shadow of Hollywood's first-quarter success. That also seems to have changed.
"Since the Academy Award season we have out-performed the preceding year 15 out of 17 weeks," Ted Mundorff, CEO of Landmark Theatres, the largest art house movie theater chain in the United States, told indieWIRE yesterday. "Last year at this time the majority of our top 10 were a result of the attention they received from Academy consideration. This year, the majority of the top performers have not as yet received Academy attention. This reinforces our view that there is a significant demand to see quality independent films."
At this point last year, the top five specialty releases – "Sunshine Cleaning," "Away We Go," "The Class," "The Brothers Bloom" and "Two Lovers" – had grossed roughly $26.5 million combined. This year, the top five – "The Ghost Writer," "The Girl With The Dragon Tattoo," "Babies," "The Last Station" and "City Island" – has taken in $45.2 million. In comparison to last year, there's also quite a significant uptick in the amount of films reaching important specialty milestones:
2009 – 2 specialty films grossed $5 million+
2010 – 6 specialty films grossed $5 million+
2009 – 8 specialty films grossed $2 million+
2010 – 15 specialty films grossed $2 million+
2009 – 17 specialty films grossed $1 million+
2010 – 22 specialty films grossed $1 million+
The issue that might have some people suggesting there isn't quite a reason to celebrate is that no film has really broken out above and beyond standard specialty grosses. Summit's release of Roman Polanski's "The Ghost Writer" is the only specialty platform release to take in over $10 million (though Fox Searchlight's "Cyrus" expansion in the coming weeks should definitely change that).
"[Because of] the fact there isn't some huge locomotive, people tend not to say things are great," Sony Pictures Classics' Michael Barker told indieWIRE earlier this week. "I think it will over the summer, there will be a locomotive, no question. But even without it, I believe that times are good… I see these major circuits spending more attention to these pictures than they have before."
Instead of locomotives, there have been a very healthy number of smaller trains chugging along quite nicely. Beyond "The Ghost Writer," there's a $5 million club which includes Music Box Films' "The Girl With The Dragon Tattoo," Focus Features' "Babies," Sony Pictures Classics' "The Last Station" and "The Secret In Their Eyes" as well as Anchor Bay's seemingly out-of-nowhere success story, "City Island." There's also a considerable number of summer films just starting out – from aforementioned "Cyrus" to films like "Winter's Bone," "Joan Rivers: A Piece of Work" and "I Am Love" – all of which seem likely to end up with strong final numbers.
"The state of the independent film world is vibrant from a variety of perspectives," IFC Films' Mark Boxer told indieWIRE. "The number of films reaching audiences has been consistent, and even in periods traditionally dominated by wide studio releases, the infusion of product is impressive. Further, apart from the traditional art house outlets, the country's largest circuits have ramped up their commitment to specialized fare."
-this article continues on the next page-
Interesting as well is that only one of the top six grossing specialty releases so far this year is an American production: "City Island." The other five hail from France ("Babies"), Argentina ("The Secret in Their Eyes"), Sweden ("The Girl With The Dragon Tattoo"), the UK ("The Last Station") and a German-French-British co-production ("The Ghost Writer). It's impossible to imagine so many of Hollywood's top grossers coming from anywhere other than the U.S.
"To the outside viewer, hitting a million dollars on a foreign film doesn't seem like such a big deal," Barker added. "But it is a big deal for people who have been toiling in that business for years.
Barker had a huge success story in "The Secret In Their Eyes," Juan José Campanella best foreign-language Oscar-winning crime thriller which, after eleven weeks, is still on 143 screens and took in over $200,000 this past weekend. Its final cume should end up at a very impressive $7 million.
The film beat out two other Sony Classics titles for the Oscar – Jacques Audiard "A Prophet" and Michael Haneke "The White Ribbon," both of which also performed quite well despite considerably less accessible subject matter than "Secret." "A Prophet" ended up with $2,084,637, while "Ribbon" (technically a 2009 release, and thus not included on the below chart) grossed $2,222,862.
Swedish-language feature, "The Girl With The Dragon Tattoo," meanwhile, was a staggering winner. Based on the first in Stieg Larsson hugely successful book series, the film should end up grossing nearly $10 million, making it one of the 25 highest grossing foreign-language films of all time. It's also become the highest grossing film ever for distributor Music Box Films, which will release the second film in the series, "The Girl Who Played With Fire," just a few months after "Tattoo" on July 9th (the third film will come in the fall). The likely success of the trilogy could end up providing 2010 with an unprecedented foreign-language success story.
Stateside-produced films have had their fair share of good news as well. While heavily promoted films like Ben Stiller-starrer "Greenberg" and Kristen Stewart-Dakota Fanning music biopic "The Runaways" may not have turned into the seven-figure breakouts some may have hoped, their grosses remained respectable at $4.2 million and $3.6 million respectively. And Sony Classics had another reason to be pleased in Nicole Holofcener "Please Give," which just crossed the $3 million mark and continues to go on strong in its tenth week out.
U.S. indie distributor Anchor Bay was a success story in itself, releasing two of the year's biggest U.S. specialty films despite never having had a film gross over $250,000 prior to this year. Anchor Bay's March release of Raymond De Felitta "City Island" amounted to a remarkable $6,171,165 gross (with another $1 million likely), while Brian Koppelman and David Levien late May release, "Solitary Man," is still in the process of expanding and has already taken in $2,120,407.
"These films epitomize our ideal acquisitions," Bill Clark, President, Anchor Bay Entertainment, said of both "Island" and "Man." "'City Island' is entering its 16th weekend in release which is a testament to its strong playability, broad appeal and its wonderful performances from the cast."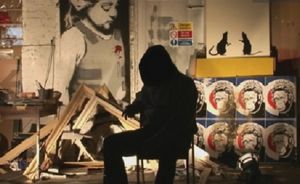 A smaller but still notable victory came for Screen Media, who found their first $1 million film in Peter Bratt "La Mission." The distributor's previous high had been the $421,307 that "Lymelife" grossed last year.
And then there's US-UK co-production "Exit Through The Gift Shop," the mysterious is-it-a-documentary from equally mysterious street artist Banksy.
For "Gift Shop," Cinetic Media's John Sloss – who represented rights to the film at Sundance (and then Berlin) – co-founded a distribution entity called the Producers Distribution Agency with his Cinetic partner Bart Walker. With a team including Richard Abramowitz, Donna Daniels and Marc Schiller, the company decided that despite offers coming in the wake of "Exit"'s acclaimed screenings in Sundance and Berlin, it was, nevertheless, a highly unlikely project for a traditional distributor. Sloss explained that this was due to the fact that not only is Banksy very controlling, but you can't talk to him (Sloss himself never expects to meet the elusive man).
The film was released quite quickly out of Sundance with a small window for press and buzz-building, a move some viewed as quite risky. But week after week, "Gift Shop" scored fantastic per-theater-averages and should end up with a gross over $3 million. If the film is in fact a documentary, it's one of the 40 highest grossing docs of all time.
Docs in general though, were certainly one cause for concern. Non-fiction work not starring Bansky, babies or Joan Rivers seemed to have had a hard time breaking out (though "Restrepo" is off to a good start). But perhaps the real cause for concern has nothing to do with theatrical.
"The real issue isn't theatrical," Sony Classics' Michael Barker said. "The issue is where do we replace the revenues we received from home entertainment that are not there anymore? And I'm not sure how. We're all hoping that maybe it's around the corner… But it's like that line from [Gregory La Cava's film] 'My Man Godfrey,' when Godfrey says that 'prosperity is just around the corner.' And the hobo says, 'well, it's been there a long time.'"
-For a chart of the top 30 grossing specialty films, please continue to the next page-
Here's a chart of 2010's thirty highest grossing films tracked by the iW BOT (including films that screened only as an Academy-qualifier in 2009), as of June 29, 2010. It only includes specialty films that opened in limited release in 2010.
1. The Ghost Writer (Summit Entertainment) – $15,541,549
2. The Girl With The Dragon Tattoo (Music Box Films) – $8,680,922
3. Babies (Focus Features) – $7,198,284
4. The Last Station (Sony Pictures Classics) – $6,617,867
5. City Island (Anchor Bay) – $6,156,287
6. The Secret in Their Eyes (Sony Pictures Classics) – $5,301,168
7. Greenberg (Focus Features) – $4,234,170
8. My Name Is Khan (Fox Searchlight) – $4,018,771
9. To Save a Life (Samuel Goldwyn) – $3,777,210
10. The Runaways (Apparition) – $3,573,673
11. Please Give (Sony Pictures Classics) – $3,134,688
12. Chloe (Sony Pictures Classics) – $3,070,992
13. Exit Through The Gift Shop (PDA) – $2,658,829
14. A Prophet (Sony Pictures Classics) – $2,084,637
15. Solitary Man (Anchor Bay) – $2,070,915
16. Kites (Reliance) – $1,643,486
17. Harry Brown (Samuel Goldwyn) – $1,604,899
18. The Joneses (Roadside Attractions) – $1,465,191
19. Raajneeti (UTV) – $1,458,245
20. Winter's Bone (Roadside Attractions) – $1,064,308
21. The Perfect Game (Industryworks) – $1,037,071
22. 2010 Oscar Shorts (Magnolia/Shorts International) – $1,018,169
23. La Mission (Screen Media) – $997,225
24. Joan Rivers: A Piece of Work (IFC Films) – $954,232
25. Princess Kaiulani (Roadside Attractions) – $826,624
26. Mother and Child (Sony Pictures Classics) – $790,432
27. Micmacs (Sony Pictures Classics) – $715,140
28. North Face (Music Box Films) – $711,421
29. The Secret of Kells (GKIDS) – $637,411
30. Vincere (IFC Films) – $619,162
Sign Up: Stay on top of the latest breaking film and TV news! Sign up for our Email Newsletters here.