Those who said relocating the 2010 Los Angeles Film Festival downtown would be a terrible mistake were proven wrong this week. With the Lakers' championship celebrations, the Twihards' tent city, and the sold out Regal Cinemas screenings, the fest's LA LIVE campus turned out to be the most happeningest place in the city. As LAFF heads into the home stretch, indieWIRE's informal canvassing of filmmakers and festival-goers indicates an overall thumbs up to this year's edition of what festival director Rebecca Yeldham calls "an 11-day feast of films for movie lovers."
Film Independent's Los Angeles Film Festival screens more than 200 feature films, documentaries, shorts, and music videos from June 17 – 27. No other film in this year's festival lineup has anywhere near the excitement level generated by the world-premiere of "The Twilight Saga: Eclipse," which had diehard fans lining up for days in advance of its Thursday night screening and inspired countless "What are they camping out for, 'Kings of Pastry'?" type jokes among festival passholders.
On the indie film playing field, a trio of flicks proved to be hot tickets.
The first, Yoshihiro Nakamura's "Golden Slumber," described in the festival program as "a cross between 'Pee-wee's Big Adventure' and 'The Fugitive'," garnered raves on Twitter immediately after its Downtown Independent screening. For those who missed out, it's scheduled to play again on Saturday, June 26th.
The second, Gareth Edwards' "Monsters," is being hailed as the next "District 9." Edwards came up with his scenario of a post-invasion extra terrestrial infestation of Mexico after spotting a fisherman hauling up his catch and daydreaming a "what if" scenario involving an alien tentacle flopping out of the fishing net. Going for the money shot right away, the filmmaker shows the creatures in the opening sequence, then refocuses his story on a road trip and the developing relationship between his appealing romantic leads, portrayed by real life couple Scoot McNairy and Whitney Able. "Monsters" also re-screens on Saturday.
Lastly, Lena Dunham's SXSW award-wining "Tiny Furniture" completely charmed its audience at the sold-out June 19th screening. To continue to employ Hollywood speak and describe films in terms of other films, this micro-feature is a contemporary female version of "The Graduate" meets "Metropolitan." In her post-screening Q&A, Dunham said hers was the first feature shot on the Canon 7D. It looked great projected on the huge multiplex screen.
The festival's documentaries also captured the lion's share of audience interest. The gala screening of Davis Guggenheim's educational drum-beating "Waiting for Superman" fired everyone up, but the liveliest doc screening had to be the Wednesday night John Anson Ford Amphitheatre presentation of Alexandre O. Philippe's "The People vs. George Lucas," at which attendees were encouraged to come in character. Among the competition docs, John Kastner's "Life with Murder" inspired a lot of post-screening debate.
Among the narrative features in competition, the world premiere of "Dog Sweat" by first-time director Hossein Keshavarz was top of mind when festivalgoers were asked what they saw and liked. The fact that the multi-character drama was secretly shot in Tehran makes it doubly fascinating. Two films about twenty-somethings adrift, Brent Haley's Florida bowling alley-set "The New Year" and Isao Yukisada's Japanese "Parade," also surfaced as world-of-mouth faves.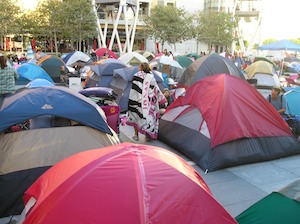 Of the films scheduled to screen this weekend, Philip G. Flores's "The Wheeler Boys" is of particular interest. The taunt coming-of-age story of a high school freshman too eager to join his older brother's fast crowd won the Netflix FIND Your Voice Film competition. As a result, in addition to screening at LAFF, the drama will be streamed in its entirety for free for anyone in America to view online for 48 hours beginning Friday, June 25 at 8:00 p.m. PST on www.netflix.com/findyourvoice. "Both LAFF screenings are already sold out," reports Flores, who is excited that the Netflix streaming "is open to people outside of Los Angeles who can't make the festival. I'm looking forward to seeing what happens and getting reactions."
One of the most exciting things about LAFF is that it celebrates filmmakers at both ends of the spectrum – from the most outsider to the most insider. You can't get much more insider than the festival's "Conversation with" events. On Friday June 18th, Christopher Nolan came straight from the final mixing session of "Inception" to join 200 audience members to screen a beat-up print of Alan Parker's 1982 cult classic "Pink Floyd The Wall" and talk about its influence on his filmmaking. Nolan revealed he had first seen the film on television as an impressionable sixteen-year-old and only saw it projected for the first time a year and a half ago. "The Dark Knight" helmer agreed with moderator Elvis Mitchell that Parker's heavy use of insert shots, non-chronological storytelling, and highly tactile set dressing/visuals were most notably reflected in Nolan's early film, "Following."
Those hoping to get a sneak peek at Nolan's latest effort were disappointed that he didn't bring any clips with him, but the fanboys and girls who packed into the Sunday, June 20th Edgar Wright conversation (delightfully moderated by J.J. Abrams) were given more than they expected. Wright unveiled 9-minutes of "Scott Pilgrim vs. the World," a heavily anticipated summer film described during the evening as "Cameron Crowe meets 'Five Deadly Venoms.'" Perhaps more exciting and inspirational for anyone who attended the fest's DIY marketing symposium earlier in the day, Wright debuted the first of seven online pieces that DJ Osymyso created by mashing up the film's audio tracks.
If one's mission in attending LAFF is to discover the next generation of indie directors, one need look no further than the fest's two Future Filmmakers Showcases, each of which contain over a dozen shorts by high schoolers from around the world. Animation, live action, and documentary are all tackled with very impressive results. Both programs run again this Saturday.
The best shorts currently playing the circuit have been gathered into five official programs at LAFF. Program Four particularly impresses with high profile shorts (Patrik Eklund's "Seeds of the Fall," Ruben Ostlund's "Incident by a Bank") plus new gems like Julius Onah's hard-hitting autobiographical 6-minute saga "Goodbye Chicken, Farewell Goat," which he shot on a mobile phone, and Spanish filmmaker Pablo Larcuen's highly enjoyable "Napoleon Dynamite"-esque "My Invisible Friend."
With the "School of Corman" conversation, the free community screening of Thomas Napper's "Lost Angels," and a series of "Coffee Talks" with directors, actors, composers and screenwriters still to come this weekend, LAFF '10 is just hitting its stride.
Now if someone could just do something about the traffic…
Sign Up: Stay on top of the latest breaking film and TV news! Sign up for our Email Newsletters here.