One of the high points of my brief tasting of the Seattle International Film Festival this year (May 20 – June 13) was the tribute to the articulate Edward Norton. After scenes from "Primal Fear," "The Incredible Hulk," and "Fight Club" were screened, the moved star told the S.R.O crowd, "It's weird. When you work on a lot of films over the years, you put a lot of focus into each one, and try to channel something specific, and then when it's over, it kind of just moves through you."
"I think people who don't act," Norton continued, "don't totally understand the degree to which you kind of are just a conduit for something else that actually already exists out there. It finds its way through you and into this thing, and then you move on. The thing I like about watching [the films] and hearing people's reactions is that you begin to realize that you left it way, way behind, but it's living out there, forming its own relationship with other people, which is the whole point of it all."
"So if there's any reason to get into this racket in the first place, I think it has something to do with that C.S. Lewis line: 'We read to know we're not alone.' I think that's why we make movies for each other because we want other people to feel like someone else is examining the experiences that we all go through. So when I hear people react to these things, and realize that they have taken a place in people's lives long after they've left mine, that's a nice feeling. It makes me feel connected to everyone else through it. And that's great."
A low point was the screening immediately afterwards of Norton's latest vehicle, Tim Blake Nelson's "Leaves of Grass," a twin-brother, pot-vs.-philosophy, violent comedy with dashes of unintentional anti-Semitism. Don't take my word for it, please. I could only bear 35 minutes, and I haven't walked out of anything since "You, Me and Dupree."
But you have to expect at least a bad apple or two when a festival is screening 189 features, 54 docs, and 150 shorts from 67 countries. Happily, I found nothing else lacking merit to this degree. This has a lot to do with Carl Spence, SIFF Artistic Director, who has helped expand SIFF from just being a bang-up annual event into a cultural phenomenon that serves the entire Seattle community daily with its new center and outreach to high schools and local filmmakers.
Spence admitted, "There's certainly a diversity of types of films so there's bound to be something that may not appeal to you or to anyone else. But I think the films are phenomenal this year, and the audiences have been responding to them. We've had record attendance, more so than we have ever had before. By yesterday (June 4th), we actually surpassed the box office from last year, and we still have 9 days left to go." Some of Spence's favorites features: Mona Achache's "The Hedgehog," Fernando Trueba's "The Dancer and the Thief," the films that make up the "Ambiente: New Spanish Cinema" program, plus the 8 films from Africa that he worked hard to garner, especially the Uganda offering, Caroline Kamya's "Imani."
Spence was also proud of his Emerging Masters showcase that spotlights "powerful voices that rise above the background din." Along with this year's choice of Mohamed Al-Daradji, were Valery Todorovsky and Ana Kokkinos.
Russia's Todorovsky's deliciously engaging musical, "Hipsters," takes place in the Moscow of 1955. In a society where "a saxophone is [considered] a small step from a switchblade"; hanging a picture of Stalin opposite your toilet can earn you a prison sentence; and wearing lipstick and listening to jazz are acts labeled "kowtowing to Western ideology," a group of rebels decide to turn in their grays for yellows, reds, and blues plus a whole lot of copulating. Imagine Baz Luhrmann on borscht.
Australia's Ana Kokkinos was represented by "Head On" (1998), a hard-hitting drama chronicling a hunky closeted Greek 19-year-old's attempts to keep his immigrant family unaware of his drug and sexual addictions over a 24-hour-period. Alex Dimitriades is superb as a violent sexual force that doesn't know how to love.
Kokkinos' current release, "Blessed", is just as good. Divided into two, the first part concentrates on several disenfranchised youth of Melbourne who shoplift, wind up in a porn film, or dead. In the second half, their mothers are observed. Unforgiving in its shrewd relentlessness, the cast is flawless as is the direction.
So how does a director feel to be called an Emerging Master? "Deeply honored," Kokkinos noted, "because it's really honoring the work not only of myself as a filmmaker but all of my collaborators who've worked with me over the years. Independent filmmaking is a tough feat so when the work is recognized in this way… when the work is celebrated in this way… I can't tell you how deeply I feel. Also the festival has enabled me to come and share this with you. There is so much joy in being able to present work that makes us think and hopefully makes us feel certain things and then being able to share it."
Oscar-winning documentarian Brigitte Berman was also cheerful to be screening in Seattle her seamless, eye-opening entertainment about the civil rights activist "Hugh Hefner: Playboy, Activist and Rebel." Her reasoning: "I think the audiences' reactions to the film are most rewarding. I sit through the whole film every time because I always learn more. As a filmmaker, you need to know who the audience is and what the audience is really about, and it's very interesting. There are certain things in the film, for instance, talking about the House Committee on Un-American Activities. [The blacklisted harmonicist] Larry Adler is talking to Hef, and he makes a joke. He says, 'I am not now nor have I ever been a jazz musician.' Of course, most people don't get it. In New York, at the Museum of Modern Art, they got it. Huge laughter. So those are my little surprises always. What kind of audience am I in now?"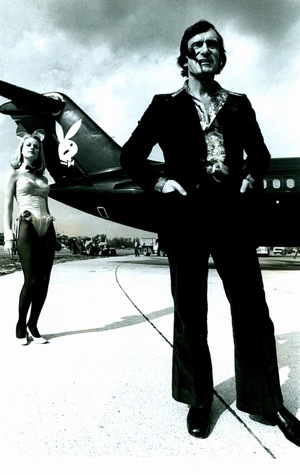 A highly appreciative one at her next screening.
Also earning praise was Alejandro Amenabar's "Agora," a humorless feminist toga epic that fascinates with its intelligence and its abhorrence of the birth of Judeo/Christian culture.
One Seattleite in a line for another feature recalled how impressed she was the day before with the hairy armpits of the star of Adan Aliaga's "Stigmata." "It's beautiful to watch but very, very, very dour." This Spanish adaptation of an Italian graphic novel follows Bruno, a giant of a man, played by real life Spanish shot-put champion Manuel Martinez. Bruno is an impoverished alcoholic waiter who raises caterpillars in a shoebox. One day his hands start bleeding and he gains healing powers, which do not make the customers at the bar he works at happy. Who wants to drink out of bloody glasses? Black-and-white except for some final shots of red, this is a film you won't mind viewing once.
Javier Rebollo's comic delicacy, "Woman Without Piano," tells of Rosa, an everyday housewife/electrologist, who, sick of marinading her taxi-driver spouse's beef, dons a stylish wig one night and leaves home. She doesn't get very far, but it doesn't matter since Carmen Machi's performance is understated comic genius.
Leanne Pooley's lively New Zealand doc focuses upon "The Topp Twins: Untouchable Girls." These butch lesbian sibling farmers, who have a comedy singing act (acoustic country songs), are shown fighting for gay rights and surviving cancer over the decades, and they are endearing in their suits and fake moustaches. Sadly, their music is not for all.
Bruno Collet's 9-minute short, "The Little Dragon," however, is for everyone. This hilarious tale tells of a Bruce Lee doll that has been boxed up for 35 years. Now one night, while his bearded owner is sleeping, the toy breaks out and is soon battling robots and computers in a world far different than the one he last played in.
Bill Plympton's 4-minute "Santa, the Fascist Years," which is narrated by Matthew Modine, depicts the sad history of Mr. Claus when he tried to out-evil Mr. Hitler in 1939. Plympton's silliness is captivating for the "Bah, humbug!" cynics in all of us.
Meanwhile, in a mere 16 classy minutes, Pierre Stefanos' "Bedfellows" captures the possibilities of true gay romance in a world where cuddling is no longer acceptable. Yes, there is hope.
There's nothing sentimental though about Phillip Montgomery's "ReGeneration," an astounding exploration of the corrupt media that has shaped today's society into a mindless behemoth that knows more about Lindsay Lohan and Paris Hilton than it does the C.E.O.s who have made greed into a "positive" trait. This one has legs.
Portland's Matt McCormack's "Some Days Are Better Than Others" is sort of a neutered Todd Solondz comedy. No sperm shots, murders, or pedophilia. Just lonely people trying to reach out now and then to each other, plus numerous shots of the sun's rays reacting on soap bubbles.
Jacek Borcuch's "All That I Love" from Poland is a highly affable feature about a group of lads forming a punk rock band in 1981 as their country goes totalitarian. Unlikely heroes, they get to sing, and the lead loses his virginity on a beach. What better way is there to spend one's youth?
Also of note, Ivan Cherkelov's "Crayfish," a slight Bulgarian comic tragedy in which two poor pals do each other in by accident after being hired by warring crime lords.
Aluzio Abranches's "From Beginning to End" (Brazil) does for gay male incest what "Finding Nemo" did for lesbian-voiced fish. This highly erotic, graphically sexual love story is discomforting yet never less than fascinating. Definitely a possible moneymaker on the gay art house scene.
Former child wonder Sebastien Lifshitz's "Going South" is also worth viewing if you can enjoy a world populated by distraught people who all look like supermodels yet can act. Gay and straight, two strangers and a pair of siblings go on a car ride, have sex, and flashback on their past, which includes sticking a finger in a hole in dad's head where he shot himself.
Best of all is the truly hilarious, yet touching "I Killed My Mother" directed and written by Xavier Dolan. This just might be as close as we'll ever get to seeing "Catcher in the Rye" on the screen.
Sign Up: Stay on top of the latest breaking film and TV news! Sign up for our Email Newsletters here.