A signed copy of John Waters' latest book, "Role Models," sits in the window at the Provincetown Book Shop on Commercial Street, the main drag of the small town on the very tip of Cape Cod in Massachusetts. At various times this weekend, Waters could be seen riding by the shop on his bike, out an about on daily errands or en route to a screening. He lives on the other end of town in a funky studio loft space that faces the sea, atop an artist's beach-side home.
Inside the bookshop over the weekend in P-Town, the proprietor said that Waters worked at the small store for five summers. "It was the only real job I ever had," the director later told me.
In "Role Models," Waters poignantly and humorously writes about his own life and the people who've influenced him. This weekend at the Provincetown International Film Festival, Waters himself was cast in the role of 'role model'.
On Saturday night in Massachusetts, filmmaker Kevin Smith was honored by the Provincetown Fest and, during an on-stage Q & A with John Waters, singled out Waters as an influence (from Johnny Mathis and Tennessee Williams to Saint Catherine of Siena). For awhile, the two joked on-stage with graphic sex talk and an outrageous story about Smith recently being bumped from a Southwest Airlines flight.
Later, turning serious, Smith said he doesn't have many people he looks up to, but singled out John Waters as someone he admired and then he gave the filmmaker a bear hug.
This year's Provincetown fest showcased a host of folks who've made a major mark on modern independent film over the past few decades. In addition to Kevin Smith and John Waters, the fest honored Rob Epstein and Jeffrey Friedman for a career of exceptional documentaries as they make the move this year into narrative with their upcoming, "Howl."
The event also honored Tilda Swinton twenty-five years after her initial screen role. She first appeared in "Caravaggio." Over the weekend, she was toasting the U.S. debut of her latest, "I Am Love," which just opened in domestic movie theaters.
But, don't call her an actress.
During an on-stage conversation with writer B Ruby Rich, Swinton said that she is a 'performer'. She doesn't consider herself worthy of being called an 'actress'. Instead, she always thought she'd be a writer rather than a performer.
Then Swinton met her own role model, Derek Jarman, director of "Caravaggio" back in 1985. She agreed to appear in the film, but hardly calls her performance, 'acting'. Swinton jokingly protested about getting a prize for achievement in acting, saying she'd rather get an award for, "Excellence in collaboration and excellence in having fun."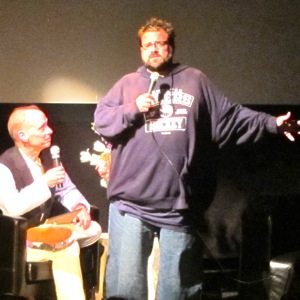 This year's Provincetown festival, a casual five-day weekend event that is now in its twelfth year, screened about fifty films, many of them hits from other fests. Prize-winners were chosen by moviegoers. Javier Fuentes-Leon's "Undertow" and Bruce Beresford's "Mao's Last Dancer" tied for the audience award for best narrative feature film, while Lucy Walker won the documentary audience prize for one of two docs she has on the festival circuit this year, "Waste Land." The award for best short went to Joseph Laraja's "Come On Down" and the Student Film Grand Jury Prize went to Cameron Sawyer's "She's The Fox."
Organizers, including executive director Gaby Hanna, artistic director Connie White, director of programming Andrew Peterson and senior programmer Lisa Viola have set an ambitious goal for themselves this year. If they can raise as much as a million dollars this year, they have an option to purchase and renovate the local Whaler's Wharf Cinema. Their goal is to build it out as a two-screen venue with year-round programming.
Donations are already up to six figures with a way to go before they can take over the movie theater. In the meantime, Hanna is already running the venue as they continue to raise funds.
While not defined as a gay and lesbian film festival, the Provincetown fest offers a lineup with a decidedly queer bent that serves the large contingent of GLBT folks who fill the town all summer.
While in town to accept the festival's Filmmaker on the Edge award, Kevin Smith was also representing the new queer doc "Bear Nation," with its director Malcolm Ingram, a close friend who also directed the doc, "Small Town Gay Bear." A few years back, Smith prodded Ingram to make the movie and explore the gay male bear community. The film, which debuted earlier this year at SXSW, will have a week-long run in P-Town later this summer for the town's annual 'bear week'.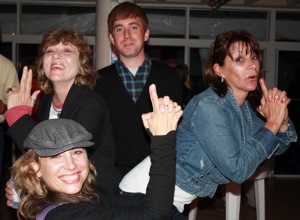 Notably, Smith was with Ingram at a bear event to promote their film recently when he was asked to leave that infamous Southwest Airlines flight.
"Can I ask a personal question?" Waters prodded Kevin Smith on Saturday during their on stage Q & A. "Couldn't you afford to fly first-class?"
Smith was good-natured, retelling the full story and, as he often does on stage, poking fun at himself along the way. "I got thrown off a plane for being too fat to fly," Smith exclaimed, "Leaving a bear convention!" Earlier in the day, at a bright and sunny afternoon luncheon on a subtle hill overlooking the water, Waters and Smith joked that they are members of a small club of filmmakers who earn more money from their touring shows than from their moviemaking. Indeed, each has carefully cultivated a following and tap into their fans often. As Saturday evening's P-Town Fest awards show came to a close, Smith was in the spotlight to accept his Filmmaker on the Edge trophy and saluted Waters, who likewise turned the attention back to the honoree.
"You keep doing what you're doing," Waters told Smith.
"I'm gonna try," Smith responded.
"Because you're doing the same thing for people in this audience," Waters added sincerely.
"Thanks," Smith responded.
Sign Up: Stay on top of the latest breaking film and TV news! Sign up for our Email Newsletters here.