Filmmaker Ry Russo-Young ("You Won't Miss Me") recently collaborated with friends Seth Garrison and Clara Latham on "Muscle Top," a three episode web-series for Paper Magazine. The show follows the formation of a gay pop band.
"Part of their mission is to have a band that is overtly gay because they're sick of seeing gay culture become commercialized but not named," Russo-Young told Paper's David Hershkovits.
This week, indieWIRE emailed 5 questions to Ry Russo-Young, asking her to tell us a bit more about "Muscle Top." Her answers, as well as the 3 episodes of her new web series, are included below.
Eugene Hernandez: Where did the idea for "Muscle Top" come from and can you tell me a bit more about what you were hoping to explore with the series?
Ry Russo-Young: I had never made a musical, or a web series, and hadn't done much comedy before, so this was a great way to experiment with new format and genre with my friends. Even though there's so much queerness in pop culture right now – what with the successes of shows like 'Glee' and 'The L Word', it still seems like there's something missing. We knew we didn't want to have gay characters trying to assimilate into the mainstream or for them to add a token of color in a straight world. Instead, we wanted to be in dialouge with gay culture itself by embracing the stereotypes of gay characters – like the Tracy Chapman sing-a-long, or Cyrus's love of muscle men and tiny dogs, or Debbie's obsession with Susan Sontag – in order to reclaim camp for gay culture.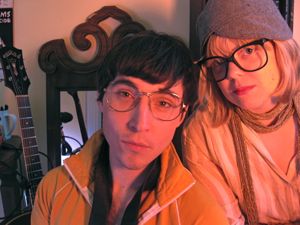 EH: I noticed that you directed a video for Seth Garrison and Clara Latham's band, The Fancy. How did you come to work with them? Could you talk a bit more about the collaboration?
RRY: I've know Clara Latham and Seth Garrison since college – we all went to Oberlin together, and Clara and I have been collaborating off and on since school. At Oberlin, she was in the music conservatory for composition, and Seth is now getting a graduate degree at NYU in music technology. Both Clara and Seth are oddballs, they are classically trained, but weird and smart and funny – they have their own way of interacting that's a result of they're unique relationship. Part of this is that both Seth and Clara are gay and have been in a band together for a few years, so there is a kind of buddy buddy gay banter that exists between them in real life which is very funny.
We were able to adapt this existing relationship and integrate some of it's special qualities into the show.
EH: Might the series evolve into a longer form project or will the series continue beyond the first three episodes?
RRY: We hope! We made these three episodes for Paper Magazine as a pilot of sorts. The future of the show depends on demand. We have the first two seasons sketched out and there are many crazy funny places the show will go so I hope to make more.
EH: "Fast Car" plays a hilariously key role in the series. How and why?!
RRY: Clara and Seth both love Tracy Chapman, and I believe (though they will no doubt deny this) that they actually bonded over this song, so we thought it would be appropriate for them to have a moment in the show. In the future shows there are a lot more musical numbers that include full out dancing and live playing, it's kind of like a lo-fi, weirder and gayer 'Glee'.
EH: What else are you working on?
RRY: I'm putting together my next feature, "Nobody Walks," a film co-written with Lena Dunham that I'll be directing early next year in Los Angeles where it takes place. We just finished the Sundance Screenwriters Lab which was an awesome experience.
And Ry-Russo young noted that she'll have some news about her recent film, "You Won't Miss Me" (co-written and starring Stella Schnabel). Watch for that soon in indieWIRE.
Sign Up: Stay on top of the latest breaking film and TV news! Sign up for our Email Newsletters here.