This interview was originally published last week. "Enter the Void" opens in select theaters this Friday courtesy of IFC Films.
When French bad boy director Gaspar Noe premiered an early cut of "Enter the Void" last year in Cannes, he was confronted with a wildly divisive response from critics. Many lavished praise upon Noe's opus, while others tore it apart. This came as no surprise. "Void" is the work of the same man behind "Irreversible," which caused a similar stir back in 2002.
"Void," an IFC release, marks Noe's first film to be shot in English and set outside of France. That's not to say this is Noe's bid to be accepted into the mainstream. If anything, "Void" is his most audacious film to date – a hallucinatory, sexually explicit and violent acid trip into the afterlife. In anticipation of the new cut's theatrical release, indieWIRE sat down with the surprisingly soft spoken Frenchman to discuss censorship, the genesis of "Void," and what he has in store for his rabid fan base.
As an added bonus, Noe answered questions from indieWIRE readers for a video segment. Watch him tackle them below.
indieWIRE: You've stated openly that you wish to hypnotize the audience with "Enter the Void." What are you trying to elicit from your audience in doing so?
Noe: "Making movies to me is like constructing a roller-coaster. I want people to scream, to love, to cry – so I use all the tools you have to create emotions among the spectators. I'm playing with people I don't know, but I hope that in the end that they share the same opinions and obsessions that I have."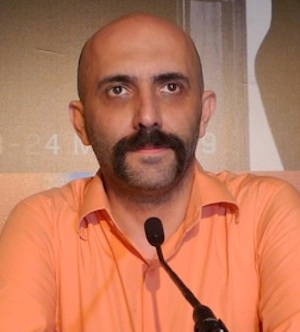 Do you seek to offend with your films?
"When people tell me I make movies to offend the audience, I tell them, 'no I do movies to put the audience in places that I want to go myself.' It's safe to be scared in a film theater because the scenes are fake, they're unreal. When you come out, even if you witnessed a murder, you know it was fake, and you feel pleased when you come out because you know the murder never happened. I don't want to offend myself or my parents. I just want to create something that moves the people around me emotionally.
People usually already know what my movies are before they watch them. So if they pay for it that means that they are willing to see what they are expecting to see. For example, I'm not a big fan of American comedies, or French comedies – so I would not pay to see one. But, if I'm in a position when I have to watch one in a plane, I'm not shocked, I'm just bored. My movies are not shown on TV, so they will not be seen by people who don't expect to see them.
When people tell me that they hate my movies, I say 'thank you, thank you very much.' Sometimes people say, 'no but I dislike you.' And at that point I say 'thank you because I think I dislike you too.'"
How did "Enter the Void" come to be, and why did you choose to shoot in English?
"I had this concept of showing a story from the perspective of a main character, starting with the POV, and then getting into his head when he starts dying. I thought it would be funny to do a movie in which the main character dies and you see the POV of the ghost for the rest of the movie. There are many movies about ghosts, but mainly you see the ghost as half transparent through the frame.
The problem with this film being very visual, if you had it in French or Spanish, it would have been subtitled in most countries, and subtitles don't fit into this movie. You cannot be inside the head of someone and read subtitles at the same time. I'm happy that in Germany it was released in a dubbed German version."
What was shooting in Tokyo like?
"This shoot was far more ambitious than "Irreversible." "Irreversible" took six weeks. This one took four months and a half. Also working with a Japanese crew is very different. You're not working in your country, and they work in a different way. People are very passionate so they can work 14 hours a day, six days a week and they don't complain about it. Working with Benoit Debie, my cinematographer, was great because he's like having a brother on the set who's hyper tormented. I was doing camera work and he'd be doing the lighting. Together we would turn some of the Japanese crew members crazy because, we would change things at the very last moment. The Japanese like to plan things way in advance."
How do you plan to follow up "Enter the Void"?
"I'm developing a love story, but it's very sexual, so it's going to have some very explicit scenes. I don't know why love is never portrayed on screen as it is in real life. Why have we been watching movies for almost a century and not one movie has gotten close to how love is in real life? I know what my sexual life is made of, and I want to see similar things on screen."
[Video produced by Nigel M. Smith]
Sign Up: Stay on top of the latest breaking film and TV news! Sign up for our Email Newsletters here.