The 58th edition of the San Sebastian Film Festival concluded today in the eponymous seaside town on Spain's Atlantic coast with the official awards ceremony and closing film "Sarah's Key," which earlier premiered at Toronto. Peter Mullan's hard-hitting "Neds," short for "Non-Educated Delinquents," was awarded the fest's top prize, the Golden Shell, by a jury headed by director Goran Paskaljevic. The film also won Best Actor for young non-pro Connor McCarron.
The jury, also composed of makeup artist Jo Allen, directors Claudia Llosa, Raya Martin, Pablo Trapero and Lucy Walker and actor Jose Coronado, gave its Jury Award to Spanish drama "Elisa K" from Judith Colell and Jordi Cadena, and the Best Actress prize to Spanish thespian Nora Navas, for her role in the Catalan-language historical film "Black Bread." Chilean-born veteran director Raoul Ruiz was named Best Director for his 4.5-hour epic "Mysteries of Lisbon." A full list of winners is appended.
One of the oldest and biggest festivals of Europe, San Sebastian has a somewhat unfortunate position on the festival calendar, just after the Venice-Telluride-Toronto trifecta in early September and just before New York, London and Rome, among others. Being less high-profile than at least some of these other fests makes it a hard festival to program, especially since the need for premieres for any competition program is always high. San Sebastian revolves this problem by focusing on "just" European premieres and by creating several sidebars, each with a strong identity and focus, for which exclusivity are not necessarily a must.
The competition's standout was definitely "Neds," which garnered positive notices out of Toronto and also impressed the Spanish and international press in San Sebastian. Coming eight years after his "The Magdalene Sisters," which topped the Venice Fest, this is another socio-realist slap in the face from the actor and occasional director. Mullan guarantees the film's authenticity by working with non-professional actors who embody rather than play who their characters are: lower-class workers, punks and outcasts from Glasgow, Scotland. The film tells of the non-education of a potentially good student, John McGill, whose future is hampered not so much by his working-class background as by the fact his older brother is a notorious gang leader. His father a violent drunk (played by Mullan himself, in one of the film's least nuanced roles), John sees all the other authority figures in his life dismiss any possibility of charting his own course.
Further titles of interest in the competition program include Bent Hamer's Yuletide-themed "Home for Christmas," another Toronto holdover, and Agusti Villaronga's "Black Bread," a historical film based on several Catalan novels with a remarkably complex vision of a child's loss of innocence just after the Spanish Civil War. Like "Neds," "Bread" is aided by a fantastic lead performance by a young unknown, and in both films, their destiny may be shaped by forces beyond their reach, but their coming to terms with their destiny is filtered entirely through their own personas, even if they are still very much in development.
"Bread" has one of the most jaw-dropping prologues in recent memory, in which a horse-drawn cart is pushed off a vertiginously high cliff, and both the horse and vehicle rebound against the steep cliff several times on the way down before landing in the valley. The shocking brutality of the scene – shot without any detectable CGI – is an apt foreshadowing of the brutal coming-of-age in store for young Andrea, whose family was on the losing side in the war. Young Francesc Colomer, like Best Actor winner Connor McCarron, shows a real talent for nuanced characterization that will hopefully benefit a lot of films and filmmakers in the future.
"Home for Christmas," which won the Best Screenplay nod at San Sebastian, is less quirky than some of director Bent Hamer's previous films ("Kitchen Stories," "O'Horten," the Bukowski biopic "Factotum") but manages to stay just on the right side of treacly. The intersecting stories, set in a Norwegian village covered in – you guessed it – snow, all take place on Christmas Eve but retain enough of their Nordic sense of identity (film was based on a Norwegian collection of short stories) to ensure the film doesn't totally feel like a "Love Actually" with weird accents.
The festival's Zabaltegi section is divided into three sub-sections. "Pearls" showcases major works from other festivals, with this year's edition including Lee Chang-dong's "Poetry," from Cannes, "Buried" from Sundance, Golden Bear Berlinale winner "Honey," from Turkey, and Danis Tanovic' "Cirkus Columbia," which earlier traveled to Sarajevo, Venice and Toronto.
Zabaltegi's most interesting strand is without a doubt "New Directors," which showcases first or second films from directors whose work has not traveled much. This is the section that allows for some nice surprises and offers opportunities for discoveries. Romanian title "Principles of Life," by Constantin Popescu, is such a find, though the film more rightly belongs to lead actor Vlad Ivanov (the abortionist from "4 Months, 3 Weeks, 2 Days") and screenwriter Razvan Radulescu, whose screenplays for "Boogie," and "Tuesday After Christmas" this new film resembles in its everyday subject matter, natural dialogues, middle-class setting and short time-frame. "Life" explores the family dynamics at play for a father (Ivanov), who has a rebellious teenage son from a previous marriage and a baby with his younger second wife. The family is preparing for a seaside holiday in Bulgaria, but everything seems to go wrong.
The prolific Radulescu also co-wrote Bulgarian Zabaltegi entry "Shelter," which feels almost 100% like a Romanian film, even though it is set in present-day Bulgaria. It focuses on the family dynamics of two parents who try to come to terms with the behavior of their rebellious teenage son who's decided he wants to be a punk anarchist like his friends. Of the two films, the Bulgarian one has the clearest political overtones, as it looks at common Bulgarians after the country's ascension to the European Union (which, not coincidentally, happened at the same time as Romania).
The small third strand in the Zabaltegi section, "Specials," showcased the excellent documentaries "Guest," from Jose Luis Guerin, "Yves Saint Laurent, L'amour fou," from Pierre Thoretton (former son-in-law of Catherine Deneuve), Isake Lacuesta's fascinating "All Night Long," about Ava Gardner's time in Spain and her relationship to her self-image, and jury member Lucy Walker's nuclear weapons-themed "Countdown to Zero."
Though situated in the Basque country, where people speak Basque rather than Spanish, San Sebastian, as the biggest festival in Spain, has a special relationship with Spanish-language cinema, further augmented by the fact it hosts a co-production market for Spanish-language projects. Several of the awarded films in competition, including "Elisa K." and "Black Bread" are local titles.
Opening film "Chicogrande" by Felipe Cazals looks at the Mexican revolution but was not well received at the festival, while Spanish competition title "The Great Vazquez" is a comedy about a real-life con man and comic artist that is strictly for the local market. But more interesting films certainly showed that Spanish-language cinema is alive and kicking both in Spain and Latin America. Spanish-speaking films are sprinkled throughout the various sections, while two dedicated ones, "Made in Spain" and "Horizontes Latinos," complete the picture with films that have previously screened elsewhere, offering the rare opportunity to really look at the current state of Spanish-speaking cinema as a whole.
"Post Mortem" and "Nostalgia for the Light," from Pablo Larrain and Patricio Guzman respectively, are two of the most impressive examples of the seventh art to be released this year in any language, and the Vega brothers' "October," Diego Luna's "Abel" and "It's Your Fault" from Anahi Berneri are reminders that South America provides films that are perhaps not original in their choice of subjects but are very well executed and constantly captivating examples of their respective genres.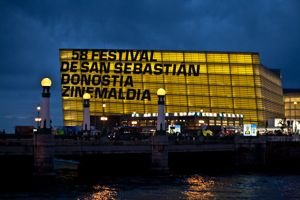 Mexican immigrant tale "A Stone's Throw," in Horizontes Latinos, hits a few too many false notes and is too meandering and cliched to be really captivating throughout, but a film like "Blog," in the Zabaltegi – New Directors sidebar, is an example of a flawed but nonetheless very interesting piece of work. The debut film of Spaniard Elena Trape gives a contemporary female spin on the lose-your-virginity-in-high-school genre, with the characters "confessing" to the camera of one of their (unseen) girlfriends, chatting via IM or sending things into the safe anonymity of cyberspace via their webcams (no one seems to blog, however, which would seem odd for a film with that title).
Full list of winners at the 2010 San Sebastian Film Festival:
Golden Shell for Best Film: "Neds" by Peter Mullan
Special Jury Award: "Elisa K." by Judith Colell, Jordi Cadena
Silver Shell for Best Director: Raoul Ruiz for "Mysteries of Lisbon"
Silver Shell for Best Actress: Nora Navas in "Black Bread"
Silver Shell for Best Actor: Connor McCarron in "Neds"
Jury Prize for Best Screenplay: Bent Hamer for "Home for Christmas"
Jury Prize for Best Cinematography: Jimmy Gimferrer for "Father"
Jury Special Mention: "The Mosque" by Daoud Aoulad-Syad
Kutxa New Directors Award: "The Colours of the Mountain" by Carlos Cesar Arbelaez
Kutxa New Directors Special Mentions: "A Useful Life" by Federico Veiroj, "Nothing's All Bad" by Mikkel Munch-Fals
Horizontes Latinos Award: "Abel" by Diego Luna
Horizontes Latinos Special Mention: "A Stone's Throw" by Sebastian Hiriart
TCM Audience Award: "Barney's Version" by Richard J. Lewis
Euskatel Youth Award: "Abel" by Diego Luna
Sign Up: Stay on top of the latest breaking film and TV news! Sign up for our Email Newsletters here.