"We don't talk much about faith at film festivals," said Cameron Bailey, co-director of the Toronto International Film Festival, from a podium last week. The assertion was a neat segue into his introduction for "The Way," Emilio Estevez's semi-spiritual drama about a father coping with the loss of his son, but it also sounded like something of a mantra: Each year, the outcome of TIFF is a secular reality that brings inevitable breakout hits to the forefront of audience awareness with systematic inevitability.
I don't mean that as a putdown; the festival does a service to certain movies as they head toward the fall awards season blitz, and some of them deserve the spotlight. Couple that with the flurry of sales that erupted around the middle and end of the festival and it would appear that TIFF fulfilled its annual mission. With 246 titles, however, TIFF's function runs in opposition to the more challenging, presumably non-commercial entries that round out the program, many of which struggle for room in the spotlight.
For example, fifteen movies came to TIFF after premiering at the Locarno Film Festival in August, when I reviewed several of them. But while fascinating character-driven gems like Denis Cote's "Curling" – the winner of Locarno's director award – can gain notice at smaller festivals, they wind up getting shoved into the shadows as TIFF's red carpet blazes a path for the major league contenders.
So it's no surprise that the big buzz movies out of the festival this year had their fate secured long before their Canadian premieres. "The King's Speech," Tom Hooper's period piece with Colin Firth as King George VI, elicited drool from Oscar pundits with Pavlovian efficiency immediately after The Weinstein Company unveiled it at Telluride. The same enthusiasm rose to meet Darren Aronofsky's enjoyably morbid "Black Swan" and even Denis Velleneuve's "Incendies," a French-Canadian multigenerational war epic that Sony Pictures Classics will undoubtedly submit to the awards race.
Among the heavy-hitters that I've seen so far, I'd place "Black Swan" at the top of the pile. Essentially a psychological thriller about stage fright, Aronofsky's unnerving, visceral follow-up to "The Wrestler" puts Natalie Portman in extreme close-up as Nina, a ballet dancer cast as the lead in an unconventional Lincoln Center production of "Swan Lake." As she grows increasingly paranoid about the potential machinations of a rival dancer (Mila Kunis), Portman's character retreats to the inferno of her own mind, exploring the fragility of her body.
Todd McCarthy accurately described "Black Swan" as "'The Red Shoes' on acid." Indeed, the increasingly ambiguous distinction between the real world and Natalie's uneasy imagination does lend itself to a feeling of trippy uncertainty. At the same time, "Black Swan" confronts uneasy physical terrors with a grotesque edge reminiscent of early David Cronenberg, making it the first outright horror movie in ages to gain notice beyond the genre fan crowd – although they'll love it, too.
Part of the quartet that comprised Fox Searchlight's grab-bag of TIFF awards season bait, "Black Swan" was followed closely by Danny Boyle's "127 Hours" (the others on the specialty division's slate were "Never Let Me Go" and "Conviction"). James Franco's one-man-band performance as Aron Ralston, the hiker stuck under a rock for five days in 2003 until he cut off his arm to escape, has far greater entertainment value than the real life premise suggests. Through flashbacks and fantasies, Boyle (aided by co-writer Simon Beaufoy) finds strategies for moving around inside Ralston's head while still crafting an engaging survival tale.
Ralston's uproarious attempts to amuse himself (in one case, imagining that he's on a talk show) justify Franco's charismatic performance despite the grim scenario. The whole experience – mutilation and all – goes down a bit too easy given the context, but "127 Hours" still promises some of the most unexpected fun at the multiplex this year.
Though I managed to steer clear of much of the program deemed unsatisfactory by the almighty buzz machine, a few major TIFF disappointments should be singled out since you may hear from them again: "It's Kind of a Funny Story" marks the first significant misstep for "Half Nelson" directors Ryan Fleck and Anna Boden, but anyone fond of their earlier work knows they can do better than this overly familiar coming-of-age blather.
Another sloppy shot of sentimentalism, Justin Chadwick's "The First Grader" earnestly tracks the plight of 84-year-old Kenyan resident Maruge (Oliver Litondo) as he attempts to get his education and gain literacy before his death. Wallowing in the grief of his experience as a Mau Mau freedom fighter in the 1950s (when his family was killed), Maruge makes for a delicate figure, but this sincere document of his journey never moves beyond the cadences of a Lifetime movie. When the music swells as Maruge makes his long-awaited progress, the cumulative effect is rudimentary emotional manipulation. That's not enough to justify enduring this triumphant story as it goes through the usual hoops.
But at least "The First Grader" and "Funny Story" come and go within the parameters of conventional running times. There's no such easy escape from Guillaume Canet's "Little White Lies," a bloated family drama that, at two-and-a-half hours, never earns its heft. Actor-director Canet showed sizable potential with the sleek little thriller "Tell No One" in 2006, but now he has blatantly overextended himself. Despite a first-rate cast (including Marion Cotillard and Benoit Magimel), the aims of this saga are unequivocally quaint: A young man gets hit by a truck one night, and his close group of friends head to a beachside vacation home to cope with the aftermath. Canet, a filmmaker capable of coaching solid performances and tightly scripted melodrama, has about four or five movie ideas going on here when he needed to just stick with one.
"Casino Jack," on the other hand, has one idea that it holds onto with an almost gratuitous fixation: Jack Abramoff. Tracking the same downfall territory covered by documentarian Alex Gibney in the similarly-titled "Casino Jack and the United States of Money," director George Hickenlooper gives Kevin Spacey plenty of room to chew on scenery in the title role. Like Oliver Stone's "W." but jollier, Hickenlooper's version plays like a silly history lesson that nonetheless has ample entertainment value, even when it lands in seriously campy turf. The opening shot finds Spacey in full-on Travis Bickle mode, staring at himself in the mirror and pronouncing a fatal one-liner: "I'm Jack Abramoff, and I work out every day." If that image makes you laugh, the rest of the movie will, too – but the self-referential tone prevents Hickenlooper from generating any serious commentary on the nature of Abramoff's corruption.
The real guilty pleasure indulgences of the festival usually emerge from the Midnight Madness program, but this year offered nothing particularly groundbreaking on that front. I wasn't emphatic about James Gunn's intentionally crass "SUPER," instead preferring the meditative approach of "Stake Land," the sophomore feature from "Mulberry Street" director Jim Mickle. Where Mickle's first directorial effort found giant rat creatures assailing a New York City apartment building, "Stake Land" expands his talents to broader terrain with the help of producer Larry Fessenden. Mickle's vision of an American wasteland ravaged by vampires mixes lyrical scenery reminiscent of Terrence Malick with the roadtrip horror subgenre most recently epitomized by "Zombieland." The movie solidifies Mickle's position as one of the few young American filmmakers able to inject ethereal qualities into a supernatural backdrop too frequently derided for being cheap.
By contrast, documentaries often get a free pass on the merits of subject matter alone, a trend that allows leniency for uninspired filmmaking. While I admired the subject of Kim Longinotto's "Pink Saris," the hardened leader of India's "Pink Gang" known for combating violence against women, the movie amounts to a fairly unmemorable verité portrait. I was a lot more keen on "Nostalgia for the Light," Patricio Guzman's highly original juxtaposition of astronomy and tragedy in the Chilean landscape. Guzman begins by studying a giant telescope located in the Atacama desert, where the stars shine bright. After establishing the cosmic perspective of the telescope's lens, Guzman shifts to the struggles of elderly women whose relatives were killed during Augusto Pinochet's dictatorship to find remains of their loved ones in the very same desert. The comparison has remarkable implications, but they basically boil down to this: Both the stars above us and the bones scattered amid the sand of Atacama serve as poignant reminders of the past, and require further scrutiny in the present.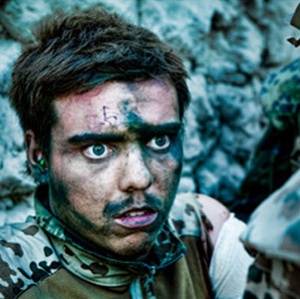 One could draw the same overall conclusion, with a greater degree of topicality, about "Armadillo," the Cannes Critics Week winner that I finally caught at TIFF. Janus Metz's intense document of Danish soldiers engaged in lethal battles with Taliban fighters in Afghanistan has provoked ferocious debate about the morality of the subjects' behavior in its homeland. Comparable to the U.S. documentaries "Restrepo" and "Severe Clear," which also show the haunting adrenaline rush of soldiers fresh from the kill, "Armadillo" surpasses them by getting right into the firefights and functioning as a legitimate action movie as well. It makes viewers complicit in the moral grey zone by literally showing them the rush.
Less memorable TIFF movies included Michael Winterbottom's "The Trip," a quasi-documentary-comedy reuniting "Tristam Shandy: A Cock and Bull Story" stars Steve Coogan and Rob Brydon as vaguely fictional versions of themselves on an aimless roadtrip. Most of the movie finds the two very funny men dining on tasty-looking tapas while matching wits with various impersonations, especially Michael Caine (although I think they're both better at doing Woody Allen). It's a trim, fun, but glaringly inconsequential sketch.
There were other movies with highly constrained settings at TIFF that left bigger marks. "Essential Killing" and "Buried," not to mention "127 Hours," all follow one man in a single claustrophobic situation – but only "Look, Stranger" puts likeminded focus on a female character. The directorial debut of Arielle Javitch, this stark narrative follows an anonymous woman (Anamaria Marinca of "4 Months, 3 Weeks and 2 Days" fame) fleeing militant oppressors in a vaguely defined wartime environment. Shot by Ramin Bahrani's longtime cinematographer and guided to completion by "George Washington" producer Lisa Muskat, "Look, Stranger" at times slows down its initial momentum and loses its initial creepy appeal. But Marinca lends a raw physicality to Javitch's concisely gripping, palpably intense production.
With the exception of the studio titles, most of these TIFF movies still need distribution. A few other highlights of the festival, including "Beginners" and "Meek's Cutoff," were fortunate enough to find distributors during the festival. But if "Nostalgia for the Light," "Armadillo" and "Look, Stranger" found enough appreciative audiences to ensure they'll find homes somewhere down the line, where does that leave an intriguing curiosity like "Small Town Murder Songs"? This enticing Canadian cop drama from writer-director Ed Gass-Donnelly breaks no new ground in its basic snapshot of an officer (Peter Stormare) with a guilty conscience doing penance for his sinful past by investigating a murder case. But Gass-Donnelly uses catchy gospel melodies to striking effect. When Stormare's character finally chooses to lose everything for the sake of fleeting satisfaction, the movie hits on a sense that many filmmakers – now coming down from their two-week TIFF highs – can surely relate.
Sign Up: Stay on top of the latest breaking film and TV news! Sign up for our Email Newsletters here.