With her documentary "Fresh" – a call to change how our food system works – Ana Sofia Joanes has employed an innovative distribution strategy to get her film seen. Rather than rely on a distribution company, Joanes is counting on the public to spread the world and host screenings by purchasing a screening license. One such event is taking place this Thursday, November 11 in New York. indieWIRE spoke with Joanes about her film, and the reason behind her distribution model.
"Fresh" celebrates the farmers, thinkers and business people across America who are re-inventing our food system. Each has witnessed the rapid transformation of our agriculture into an industrial model, and confronted the consequences: food contamination, environmental pollution, depletion of natural resources, and morbid obesity. Forging healthier, sustainable alternatives, they offer a practical vision for a future of our food and our planet.
Among several main characters, "Fresh" features urban farmer and activist, Will Allen, the recipient of MacArthur's 2008 Genius Award; sustainable farmer and entrepreneur, Joel Salatin, made famous by Michael Pollan's book, The Omnivore's Dilemma; and supermarket owner, David Ball, challenging our Wal-Mart dominated economy. [Synopsis courtesy of the film's website]
Director Ana Sofia Joanes on how she learned to "get folks to care"…
I was born in Portugal and raised in Switzerland. I came to the U.S. for college after a couple years of wandering around the world and studying the impact of globalization on the environment and culture. Through college and law school I worked with under-served youth. I became passionate about issues of juvenile justice and education but often felt it was impossible to share my concern with my friends and colleagues. People often reacted defensively, and when they agreed, it was more about numbers and statistics, not children. I came to realize that in order to get folks to care in a way that could lead to action, I would need to take them with me to meet these children. We're not so much the rational beings we'd like to believe we are. We're not moved by facts and arguments, but rather by emotions. I came to believe that to change society, we must really change culture, and to change culture, we'd have to tell stories. And that brought me to filmmaking.
Joanes on what inspired "Fresh"…
I first started thinking about making "Fresh" after reading a three-part article in the New Yorker about global warming in 2005. I had been avoiding reading the series. I figured I knew about global warming, and didn't want to feel (any more) scared and guilty about how little I did to combat it, or how much I contributed to the problem. The article's dire exposé of the complexity and extent of the problems we're facing left me feeling, like so much of the news, like a powerless and hopeless observer, watching the world spiraling towards its inevitable destruction. And helplessness, for me at least, almost always translates into inaction.
So I embarked on the making of "Fresh" to recapture a sense of agency, a belief that my individual actions do in fact matter. Initially, I intended to document the urgency of the global warming crisis, hoping to scare others and myself into action. Instead, I encountered the most inspiring people, ideas, and initiatives. Who knew that we already had the solutions to so many of our problems, and that some of us were already hard at work implementing them? Instead of the despair and inaction unwittingly fostered by the media, these examples of change suggested a very different perspective– that life is a network in which every node is critical, that each one of us is creating the world we are living in, and that the process of creating it is what gives us meaning and pleasure.
Joanes on the character driven nature of "Fresh," and how she got the film out to the public…
Following my belief that what moves people are stories and not facts and figures, I wanted "Fresh" to be character driven. As a result, "Fresh," unlike many issue-driven documentary, cannot be 'listened to' – a string of voice over and narration with b-roll as an after-thought. "Fresh" takes you to the farmers and innovators that are reinventing the food system, and lets you see for yourself what they have to offer.
Throughout its production, I wondered how "Fresh" could become a tool for the amazing activists I was meeting all around the country. This goal drove our decision to create a distribution strategy to turn "Fresh" into a platform for activism. It was also always important to me that "Fresh" be seen by communities, not just individuals. The idea is that "Fresh" will inspire you and your community to transform inspiration into action. Through our community screenings (over 3,000) around the country and our campaigns (our latest is to oppose the FDA approving genetically modified salmon), we've become a meaningful voice in the sustainable food movement; our mailing list now reaches over 60,000 people!.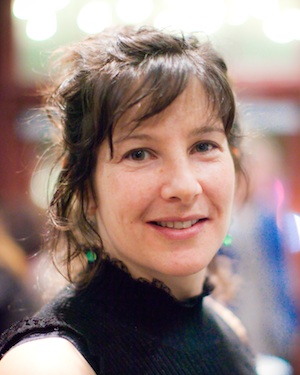 Our approach was also driven by need. When "Fresh" was completed, "Food Inc." was about to be released and had screened in many of the important film festivals. This meant that "Fresh" had very little chance going the traditional route as the market was already focused on "Food Inc." Also, the indie film market was collapsing; companies were closing. We almost signed a distribution deal, only to hear, last minute, that the company could not afford to take us on. So it was either we do it on our own, or "Fresh" was going to be buried before seeing the light of day. So we moved forward. What's still amazing to me is that the (apparent) limitations or difficulties of the film's beginning turned out to be our best assets. It's a lesson I had learned on Will Allen's 3-acres urban farm in Milwaukee: to take our place in this world, to express our potential, we must develop the ability to see opportunity where others might see scarcity.
Joanes on staying the course, and on audience responses…
The biggest challenge is always to stay the course, despite the doubts, the fears, and the financial hardships. A challenge more specific to "Fresh" was to figure out how to marry two very different storytelling modes: issue driven and character focused. I can't sing enough the praise of my editor, Mona Davis, who was able to pull this job together. Mona's work emphasizes character development, which was really important to me because I think it's the hardest part to pull off in a multiple-character and issue-driven documentary.
I think folks are responding so well to "Fresh" because it's responding to a deep yearning/ desire for hope and inspiration. A young man at a post-screening Q&A asked me: "I'm feeling really moved and I don't think it's about food, what is it?" I think this question or comment epitomizes why people are so touched by "Fresh." Because "Fresh" is really not about food, it's about our feelings of disconnection and despair and our need to reconnect. Because FRESH's introduction into so many communities is facilitated by neighbors and friends, the film helps to reconnect people on a very basic level. Audience members all over the country have been motivated to get involved again or for the first time as a part of a larger movement within their community. Some are just becoming more conscious consumers, but many are getting involved in local organizations and becoming activists themselves. It's been really inspiring.
Joanes on what's next…
We're still hard at work with our distribution and outreach and it doesn't look like the interest for "Fresh" is dying down, so we're going to keep going! We're also starting to consider offering our platform to another activist documentary. In the past one and half year, we've developed incredible relationship, a substantive mailing list, and a lot of know-how that we'd love to share with the right filmmakers. I'm also a fairly new mommy (my daughter is 15 months), so my heart and mind are mostly with her and I've been thinking and reading a lot about this whole idea of 'parenting.' I'm thinking that might be my next project!
To learn of upcoming screenings, or to host one, visit the film's website.
Sign Up: Stay on top of the latest breaking film and TV news! Sign up for our Email Newsletters here.