Documentary filmmakers, commissioning editors, funders, and observers gathered in Amsterdam over the past three days for Europe's largest co-financing and co-production market, the FORUM, a part of the International Documentary Film Festival Amsterdam (IDFA). An integral, non-public part of the festival, the FORUM serves as a valuable opportunity for selected filmmakers to seek financing for their projects via co-production deals or pre-sales and for commissioning editors and funders to learn more about promising new projects in the pipeline. Beyond that, for the many observers (many filmmakers themselves, but without pitching slots) the FORUM is a chance to see how to pitch a project, and what broadcasters and funders are looking for – and, just as important, what they're not looking for. Within the documentary filmmaking community, markets like this are vital, underscoring the role of international co-productions – while there generally may be more European projects on offer here, there are always participants from North America, Asia, the Middle East, Australia, and New Zealand, often eager to collaborate.
The FORUM is divided into two types of pitch sessions – the first half of the day focused on pitches to the entire assembly, the second on separate, more intimate roundtables – and one-on-one meetings between participating filmmakers and industry representatives. The different pitch sessions differ primarily in the setting and time limit – otherwise, they run in the same manner: Filmmakers introduce their projects, often joined by an attached commissioning editor, explain what they're looking for (ie money), and show a brief trailer to give the broadcasters and funders a sense of their visual approach, the story structure, and characters. Skilled moderators Karolina Lidin (Nordic Film & TV Fund), Jess Search (Channel 4 British Documentary Film Foundation), Rudy Buttignol (Knowledge Network), and Axel Arnö (SVT) keep the pitches running on time, soliciting comments and questions from the assembled who's who of broadcasters and funders. Among the many companies represented are POV, ITVS, ARTE, NHK, BBC, Channel 4, CBC, the Sundance Institute, Cinereach, the Tribeca Film Institute, and many, many more.
Many of the presentations observed during Monday's roundtables and Tuesday's larger central pitches offer practical examples of both what to do and what not to do when pitching a documentary project.
Polished Presentation:
The best pitches featured filmmakers projecting confidence and an ease of discussing their projects. Among the very best of these was "Ballroom Dancer," from Denmark, presented by producer Sigrid Dyekjaer ("The Monastery: Mr Vig and the Nun," "The Good Life") and directors Christian Rasmus Bonke and Andreas Koefoed. The Danish trio, impeccably dressed in smart looking suits, impressed their round table and a full room of observers with their pitch about the comeback attempt of a former world champion Latin American dancer and his tempestuous relationship with his dancing partner/girlfriend, ten years his junior. It will be encouraging to filmmakers to learn that this was the directors' first public pitch – clearly, they know their project and this came through.
Another first-time pitcher, director Lisa Immordino Vreeland, similarly did a great job presenting her project on her iconic grandmother-in-law, "Diana Vreeland: The Eye Has To Travel." Despite being new to filmmaking, Vreeland confidently explained the origins of her project in a book and her decision to expand it into a documentary, having gained access to a who's who of celebrity and fashion figures influenced by the legendary Diana Vreeland, who she never met, but married into her family. Both of these presentations clearly were prepared – they didn't stumble over information, and they were clear and natural in their approach.
Engaging Trailer:
Aiding both of the above pitches were their trailers. Promotional reels can be very difficult to put together – filmmakers have to balance providing a sense of their storytelling ability, their characters, story structure, and visual style, while simultaneously leaving the viewer wanting to see more, and, critically, motivating a funder or broadcaster to lend their financial support – all in about three minutes. Both of the previous projects succeeded on all levels. Other notable trailers were presented for Serbian project "The Battery Man," pitched by directors Dusan Saponja and Dusan Cavic, and another Danish film, "Democrats," pitched by director Camila Nielsson, producer Henrik Veileborg, and Mette Hoffmann Meyer for DR TV.
"Battery" was especially well-received, so much so that some commissioning editors worried that the success of the humorous trailer may have set expectations too high for the finished film, and others complaining that the filmmakers weren't asking for enough money! The project profiles a real-life superhuman, a man who can channel electricity through his body at will, as he seeks to establish a dangerous Guinness world record. The "Democrats" trailer, on the other hand, ramped up the drama in its brief running time, pitting two political opponents against one another as they attempt to draft a new constitution in the hopes of saving Zimbabwe from further strife. The trailer succeeded in setting up two strong personalities, their recent and contentious history, and the conflict that will drive the film – no small feat.
– this article continues on page two –
Clarity:
A final sign of a good pitch, related to both of the above elements, and visible in all the projects named thus far, is a basic clarity of vision. The filmmakers demonstrated comprehensive knowledge of their projects, but in a concise way, and were able to clearly articulate the shape and structure of the film when pressed for details by the broadcasters. Two pitches that exemplified this aspect were Natalia Almada's "El Jardín" and Ilse & Femke van Velzen's "Justice for Sale."
Almada pitched her new project together with Simon Kilmurry of POV, who has worked with her on her previous film "El General." The film, set entirely within the titular cemetery in the filmmaker's hometown, explores the impact of Mexico's war on the drug cartels and the resulting loss of nearly 30,000 civilian lives. Identifying her various subjects, Almada was able to smartly and clearly address the roles they will serve in the film's structure.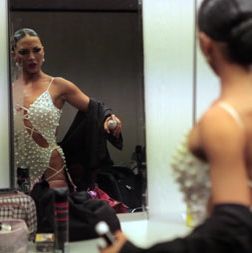 The Dutch van Velzen twins, who have already made films about rape in the Congo from the perspectives of both victims and victimizers, return to the topic once again in the project they pitched together with Margje de Koning for IKON. In "Justice," they investigate the disturbing practice of framing innocents for rape, rooted in corruption and bribery. The film is focused on the efforts of a human rights lawyer to defend the innocent and prevent the true perpetrators from escaping persecution. The filmmakers confidently tackle the difficult subject matter with a clear sense of how to tell their story.
In contrast to these successful pitches, a minority of presentations witnessed suffered from not having these elements in play. I don't wish to single out any individual filmmakers or projects by name – the FORUM doesn't just pick anyone to participate, so even the least successful pitches had worthwhile elements, and will hopefully continue to hone their pitching skills and, more importantly, their project plans. That said, in addition to having unclear or unfocused projects and less successful trailers, a couple of projects also suffered from taking very conventional approaches to very conventional subjects – in other words, they presented nothing new, provided no surprises, and, consequently failed to have much of an impact on either the potential financiers or on the observers – and that's not a good sign for audiences when the films are completed.
One of the exciting aspects of the FORUM is the chance to hear directly from accomplished filmmakers about their new projects. In addition to Natalia Almada and Sigrid Dyekjaer, other pitches observed included new work from "Thin"'s Lauren Greenfield, "Queen of Versailles," a look at the recession as it affects a very wealthy family; "Last Train Home"'s Lixin Fan and Qi Zhao, "Fallen City," a portrait of those affected by the devastating 2008 Sichuan earthquake; "Lumumba"'s Raoul Peck, "Haiti, Billions for a refoundation," a comprehensive, insider's look at the efforts to rebuild Haiti; "The Art Star and the Sudanese Twins"'s Pietra Brettkelly, "A Lightning Strike," about a bright Maori boy who leaves his community to attend Yale; "Thieves by Law"'s Alexander Gentelev, "Raiders," a further exploration of Russian corruption, looking at the criminal seizure of companies and property; and "Afghan Star"'s Havana Marking, "Smash & Grab: The Story of the Pink Panthers," an exclusive portrait of the infamous jewel thieves/Balkan folk heroes.
Other pitches that I didn't have the chance to watch but sound promising include new films from "The English Surgeon"'s Geoffrey Smith, "Crisis Point: Can You Change the World?," a look at conflict resolution; "The Inventions of Dr NakaMats"' Kaspar Astrup Schröder, "I Want To Cheer Up," a portrait of a family man's secret double life as the owner of a company that rents out family and friends for various social and business occasions; Nick Broomfield, "To the Last Drop," an exploration of the conflict resulting from a lack of access to water; and "They Killed Sister Dorothy"'s Daniel Junge, "Saving Face," on a successful plastic surgeon who returns to his native Pakistan to help acid attack survivors.
Also of particular note this year was the institution of a specific arts and culture focused roundtable, highlighting projects that didn't necessarily have a central social issue theme and are suited for cultural programming strands. From the capacity attendance, this proved to be an extremely popular decision by FORUM organizers, and perhaps reflected the "compassion fatigue" that can set in from the preponderance of heavier topics in IDFA's programming and in the documentary world in general. At the same time, the projects were a mixed bag, with some failing to show a clear point of view or story development that would distinguish them from any of a number of throwaway artist portraits.
Still to come from iW's coverage of IDFA: IDFA in iPop and, this weekend, a rundown of the award winners.

ABOUT THE WRITER: Basil Tsiokos is a Programming Associate, Documentary Features for Sundance, consults with documentary filmmakers and festivals, and recently co-produced Cameron Yates' feature documentary "The Canal Street Madam." Follow him on Twitter (@1basil1 and @CanalStMadamDoc) and visit his blog (what (not) to doc).
Sign Up: Stay on top of the latest breaking film and TV news! Sign up for our Email Newsletters here.