Continuing our series profiling festival programmers, beginning with the Sundance Film Festival last Summer, indieWIRE is profiling the programmers of the SXSW Film Conference and Festival, taking place March 11 – 19 in Austin, TX.
With the festival's final deadline looming, SXSW's programmers – including festival producer Janet Pierson – offer up their insights on how they create and re-create their yearly event.
SXSW styles itself as "a uniquely creative environment featuring the dynamic convergence of talent, smart audiences and industry heavyweights. A hotbed of discovery and interactivity, the event offers invaluable networking opportunities and immersion into the art and business of the rapidly evolving world of independent film."
Along with Pierson, SXSW's other programmers including Jarod Neece, Jim Kolmar, Stephanie Noone and Claudette Godfrey gave their insights to a range of topics from their genesis at the festival, to what makes the festival an appealing event, to practical hard advice. Everyone pointed out to the festival's unique programming alongside film's fellow SXSW events – Interactive and Music.
In creating the annual festival, Janet Pierson said the team looks for a "recipe [that] includes films that [are] great entertainment, interesting, often edgy, and that take chances, in a productive and fun environment." Adds Stephanie Noone, "Some adjectives we like to throw around though include edgy, fresh, original, and unexpected."
Jim Kolmar focuses on how festivals are important events for audiences, even as their consumption of entertainment evolves. "It's becoming harder and harder to drag people away from their Rokus and home theaters… You just can't do that huddled around a laptop, so I think perhaps festivals will increasingly come to signify the heart of cinema, and the reason people started making films in the first place." Neece offers up hard advice for genre submissions, "If you are a genre filmmaker, I am definitely looking for more scares and less brutality."
The last minute deadline is December 9th at SXSW. indieWIRE will also publish a similar article spotlighting the Tribeca Film Festival programmers soon.

Janet Pierson, Film Conference & Festival Producer
Pierson gives a brief synop on her film history…
I started running Canyon Cinema, an experimental film distribution coop in 1977, right after graduating from the San Francisco Art Institute. From 1981-86 I was Assistant Director at the Film Forum in NYC. That's also where I met and married my husband, John Pierson. From 1984-94 I assisted John in his work as Producer's Rep with a lot of extremely talented and significant first time directors like Spike Lee, Michael Moore, Richard Linklater and Kevin Smith. John and I continued working together on the Cold Spring Annual Film Workshop (1992-97), and creating and producing Split Screen, a half hour TV magazine series on IFC (1997-2000). In 2002, we lived in Fiji showing free movies at the 180 Meridien Cinema, while also instigating and appearing in "Reel Paradise," a documentary about our last month there, directed by Steve James. In 2004, we moved to Austin and I became very involved with the Austin Film Society. In April 2008 I was asked to take over as Producer of SXSW Film when the prior head, Matt Dentler moved to NYC.
It's been an interesting life, and if one's looking for a through line – I've been lucky enough to spend most of my time championing films and filmmakers whose work I loved.
And how she sees SXSW generally in the festival circuit…
For years, SXSW has been gaining in importance as one of THE strongest U.S. Film Festivals to discover great new talent and work. Our program is consistently interesting across many different genre and budget lines, including individuals with a clear voice working in Hollywood, as well as micro budget indies and diverse documentaries. We often hear that we're especially enjoyable – both in the experience and the program.
Additionally, we exist in a truly unique environment, as we are connected to SXSW Interactive and Music. There's no other festival that allows for that kind of intense cross-collaboration of all the creative disciplines.
Pierson on evolving SXSW and its challenges..
When I took over for the 2009 event, I was just hoping to honor the trajectory of a festival and conference I'd been enjoying for years. The recipe included films that were great entertainment, interesting, often edgy, and that took chances, in a productive and fun environment. I think we've succeeded in not only maintaining the integrity of where we came from, but naturally expanding on it. I've been thrilled with our program the last two years and look forward to continuing to provide an exciting, satisfying experience for filmmakers, industry, press, and our more general audiences alike.
Right now our main challenge is managing growth. Our evolution has mirrored the cultural zeitgeist. We are THE place to harness the merging of all things creative in a now completely digital world. So the challenge as I see it now is to continue the quality and accessibility as the registrations, submissions, and competition for the audience's time, mounts exponentially.
In terms of how I see festivals changing generally? We're in a period of transition on all sides of the independent film equation. There's a lot of interest and experimentation with other festivals using their brands and curatorial reputations for marketing purposes. For the moment, I'm focusing on producing a great live event that provides interest, attention, and opportunity for the work we premiere. I'm hoping too, that some of the great new ideas/paradigms will arise from our uniquely creative entrepreneurial melting pot.
And filmmaker advice…
Read and follow the guidelines closely! Research the festival landscape. Think about whether SXSW is the best environment for your film. Talk to other filmmakers about their experiences. SXSW is an intensely busy and rich environment, and how you choose to promote and work with your film at SXSW will make a difference.
I'd also say that one of the biggest pieces of advice is to understand how intensely short the turnaround time is between your acceptance and the actual event itself. A lot of filmmakers are still finishing their films during the submission process. Once we announce the program in early February, there's less than 6 weeks to finish, decide your promotional strategy, and work out your travel. You have to be prepared to start working on your press campaign the second we announce the line-up. Not before (of course), but immediately after – have your website and materials ready to go, know your media targets, be strategic.
There's a whole world of writers interested in helping to promote your film if they can get an advance copy/information. Reach out to them! Advance work with press and at the grassroots level makes a huge difference.
I also wish more filmmakers would attend SXSW before they've submitted their film so they can better understand how to best take advantage of the opportunity.
What SXSW programmers are "looking for…"
We're looking for films that move and surprise us – films that make us laugh or cry, think, scream, or gasp with awe. There's not a formula that's easily described. There are hundreds, even thousands of films made these days that are well-made and interesting – we're looking for the ones that jump out and grab our attention.
We do pay attention to the program as a whole: some of our premieres will include well-known directors and actors; many will be brand new voices. Some will involve music or technology. Some will be funny, others creatively innovative, and some socially conscious. Some will have garnered attention at other festivals, but more will be world premieres. We're looking for work that excites us in its originality or mastery.
How Austin, TX plays a role in the festival experience…
Austin is a huge part of the success of SXSW. It's a low-key, friendly, warm (both in March's temperature, and in general temperament) creative community full of unpretentious innovators. There's an ease of getting around, a great quality of the people and the lifestyle here is a huge draw.
Though it feels entirely different during SXSW than it does the rest of the year, it's also the Austin-ites who work/volunteer at SXSW, and who make up the core of the audience, who give it its great foundation. They're enthusiastic, helpful and highly intelligent.
Pierson on her recent favorite films…
I'm a kind of "I love all my children" gal but to try to name a few…
Most recently from SXSW: "Tiny Furniture," "Marwencol," "Cold Weather," "Monsters," "Parking Lot Movie," "Winnebago Man," "Best Worst Movie," "The Oath," "Last Train Home," "Red Chapel," "The Hurt Locker." In general: "127 Hours, " "Black Swan," "Toy Story 3," "Exit from the Gift Shop," "The Kids Are All Right," "Synecdoche," "Where the Wild Things Are," "The Diving Bell and Butterfly," "When the Levees Rise," "Away From Her." I also feel that some of the best filmmaking these days is actually on TV, in shows like "The Wire" and "Friday Night Lights.

Jarod Neece, Conference & Production Manager, Feature Film/Midnight Programmer
Neece on going from biology to film…
I started as a Biology major trying to get into Med School and began to do PR for hospitals, but I quickly realized that it was not what I wanted. I started pursing my life long love of film, which consisted of my own version of "film school" – trolling independent video stores, watching as many DVD extras as I could get my hands on, and making shorts with my friends. I went to a screening of Ron Mann's "Grass" at SXSW in 2000 and fell in love with the festival and the Alamo Drafthouse. After working for one season at the Austin Film Festival, I was offered the job of Production Manager at SXSW in the fall of 2002, and I never left.
…and on creating the yearly lineup and panels.
I think SXSW programs a very diverse and authentic group of films year after year. We try to find films that may have been overlooked or may find their most natural home with us. SXSW is also one of the largest independent film conferences and our community driven PanelPicker has really strengthened our programming in the past few years. It has allowed us to really feature what the community most wants to hear about, and bring in some new and exciting voices. Additionally, the film festival is coupled with the SXSW Interactive and Music Festivals, and we are able to offer attendees a very unique & creative festival environment.
Talking changes…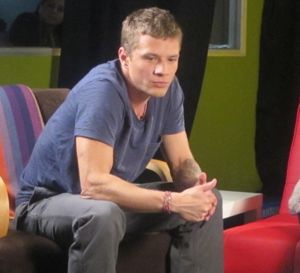 The festival has grown a lot since I started working here, though I think we have really stayed true to who we are as a festival and as programmers, and continue to champion filmmakers who make films we love.
Some festivals, including us, are experimenting with online and VOD screenings and establishing a more year-round presence. But when it comes down to it, film festivals are still in the business of connecting independent films to the audiences that love them.
Advice: Take your time; no gifts; keep the press material and what SXSW programmers are 'looking for…'
Take your time. There is no need to send us something early in hopes that it will get a look and then continue to work on it as we probably will not have time to watch it again later in the year. Don't send any press materials or gifts (well maybe some candy) as we are only considering what is on your DVD. Oh, and have your DVD autostart and no paper DVD labels please.
It's hard to define what a "SXSW Film" is on paper, but I think they all have certain elements in common. We look for films that have something original to say, or say something in an original way. Films that take chances, have unique voices, feature intriguing characters & have great stories. We have always promoted emerging talent in all our programs and work hard to offer a diverse lineup each year. Also, if you are a genre filmmaker, I am definitely looking for more scares and less brutality.
Assessing Austin's role at the fest…
Being in Austin is big part of our success. The audiences are smart, they love film and get their butts out of their houses and support over a dozen film festivals in Austin each year. Filmmakers and the rest of the attendees gain the benefit of that base of enthusiasm going into the experience and it makes the whole event pretty fantastic.
Favorite films…
My favorite SXSW Films (premieres or not) of the past few years are – "Monsters," "Medicine for Melancholy," "Helvetica," "Marwencol," "Anvil!" "Tucker & Dale," "The Immaculate Conception of Little Dizzle," "The Order of Myths" and so many more.
My Favorite non-SXSW Films have been – "Black Swan," "Sound of Noise," "Bad Lieutenant," "Animal Kingdom," "Exit Through the Gift Shop," "Boxing Gym," "Into Eternity."
[SXSW programmer profiles continued on page 2.]
Jim Kolmar, Film Conference Coordinator & SX Global Documentary Programmer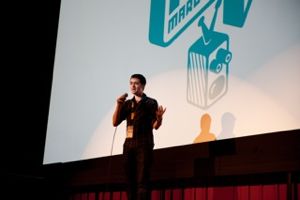 Kolmar talks background…
I grew up in Wales, and moved to Austin 5 years ago with my Texan girlfriend (now my wife). I immediately became involved with the Austin Film Society where I interned, and assisted with programming the Essential Cinema series. That led to a lot of volunteer work, writing and screening for amazing local festivals like Cine las Americas and Austin Asian American Film Festival, while forging an erratic living in film production. Subsequently, by screening, writing, contributing and generally insinuating myself into South by Southwest, I began a full-time programming gig for the SXSW 2010 season.
On SXSW's place today…
We try to maintain a sense of open creative exchange. SXSW has quite organically carved out a role for itself as a place to nurture and establish creative relationships. I think that's pretty apparent in the number of filmmakers who seem to come here one year with an idea, and return the following year with a completed project.
and tomorrow…
Well, it's definitely getting bigger! The most exciting changes I think will develop around the idea that creative people need to communicate with each other more than ever. We feel that SXSW excels at facilitating that dialogue, and it certainly helps that Austin is a creative town year-round.
We're definitely seeing a need for filmmakers to invest themselves in the life of their films from the outset. There's still the old mindset of making a film and hoping for the best on the circuit, or in the market, among thousands of others, and we feel that SXSW is at the forefront of exploring that shortfall. We hope this will allow filmmakers to take ownership of the life of their film, from conception to distribution, and, hopefully, their career.
More generally, I think festivals need to (and do) dig deeper than ever. There's simply too much work out there to be complacent about it, however voluminous the submissions.
Finally, it's becoming harder and harder to drag people away from their Rokus and home theaters; festivals are, at heart, a celebration of the need to shove yourself into a big dark room with 500 strangers and enjoy 90 minutes of an amazing film you've never heard of. You just can't do that huddled around a laptop, so I think perhaps festivals will increasingly come to signify the heart of cinema, and the reason people started making films in the first place. A tad romantic, I know, but still…
Advice, advice, advice…
It doesn't hurt to consider the films we've selected previously. The program certainly evolves from year to year, but there's definitely a sensibility which helps to be aware of.
Make it as easy as you can for us to watch the film. Basic things, like labeling your DVD correctly, packing it simply, not getting carried away with design; we notice that stuff, but your film will get watched regardless, so don't get bogged down with fancy presskits. Make sure your disc is playable, in the right format (that can be a real issue with international submissions). It's important to remember that the version you send us is the version we watch, so if you send us a rough cut, we watch the rough cut. Send us your best possible version. Yes, that's my advice – "make it good."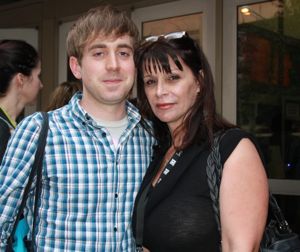 Perhaps most importantly, if your film isn't accepted, it's not the end of the world. There are a million different avenues for a film, and SXSW is only one of them.
I'm sure all festivals feel the same, but there are plenty of moments in the office when we just instinctively know that we're dealing with something that's very "us." It's more of a sensibility than anything specific, but generally speaking, we try to discover a new way of looking at things, a fresh voice.
Within the SX Global international documentary program it's a little different. I often work with international film agencies to try and find hidden gems that act as ambassadors for their home countries, and it often transpires that these seemingly obscure films are hugely popular elsewhere in the world. I mean, who knew that Estonia had such a vibrant short documentary scene?
…a Welsh in Austin.
Well, it's a film town, a techie town, and a music town, so there's a natural affinity for SXSW, and all the attendant chaos that such a huge event brings. It seems completely organic, and a logical additional to Austin's creative ecosystem. There's a lot of goodwill from the Austin community.
It sounds counterintuitive, but I actually think it's important as an attendee to see the city outside the festival. There's a reason SXSW thrives here, and I think it's partly connected to Austin's physical appeal. It's the heart of the Hill Country, and it just feels good to be here.
Kolmar's recent faves…
It's a potentially endless list, but off the top of my head, in no particular order: "The Sound of Insects," "The Living Room of the Nation," "Marwencol," "I Am Love," "Secrets of the Tribe," "Winnebago Man," "Carancho," "Marimbas from Hell," "Dogtooth," "Tony Manero," "The Pope's Bathroom," "Dogtooth," "R," "Applause," "Bronson," "The Miscreants of Taliwood," "The Misfortunates," "We Don't Care About Music Anyway". Ask me again tomorrow, I'll give you a different answer!

Stephanie Noone, Film Production Coordinator & Shorts Programmer
Noone's journey from computer science to film…
I started studying computer science at the University of Texas, but after a year, I was determined to find a path more suited to my creative sensibilities and transferred to film. While in my sophomore year, I decided to volunteer for SXSW, since the spring break South Padre beer fest was not my thing. I continued to volunteer each year, interned in 2006, and the next year was happy to step in as the Film Production Coordinator at SXSW, taking charge of all things technical at the fest. I have been a screener for the fest since I came on staff, but expanded my responsibilities in 2010 to become a Short Film Programmer when the opportunity arose.
Talking SXSW's "diverse range" and having fun…
SXSW has really staked a claim in the festival circuit as an event with a diverse range and increasing visibility. We are dedicated to showcasing fresh new talent and a strong crop of premieres, but we also have the flexibility to play crowd-pleasers and under-appreciated gems from earlier in the season. Coupled with our rising status and expanded reach, SXSW is a place where filmmakers and filmgoers can really have a good time. Many other festivals require a more formal attitude and demeanor, whereas our audience can cut loose, see some great films, and connect with like-minded folk. The community feel, casual atmosphere, and laid-back attitude really separate SXSW from the rest.
We have a unique place in the festival sphere as SXSW Film is just one facet of a three-tiered event. The Film, Interactive, and Music portions of SXSW all have their own built-in audience and reach, but the convergence of the three is more apparent, relevant, and vital each year. I think the vast scope of information and events presented at SXSW lends us an ability to adapt to new, ever-evolving, trends and thinking in film and in the creative world at large. Growth is definitely a factor in our evolution, and we are doing our best to adjust for it, step by step. Though our audience may expand and our programming themes may change from year to year, our indie vibe, casual atmosphere, and dedication to exploring new talent always remain intact.
Advice when doing the submission process and what they're 'looking for'…
Read the FAQ. Know the guidelines and follow the instructions. It's a lot easier on you AND us if you are informed about our submission process. Check your DVD before you send it in, makes sure it works. Simple advice, yes, but you'd be surprised how many people don't, and we want to be able to watch your movie! For short films, just keep in mind that it is really tough to program a film 30 minutes or over. There are plenty of good long shorts, but we only have a limited amount of time in our programs.
Lastly, don't get discouraged. We are receiving more submissions than ever, and competition is fierce. I get anxious thinking about all of the films we love and might not have room for, but I'm confident they will find a home somewhere.
It's difficult to pinpoint what exactly makes a SXSW film, but whenever I see one, I feel an energizing sense of excitement and want to show the film to everyone around me. Some adjectives we like to throw around though include edgy, fresh, original, and unexpected. Sometimes it takes something that infuriates me, and then ultimately makes me really happy. Sometimes it makes me laugh, or just makes me cry – a solid, compelling story that knows exactly what it's trying to do or portray. We can have a tendency to skew more towards the offbeat in our shorts programs, though one of my personal favorites from last year was a very traditionally told narrative, so there is no real hard and fast set of guidelines.
On the friendly Texas capital city…
Austin is such a friendly, lively town. There's a down to earth vibe here where all walks can connect in the same room, watch the same films, listen to the same music, and eat the same tasty BBQ. Austin gives a necessary sense of warmth and leisure to SXSW that is the perfect compliment to our programming, and would be impossible in other big name cities. The smaller, casual atmosphere here provides many opportunities for filmmakers and audiences to connect, both inside the theaters, and out. Where else will Bill Murray serve a fest volunteer a drink? It's also hard to leave! I've been here for 11 years myself, and know for a fact that many people who come to town for SXSW leave with high hopes of living here someday.
Also, we have damn good breakfast tacos.
Some of Noone's recent favorites…
One of my all time favorite short films is "Oh My God" by Austin filmmaker, John Bryant. I'm also a big fan of Don Hertzfelt, especially his planned trilogy including "Everything Will Be Ok" and "I'm So Proud of You."
It's hard to just name a few, but some favorite shorts from last year: "Cigarette Candy," "Savage," and the hilariously funny "Eagles are Turning People into Horses."
Some SXSW and non-SXSW fave features: "Dogtooth," Murder Party," "Moon," "Bronson," "A Serious Man," "Bad Lieutenant: Port of Call – New Orleans," "Micmacs," "Waking Sleeping Beauty," "Winnebago Man," "Exit Through the Gift Shop," and "Scott Pilgrim vs. The World."
Claudette Godfrey, Film Festival Coordinator & Shorts Programmer
An Austinite returns to work at SXSW…
I'm a native Texan, born and raised in the Austin area. I found my current place at SXSW through a combination of lucky coincidences and very hard work. I attended SXSW for the first time as a freshman in the film program at the University of Texas and was instantly hooked. The next year I was lucky enough to meet and become friends with a staffer, and got my first position as a volunteer crew chief. The year after that, I interned and then was promoted to a paid seasonal position during the spring of my senior year. After the festival that March, I moved to Las Vegas to work as the Corporate Relations Coordinator for the CineVegas Film Festival.
In the summer, Janet Pierson was hired to head the festival and she encouraged me to move back to Austin instead of to LA, and take the Coordinator position. From there, I took on programming the music videos and our high school program and then, in 2010, the full slate of short films.
…and more on SXSW.
SXSW Film is unique because it's part of the massive, cross-platform, multi-faceted cultural event that is SXSW. Our audience is hugely diverse because of that; it's a mash-up of culture connoisseurs, music fans, interactive geeks, film industry, and everyday Austin folk. Our programming reflects that diversity and we've help built a community that provides a supportive, positive environment for films and filmmakers. Our crowds are famously great – they're open and excited. You can feel that electricity in every theater and there's certainly nothing like a standing ovation at the Paramount Theatre. It's impossible to attend and not have a great time meeting new people, bonding with friends and connecting with potential collaborators. It's that casual open environment combined with positivity, intimacy, and community that makes SXSW different.
Taking in all that SXSW growth…
Over the past 5 years, SXSW has experienced tremendous growth in all areas. That alone has forced us to evolve and we've found our niche as a connected, inclusive and key festival. We have held onto our sense of humor, our love of film and are still having indescribable amounts of fun hosting the event. I think there is a lot to be said for those things. The challenge now is to preserve that passion and channel it into being consistently interesting and relevant to our community. That's what festivals are about – helping bring new films and emerging filmmakers to the industry and audience. I see that physical experience and personal connection becoming more vital to all festivals.
Advice: Read the instructions; what they're looking for; and on not taking it personally…
I actually spend a good deal of my time conversing and corresponding with filmmakers who are submitting to the festival so, like most festival folk, my number one piece of advice is to follow the instructions. Really READ our website, Submission FAQ and use Google – I promise it's your best friend. For short filmmakers I would say, try and make your edit as tight as possible. The longer a short is the better it needs to be to justify slotting it instead of the 2-5 other films I love that could fit in that same space. Oh, and if you call our office or write us an email, play nice. We run a very small, tight ship and are very good at remembering names.
I would also remind filmmakers not to take it personally. I know how insane that sounds when you've poured everything you have into a film, but I think it's easy for filmmakers to become jaded when they don't get into the festivals they want to. To focus on the rejection letters and channel their negative feelings into hating the establishment. Instead, do your research. Submit to festivals that have an audience for your film. Re-examine your edit. There are factors that you as a filmmaker can control. Programming a festival is like a giant puzzle that has too many pieces – there's simply no way to fit in every good film. There are a lot of factors at work and we really accept a very small percentage of the films that are submitted to us. Hone your craft. Keep working.
It's safe to say that every programmer out there is looking for something original or beautifully executed. For me, it's the films that command my attention. Usually it's a unique story, interesting angle or engaging characters. I'm watching thousands of shorts each year, so anything that I haven't seen done before or done better is interesting to me. In terms of shorts, our tastes can be more quirky and unconventional, but a fantastically executed traditional narrative is something we love, too. There is also the element of memorability. Sometimes a short will dig itself into my brain and for months I'll keep coming back to a scene from a 4 minute film. That impression can mean a lot.
Taking in Austin: Advice from a native.
Austin plays a huge role in what makes SXSW unique. We are a genuine product of our environment and I think our registrants can feel that in the festival. Filmmakers often tell me that SXSW is the best time they've had with a film anywhere. We're Austin in March – the people, the weather, the food, and the venues all play a part in what makes us different. We've been able to strike an amazing balance between those factors, our programming sensibility, and Texas hospitality. Our filmmakers and audience attend the festival expecting to see work that is original and innovative. To discover new voices and to see a little of that trademark Austin weirdness – not to mention being able to catch an awesome show in a tiny music venue or hear an inspiring interactive speaker.
SXSW really is a completely immersive, intense experience and Austin is a large part of that. You can stand out of the street and FEEL it. I think attendees come away with with a fresh perspective, new friends and some crazy stories because that's the nature of our city. At least I always do and I live here all year!
Some of Godfrey's recent pics…
I'm notoriously bad at lists, but the first features that come to mind are "Trimpin: the sound of invention," "Made in China," "The White Stripes: Under Great White Northern Lights," "A Town Called Panic," "Fatso, Black Swan," "Tiny Furniture," "Dogtooth" and "Enter the Void."
I loved all the shorts we programmed this year, but a few of my standout favorite shorts right now are "TUB, 6," "Girls Named Pinky," Jean-Paul Luc Sebastien Rene, "Anatinus," "Frog Jesus," "Cigarette Candy," "Savage, Feeder," "Kelp," "Solitary/Release," "Down to the Bone," "Quadrangle," "Little Red Hoodie" and Brad Neely's animated short "Washington" from a number of years ago. Really, there are many many more.
[Editor's Note: Thank you to SXSW's Rebecca Feferman for helping to compile programmer responses.]
Sign Up: Stay on top of the latest breaking film and TV news! Sign up for our Email Newsletters here.