In a Ukrainian village, big-hearted, formidable Olga Nenya single-handedly raises 23 foster children. Sixteen are the biracial offspring of visiting African students and Ukrainian women, who, living in a country of blue-eyed blondes that's racked with endemic racism, often see no choice but to abandon their babies. And that's where Olga comes in.
"Family Portrait in Black and White" charts the rhythms of Olga's hectic household, rife with rambunctious kids and goats. As diverse dramas unfold among the brood—a high-schooler struggling to transcend his plight through education, a boy longing to reunite with his Ugandan father, and a child courted for Italian adoption—Olga reveals herself to be loving and protective, but also narrow-minded and controlling. A product of communist ideology, she favors collective duty over individual freedom. It's this philosophy that gives the orphans the rich sense of belonging they ache for, as well as cause for rebellion and distrust, in this lyrical, sometimes gut-wrenching tale about the meaning of "Mama," "family," and "nation." [Description courtesy of Sundance Institute]
[indieWIRE invited directors with films in the Sundance U.S. Dramatic & Documentary Competitions as well as the World Dramatic & Documentary Competitions and NEXT section to submit responses in their own words about their films. These profiles are being published through the beginning of the 2011 Sundance Film Festival. To prompt the discussion, iW asked the filmmakers about what inspired their films, the challenges they faced and other general questions. They were also free to add additional comments related to their projects.]
"Family Portrait in Black and White"
World Cinema Documentary Competition
Director: Julia Ivanova
Screenwriter: Julia Ivanova
Executive Producer: Sally Jo Fifer, Mette Hoffmann Meyer, Julia Ivanova
Producer: Boris Ivanov
Cinematographer: Julia Ivanova, Stanislav Shakhov
Editor: Julia Ivanova
Music: Boris Sichon
Responses courtesy of "Family Portrait in Black and White" director Julia Ivanova.
From the Soviet Union to Canada…
I grew up in a family that was very connected with the art of cinema. My father was a programming director for the Moscow International Film Festival, and it definitely influenced my sense of visual storytelling. But I never dared to even dream of becoming a filmmaker. I thought one needs to know for sure that "I have a talent of Tarkovsky." I studied at the only film school that existed in Soviet Union, VGIK, but I studied producing and not directing. After immigrating to Canada I became an adoption coordinator. Only then, when I met absolutely amazing people – the adoptive parents – did I get a very strong desire to tell the world how great these people are. Since for me the most natural way to tell a story is through visuals, I made a film about international adoption. So, the desire to tell a particular story brought me to the career of filmmaking and not vice versa. Then it took me a number of films and years to become first the shooter, and then the editor of my films. And now, I would say, editing is my biggest passion!
Personal connection to film…
I grew up in the Soviet Union where "All people were equal, but some people were more equal than others," if I may paraphrase George Orwell. It didn't take much observation, even for a child, to sense that the worst thing in that society was to be born mixed-race. I saw just a few black kids back then, but I remember how unfair the societal rejection felt to me. Thirty something years later I was filming in Moscow and saw an article and a photo in a local newspaper about a foster mother in Ukraine and her 16 mixed-race children. That's how I learned about Olga Nenya and her family. I called her, and she agreed to be in the film. Both of us didn't know that I would be coming back for three years, of course. The idea of the film hasn't changed but the complexity of the film definitely has. Now it is a very serious film, not only about racism and the sense of belonging, but also, and most of all, about the orphanhood and the parent-teenager conflict.
Charting the whole story…
The household is huge – almost 20 children. Surprisingly, very early on it became clear who would be the main subjects in the film. I always kept it in mind while filming. But I was so fascinated by the integrity of all children that I wanted to film everything and everyone as well. With the cameraman, we would spend over 10 hours every day with the family, giving the camera to each other whenever one got tired. I edited a long demo after the first year shoot. After I came back from the second trip a year later, I edited a 30 minute piece. Such an approach helped me tremendously to realize what I needed to film on my third trip that would provide the ending for all the stories. Of course, the final film is very different from what was edited in the first two years but I feel that, if I ever again film the story for several years, such gradual editing really helps to create a better film.
'Directing' the subject…
The biggest challenge was to find the moment when Olga, the foster mother, would be in a mood to talk on camera. She gave us complete access to the life of the family but didn't want to answer any questions, not even repeating what she just said off-camera. Since she is not used to taking any sort of directions from anyone, I basically felt like one of her foster children in terms of where the power was. At the end of the day, I believe the film benefits from having more scenes of live interaction between Olga and the children than her commentaries. That said, for a long time I was quite nervous.
Ups and downs of shoot…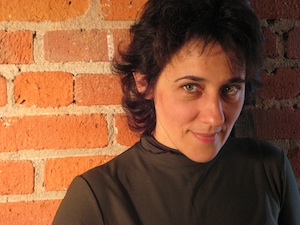 So many great stories happened during the three years I followed the kids. I almost lost the equipment in Ukraine, and I did loose my passport in Italy but it seems funny now when I look back.
What makes this story unique and universal…
I believe it's a unique but also a universal story: How one has a sense of belonging, but the group – which can be as small as classmates or as big as a nation – refuses to include you; how we are born with different personalities, abilities, talents and inspirations no matter whether one grows up in a village or in the center of the world; how cruel and indifferent any system is; how a child is really an angel who has a need to love and be loved; how an authoritarian parent can forgive a child many shortcomings except for one – having a strong opinion and determination not to give in.
I believe the film will be interesting to an audience in any country because of the combination of these universal themes and the unique story of these kids with their great personalities and big hearts who happen to live a in a village among drunks and goats. Plus, one of the boys in the family might have had an American father whom he hopes to find through this film!
Varied inspirations…
The films that are inspirational for this particular film are: "My Flesh and Blood," directed by Jonathan Karsh, because of its emotional intensity. "Born into Brothels," directed by Zana Briski and Ross Kauffman, because the children are so admirable. "The 400 Blows," directed by François Truffaut, because this was a film about a misunderstood young teenager and it had the ending I will always remember. "Billy Elliot," directed by Stephen Daldry, because of its energy and because it is about childhood, the force of talent and ability to rise above the circumstances.
Future ideas in the pipeline…
There are several ideas I am interested in. Mostly I am interested in stories about children and about romantic relationships. I also love dance and would love to make a film about modern ballet. Another topic that makes my heart beat is migration, leaving the past behind and starting anew. I know what I don't want to touch – the stories about crime and human cruelty.
Sign Up: Stay on top of the latest breaking film and TV news! Sign up for our Email Newsletters here.