Byron has always been a lover of women. He's a romantic, and he loves all of his girlfriends the same way—totally and completely. But recently he's been lost in some heavy thoughts about big things like love and God, and he's growing restless in middle age. When a TV preacher suggests he retreat from the chaos of the world, Byron escapes his town to start a spiritual journey of the fantastic kind.
In this deadpan Greek tragedy, set on the Gulf shores, a cast of bizarre, comedic characters, led by newcomer Paul Batiste, pursue uncommon dreams and missions of their own making. Director Zack Godshall ("Low and Behold") returns to the Sundance Film Festival to share a world seen through the bloodshot eyes of Byron, a quixotic philosopher/poet and bayou Don Juan who seeks spiritual fulfillment by any means possible." [Synopsis courtesy of the Sundance Institute]
"Lord Byron"
NEXT
Director: Zack Godshall
Screenwriter: Zack Godshall, Ross Brupbacher
Cast: Paul Batiste, Gwendolyn Spradling, Kayla Lemaire, Bria Hobgood, Eric Schexnayder, Justin Bickham
Producer: Zack Godshall, Ross Brupbacher
Composer: Ross Brupbacher
Costume Designer: Allisa Brupbacher
Cinematographer/Editor: Zack Godshall
Coproducer: Kenneth Richard
Responses courtesy of "Lord Byron" director Zack Godshall.
Finding a niche…
I've always enjoyed making up stories and performing them in some way. At some point in high school, I realized that filmmaking was what I needed to do. I liked writing and acting and theatre, but using a VHS camera and two VCRs to piece together a story was just more my cup of tea.
An organic pre-production…
I wrote "Lord Byron" with Ross Brupbacher, a good friend who works as a carpenter in South Louisiana. He came up with the idea of a middle-aged guy named Byron who lives with his ex-wife and her kids. While being something of a ladies' man, Byron mostly just loafs around and smokes weed. And for some reason, he begins to think he should become a monk. Starting with this skeleton of an idea, which I thought to be really original, Ross and I wrote an outline of the story very quickly. We decided to move fast while we were in between jobs and actually had time to make a film. We invented a number of characters and scenarios, and very soon began casting the film. We cast some friends and artists we know, and some we found through a few auditions we held in Lafayette, Louisiana. For the audition, we had people read a prepared monologue from BEOWULF, which threw everyone off-guard, but brought out some very unique and unexpected results. And we actually invented new characters based on some of the actors who auditioned. The process was incredibly collaborative and organic. The film never stopped evolving, and so Ross and I, along with our cast, never stopped being creative and inventive. Even as we mixed the sound, we found ourselves rediscovering the film and its potential.
A flexible production schedule…
We made the film in South Louisiana with a crew of 3 and a cast of unknowns based on a 15-page outline. With the exception of 2 days in the middle of the swamp, we never worked for more than 6 hours a day, and never more than 4 days per week. This loose schedule freed us up to get sleep and to work with people when they were available. Everything was extremely flexible. Our crew was tiny, sometimes just Ross and I, and the entire process was one of discovery. We would rehearse each scene just before we would shoot it, often discovering new and exciting gestures and moments that bring a legitimate spontaneity and naturalism to the film.
Finding the time to edit…
Besides the two days we spent on the one piece of dry land in the middle of a thousand-acre swamp in South Louisiana, which required a mile-long trek through knee-deep, cottonmouth-infested mud, the most difficult thing about making the film was in the editing. I spent a year and a half editing the film on my laptop. I continually had to take breaks to complete and promote my previous film, "God's Architects." And so, it was more than a year before I had an rough assembly of the film, which incidentally came in at 4 hours. I spent the next 4 months whittling the film down to under a hundred minutes. I finally got it down to around 90 minutes, and while it hurt to trim some scenes, some of which were my favorites, I'm confident that the final film is the best film that we could have made.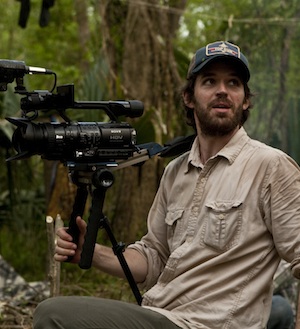 An expensive six seconds…
When the film's co-producer, the songwriter Kenneth Richard, told me he was going to have to cut down a pine tree on his property in order to make room for some power lines, Ross and I suggested we burn it for a scene in the film. We called the entire cast back for a barbecue/tree-burning scene. It was a major ordeal to reunite everyone 2 months after wrapping principle photography, not to mention the near-insanity of dousing a pine tree in kerosene. And as it happened, the epic scene which took two days to prepare and a half-day to shoot, ends up in the film for a mere 6 seconds.
Something for audiences to look forward to…
While the film is a wild ride full of many unexpected turns, I think audiences at Sundance will be floored by the faces, voices, and locations featured in "Lord Byron." The cast and the settings are remarkable. Some performances are so genuine and natural, while others teeter on complete madness. So I'm sure the film will give people an experience unlike most things they're used to getting. I also think audiences will appreciate the fact that all of these performances are given by non-professional actors, many of whom have never acted before, including Paul Batiste who plays "Byron".
Collaborating with Kenneth Richard…
Ross and I were most inspired by our experiences with the cast. The idea for the film came out of nowhere, but working with the cast really opened us up to another world, a creative and synchronistic and collaborative world. More than anyone else, Kenneth Richard, who also plays "The Teacher" in the film, was a huge inspiration. Kenneth is the best songwriter in Louisiana, but he's been writing in obscurity for more than thirty years. He guided us and inspired us in ways that cannot be counted and only slightly comprehended. We filmed in his house, on his family's land, and time and again, he and his wife fed us the best crawfish etouffee you'll ever eat. Kenneth wrote songs for us and performed for us everyday. We ended up naming him a co-producer and dedicating the film to him.
Future plans…
I've begun shooting a documentary about Kenneth Richard, and Ross and I are developing a Menippean Satire set in the Depression-era South.
[indieWIRE invited directors with films in the Sundance U.S. Dramatic & Documentary Competitions as well as the World Dramatic & Documentary Competitions and NEXT section to submit responses in their own words about their films. These profiles are being published through the beginning of the 2011 Sundance Film Festival. To prompt the discussion, iW asked the filmmakers about what inspired their films, the challenges they faced and other general questions. They were also free to add additional comments related to their projects.]
Sign Up: Stay on top of the latest breaking film and TV news! Sign up for our Email Newsletters here.