From the Oscar-winning team behind Man on Wire comes the story of Nim, the chimpanzee who, in the 1970s, became the focus of a landmark experiment that aimed to prove an ape—if raised and nurtured like a human child—could learn to communicate using sign language. If successful, the consequences of the project would be profound, breaking down the barrier between man and his closest animal relative and fundamentally redefining what it is to be human. Combining the testimony of all the key participants, newly discovered archival film, and dramatic imagery, "Project Nim" tells the picturesque story of one chimpanzee's extraordinary journey through human society and the enduring impact he makes on the people he meets along the way.
Filmmaker James Marsh returns to the Sundance Film Festival with an unflinching, unsentimental biography of an animal we tried to make human. What we learn about Nim's true nature—and indeed our own—is comic, revealing, and profoundly unsettling. [Synopsis courtesy of Sundance Film Festival]
"Project Nim"
World Cinema Documentary Competition
Director: James Marsh
Executive Producer: John Battsek, Andrew Ruhemann, Nick Fraser, Hugo Grumbar, Jamie Laurenson
Producer: Simon Chinn
Composer: Dickon Hinchliffe
Cinematographer: Michael Simmonds
Editor: Jinx Godfrey
Coproducers: George Chignell, Maureen A. Ryan
Responses courtesy of "Project Nim" director James Marsh.
Marsh's lifelong appreciation of movies becomes a career…
As I started out on my so-called career, I convinced myself I'd be unemployable doing anything else. In other words, if I couldn't work in the medium I loved, I was destined for an unhappy and frustrated life. Whilst it's not always been easy to make a living as a filmmaker, that conviction became a self-fulfilling prophesy. What else could I possibly do? I still get really excited when I go to the cinema – the gradual darkening of the theater, the voyeurism of the experience, the prospect of strong emotions – I'm like a little kid every time I sit down to watch a movie. It's a real privilege to actually make films that will be experienced this way.
The ups and downs of documenting the life of a chimpanzee…
The film emerged from a well researched biography of a chimpanzee called Nim whose life in captivity was very well documented and often filmed. Nim was taken from his mother when he was born and given over to a human mother to raise. This was in the early '70's and it was part of an experiment conducted by a Professor at Columbia University. The idea was to bring up the baby chimp in a human family and nurture him exactly like a human child in the expectation that he would learn language and grammar in the way that human children do. If so, he could tell us what he was thinking and how he saw the world. It's a mind boggling idea when you stop think about it.
So our chimp finds himself living with a well-to-do bohemian family in a brownstone in New York City being pampered like a human baby. Well, that's the beginning of the story. Chimps grow up fast and they are smart and strong in ways that come as a real surprise to those involved. All I can tell you is that the experiment doesn't exactly go as planned and the chimp then embarks on an extraordinary and very surprising journey in human society. There are some quite shocking twists in the narrative that no one involved could have foreseen.
On constructing a story with a subject who can't speak for himself…
I simply conducted very long interviews with all the people who had a close relationship with the chimp – though, as happens so often with documentary projects, this was a minefield. There were a lot of unresolved conflicts amongst the people in the story and they were still raging – at times, I felt like I was in the middle of a retrospective custody fight between a whole bunch of feuding parents. There was, in a real sense, a battle for the chimp's soul as well as more obvious disputes about who actually owned him and was responsible for him as things started to go bad. There was also a great deal of purely human drama to explore – there were love affairs, broken hearts, betrayals, friendships made and destroyed, all witnessed and often catalysed by the chimp.
Once I had the interviews (about 60 hours worth in all) I spent a long time working with the interview material with my editor JInx Godfrey – to find the story and structure. Once we had a dramatic structure, I then planned and shot images and evocations of some of the story elements. These reconstructions are very different from my approach to "Man On Wire." The imagery is stranger and more elliptical.
How does it stack up to Marsh's past work…?
We managed to secure funding for the film in the UK without too much trouble. As we researched the film, there were a couple of very key witnesses who didn't want to be filmed – for obvious and understandable reasons when you know the story. I spent a lot of time coaxing and persuading them to be interviewed and they both finally agreed. But the biggest challenge came later – trying to structure a an episodic, picaresque, complex story with 10 main human characters and a chimpanzee. Unlike most of my other films, the film has a linear, chronological structure – which sounds like it should have been easier to put together but it was the hardest, most obdurate film I have ever made in that respect. I still don't know whether I got it right – but doubt and self reproach are very common feelings when I finish a film.
A chimp-in-a-suit kerfuffle…
We were shooting the reconstructions with a man wearing a very convincing chimp suit at a disused factory in Nyack. The man in the chimp suit had a little wander around outside during our meal break and before too long, the cops showed up looking for a 'big primate on the loose'. They were deadly serious, they were twitchy and they had a taser. We explained ourselves and then summoned our chimp man who greeted them in an English accent and took off his chimp head to reassure them.
Preparing for the film's unveiling…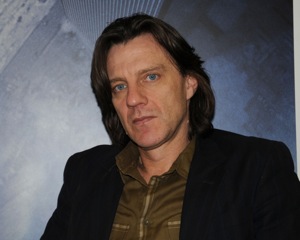 I wish I knew how the audience is going to react. A film is basically incomplete until it has been shown publically and the first screening of your work is fairly nerve racking. This film is an unusual proposition in many ways – it's a complete behavioural biography of an individual animal who has some obvious and very surprising overlaps with our own species. I'm not sure how often that's been done – to follow the life of a sentient animal with a strong personality and sophisticated emotions. But it's not a film about a warm and cuddly animal who wants to be our friend. Like Nim himself, the film is tough, unsentimental and wildly unpredictable in its narrative.
Finding film inspirations for a movie about a primate…
I usually start every project with an edifying diet of films that could inform or inspire me. For this, I started out with Spielberg's "ET" but gave up after 15 minutes. It had exactly the kind of feeling and sensibility that I wanted to avoid. There were a couple of obvious films to see – Barbet Schroeder's documentary "Koko" about a talking Gorilla which leaves you in no doubt that the higher primates have highly distinct individual personalities and whole complex of recognisable emotions. Also – Frederick Wiseman's "Primate" which has become one of my all time favourite documentaries. It's a very weird film indeed with some astonishing imagery and it gradually and discreetly becomes a terrible indictment of our thoughtless and pointless cruelty to animals in the name of science. The other film that proved extremely useful was the Bresson film "Au Hasard Balthazar" which is a fictional account of the life of a donkey as it passes though the hands of various human owners. The structure of "Project Nim" owes a lot to the Bresson film – we also try to see the drama and sometimes folly in the human world through the eyes of our chimpanzee.
Marsh, no surprise, gives himself a big challenge with his next project…
I've been working for three years on a formally very challenging project about dreams. The film is based on a real dream diary – a Canadian man whose dream diary was rigorously thematic – he only recorded the dreams about the woman he loved throughout his life. The dreams span many years and continue after her death. Each dream or dream fragment is a subconscious dramatisation of the man's feelings for the woman and I've tried to write a script that sequences the dreams into the unfolding arc of their relationship – from his initial infatuation right through to his posthumous grieving after her death. It's quite a tricky proposition and again, I don't think this has been attempted before. Maybe for good reason…but that's exactly why i want to do it. I have no idea whether it can work. It could be really terrible. But at least it's going to be original.
[indieWIRE invited directors with films in the Sundance U.S. Dramatic & Documentary Competitions as well as the World Dramatic & Documentary Competitions and NEXT section to submit responses in their own words about their films. These profiles are being published through the beginning of the 2011 Sundance Film Festival. To prompt the discussion, iW asked the filmmakers about what inspired their films, the challenges they faced and other general questions. They were also free to add additional comments related to their projects.]
Sign Up: Stay on top of the latest breaking film and TV news! Sign up for our Email Newsletters here.