In response to police corruption, the private detective business has become increasingly common in India. "The Bengali Detective" follows the life of detective Rajesh Ji, who, along with his ragtag team of assistants, investigates cases ranging from counterfeit hair products to a brutal triple murder. When Rajesh is not sleuthing, he has big dreams of competing on a televised national talent show, so he and his detective gang form a dance troupe—which must be seen to be believed—and rehearse for their big audition.
Set in chaotic Kolkata, formerly known as Calcutta, the film is shot with atmosphere and immediacy, complementing the mystery and suspense of the investigations. Director Philip Cox finds a riveting subject in Rajesh. He's all at once a showman, a dedicated husband, and a humanitarian. "The Bengali Detective" is a layered, wildly entertaining film: a poignant profile of a delightful character, a gripping detective narrative, and a detailed look at the middle class in contemporary India. [Synopsis courtesy of Sundance Institute]
"The Bengali Detective"
World Cinema Documentary Competition
Director: Philip Cox
Executive Producer: Angus Aynsley, Karol Martesko-Fenster, Gernot Schaffler, Thomas Brunner
Producer: Giovanna Stopponi, Annie Sundberg, Himesh Kar
Associate Producer: Sounak Chakravorty
Cinematographer: Lisa Cazzato-Vieyra
Editor: Taimur Khan, Tom Hemmings
Music: Dennis Wheatley
Responses courtesy of "The Bengali Detective" director Philip Cox.
On the hunt for the perfect sleuth…
I was searching for a character based film — where a character who could act as a catalyst to allow me to enter into other peoples' lives. I was looking at lawyers in Russia, psychoanalysts in Mexico and then private detectives in India. Whilst teaching in India I came across the rise in popularity of the private detective through billboards everywhere and hearing from friends who were using them. Upon deeper research I learned this was because there was a fundamental breakdown in trust between citizens and the authorities. Then the seed of an idea grew: a film that looked at society through the prism of crime via the catalyst of a colorful private detective. From this point on it was all about casting the right detective and gaining access to his clients.
Challenge in making a film about a detective…
It was all about access to the clients and the cases. People come to a private detective in order to be 'private!' – so it was all about convincing them to allow us in.
An unpredictable journey…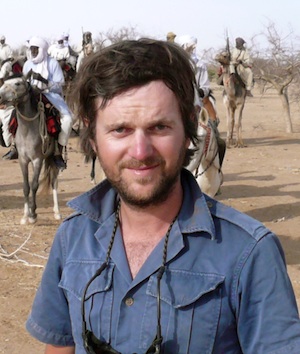 Making "The Bengali Detective" was an incredibly intense period of filmmaking. My small team and I had no idea where our detective and his investigations would lead us. Each client brought their own revelations and twisting storyline. We had a central character die during the production; a subject who discovered her husband was sleeping with her brother's wife; a poor grieving mother who became a suspect in a triple murder case; and our hero detective turned up one day to greet us in a silver and gold glitter costume in order to play out his alter ego. After a few months we got used to 'The Calcutta Factor' — we knew each day was going to be unpredictable. But that was the beauty of it. Only documentary can respond to such surprises and revelations and incorporate them all into a film that captures a patchwork of extraordinary lives unfolding in of one of the world's great metropolises.
Pitch to Sundance audience…
A Bollywood detective dance mix up with raw Brit observational cinema in one of the world's greatest metropolises – a pre-film spicy Biryiana mixed into the Sundance cinema….how can anyone resist?
What's on the docket…
I am interested in working with projects that can have a root in reality and yet be malleable enough to stylise into a narrative with a strong cinematic presence. That could be actors working across real situations – or real documentary subjects who can collaborate with me across their own journeys.
[indieWIRE invited directors with films in the Sundance U.S. Dramatic & Documentary Competitions as well as the World Dramatic & Documentary Competitions and NEXT section to submit responses in their own words about their films. These profiles are being published through the beginning of the 2011 Sundance Film Festival. To prompt the discussion, iW asked the filmmakers about what inspired their films, the challenges they faced and other general questions. They were also free to add additional comments related to their projects.]

Popular on Indiewire
Sign Up: Stay on top of the latest breaking film and TV news! Sign up for our Email Newsletters here.