Alex Shaffer never seriously considered acting. A New Jersey high school wrestling phenom, he was more focused on securing wins on his way to the state tournament when he saw an ad in the paper for a casting call. He decided to give it a shot, despite the fact that his only previous acting experience was a small part in a sixth-grade school play. Today, you can find Alex sitting alongside Paul Giamatti on the poster for Tom McCarthy's new film, "Win Win."
The teenager landed the role after an exhaustive audition process. He plays Kyle, a troubled teenager taken in by the Flaherty family. Tight-lipped and reserved, he opens up to his new surroundings after excelling in the local high school's wrestling team. The film had its premiere at this year's Sundance Fillm Festival and Shaffer's acting career hit the ground running. indieWIRE met with him at New York's Trump SoHo hotel to talk about the film, his wrestling days and his future.
What drove you to audition?
My friend did. There was a call in the paper and he said, "You should really audition for this," and I said, "No, man!" And he insisted it was a once-in-a-lifetime opportunity and I realized he was right. I realized that I might not ever have another opportunity to do this again, to audition for a big movie with Paul Giamatti and Amy Ryan.
What was the audition like?
I couldn't go to the original audition so I had to send in paperwork, a picture of me and a bio. So they called us and I went in to meet with them, and then I did that again seven or eight more times before I finally got the role.
What was the most enjoyable aspect of this experience?
Making a movie, that was pretty goddamn exciting! In the same night, I went from being in the state tournament for wrestling to a movie set. It was pretty exciting.
Was the process ever intimidating?
No, it really wasn't. At the time, I didn't care much for acting because I was so into wrestling. I was all about wrestling at the time and I just didn't really want to act that much. It's not that I didn't want to do it or anything, it was something I was excited for and happy to do, but it wasn't something I planned on doing for the rest of my life. Now I really appreciate it.
You weren't nervous at all?
I was actually more nervous about the reshoots than I was throughout the original shoot.
Did you receive any training for your performance? How much guidance did you get for your role?
[Director] Tom [McCarthy] set me up with an acting coach, which was great and she taught me so much. I'm still working with her now. He also gave me a movie to watch, "Ordinary People."
So what are you focusing more on now: acting or wrestling?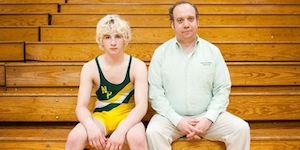 I actually broke the L5 vertebrae in my back, so wrestling is out of the picture. It's been a couple of months now that I've known that I'm probably not going to wrestle again. After we finished shooting the movie, I made a deal with myself that I would focus on acting.
How was it working with actors like Paul Giamatti and Amy Ryan?
It was amazing working with them. Everybody was my friend. And yeah, I worked there, but I didn't look at it like a job — it was a place to go act and have fun with a lot of friends. That's how I think of everyone I worked with on the movie, as friends.
Did you work with a fight choreographer for the wrestling scenes in the film?
Yeah, there was one on set. He knew that I was a wrestler and he let me kind of do my own thing. A lot of the moves in the movie are moves that I've done, moves that I like to do. I got to put a lot of myself in the movie.
Were there any wrestling movies or sport films on your mind while you were making "Win Win"?
"Vision Quest." You know why? Because the entire time I was thinking, "Let's not make it like 'Vision Quest.'" I'm not saying "Vision Quest" is a bad movie because I absolutely love it, just because it is a wrestling movie. But I really like the fact this film is different, that it makes wrestling look so much better than "fake" wrestling.
What's coming up next?
I'm not even looking at colleges right now. I'm not even trying to think about that. I really want to focus more on acting and get better at acting before I start looking at colleges.
Sign Up: Stay on top of the latest breaking film and TV news! Sign up for our Email Newsletters here.