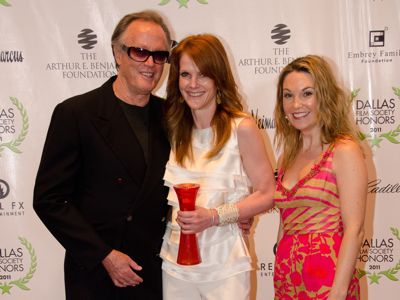 Everything's bigger in Texas — and for filmmakers, that includes cash prizes. At the Dallas International Film Festival's awards ceremony April 8, more than $100,000 in sponsors' cash, goods and services (but mostly cash, and largely unrestricted) went to festival award winners.
The top prize was the Target Filmmaker Award for best narrative and documentary, with each receiving a $25,000 unrestricted cash prize. These went to Clay Jeter's "Jess + Moss" as best narrative feature and to Anne Buford's "Elevate" as best documentary. Peter Fonda presented the awards at a ceremony held at Dallas' downtown Union Station.
Receiving her award, Buford announced that she would donate the money to Seeds Academy, the Senegal boarding school for basketball players whom she profiled in her film.
The DIFF launched in 2007 with a three-year trademark agreement from AFI. Their first solo year was 2010 and, thanks to sponsors like Target and Texas utility company TXU Energy, the money hasn't stopped flowing.
"We think that it's an easy way, as a sponsor, to get out there," says Dallas Film Society chairman Michael Cain. "Filmmakers need to complete what they're doing and move on to their next project. Since the film incentives passed in Texas, $667 million have been spent on productions and there's been a general awareness that you need to put money in filmmakers' hands."
The full list of awards follows.
Narrative Feature Competition
Target Filmmaker Awards ($25,000 ea.)
Best narrative: "Jess + Moss," dir. Clay Jeter
Best documentary: "Elevate," dir. Anne Buford
Special jury prize
"Surrogate Valentine," in recognition of Goh Nakamura's performance, dir. Dave Boyle
"Norman Mailer: The American," dir. Joseph Mantegna
Honorable mention
"Parked," dir. Darragh Byrne

MPS Studios' Texas Filmmaker Award ($20,000 in cash, goods and services)
"Five Time Champion," dir. Berndt Mader
Special jury prize: "Wuss," dir. Clay Liford

Embrey Family Foundation's Silver Heart Award ($10,000 cash)
"Zero Percent," dir. Tim Skousen
Environmental Visions Award
"If A Tree Falls: A Story of the Earth Liberation Front," dirs. Marshall Curry, Sam Cullman
Shorts Competition
Grand Jury Prize, Audience Award: "The Legend of Beaver Dam," Dir. Jerome Sable
Special Mention: "Worst Enemy," Dir. Lake Bell
Special Mention: "Green Crayons," Kazik Radwanski
Student Shorts
Grand Jury Prize: "The Robbery," Dir. Johnny Ma
Special Mention: "The Birds Upstairs," Dir. Christopher Jarvis
Best Animated Short: "Paths of Hate," Damian Nenow
Audence Award, narrative: "Snowmen," Dir. Robert Kirbyson
Audience Award, documentary: "Wild Horse Wild Ride," Dirs. Alex Dawson and Greg Gricus
TXU Energy's Light Up the Red Carpet Student Film Contest
$7500 prize winners
"Looking Out For Texas," Dir. Kassidy Testut (Richardson High School)
"Queen Kill-A-Watt," Dir. Katharine Yarbrough (The Art Institute of Dallas)
$5000 prize winners
"I Want to Make You Happy," Dir. Christian Vasquez (Booker T. Washington)
"After the Dark," Dir. Aaron Carolina (University of Texas at Arlington)
$2500 prize winners
"The Aftermath," Dir. Olivia Pich (Garland High School)
"Zephyr," Dirs. Dylan Voisard, Patrick Perkins
(University of North Texas)
Previously announced Steuben Crystal DALLAS Star Awards were presented to director Steve James ("Hoop Dreams"), writer-producer Scott Z. Burns ("An Inconvenient Truth") and posthumously to writer Horton Foote ("To Kill A Mockingbird"). The Texas Avery Animation Award went to Chris Sanders and Dean DeBlois ("How To Train Your Dragon," "Lilo & Stitch").
Sign Up: Stay on top of the latest breaking film and TV news! Sign up for our Email Newsletters here.