"If you build it, they will come."
That was the mantra going through my head in the anxious weeks leading up to Picton Picturefest, an inaugural film festival and "cinephile retreat" that was held in a small town in Southern Ontario, Canada this past weekend. In the works for 14 months, the event was to include 13 screenings at 4 different indoor and outdoor venues, as well as an intensive workshop where 7 youths from across Ontario were coming in to camp out with us and make a short film over the course of the weekend. We would show it on closing night. A year ago, the whole idea sounded perfect. Two weeks ago, it sounded like an extraordinary opportunity to get sued, lose all my personal savings, or publicly have a nervous breakdown.
Thankfully, none of those things happened. Somehow, despite what had to have been one of the smallest budgets in the history of modern film festivals, and the fact that myself and my glorious goddess of a co-director – Jennifer MacFarlane – had assumed dozens of roles that most film festivals delegate to multiple departments with multiple staff members, Picton Picturefest ended up – and please excuse my immodesty – a kind of magical fairy tale. In large part, this success was due to an alliance of stars neither of us could have ever controlled, and thanks to the dozens and dozens of friends and family members who showed up to have our backs. We did not do this alone, and credit should be divided many, many ways. But either way, I sit here writing this coming off a natural high I haven't experienced since the film festival that inspired all this in the first place.
In the summer of 2009, I had the ridiculous privilege of attending "A Pilgrimage," which can only be described as a cross between a film festival, a circus and a dream facilitated by actress Tilda Swinton and filmmaker Mark Cousins. The event was Cousins and Swinton's follow up to "Ballerina Ballroom Cinema of Dreams," which took place entirely in Nairn, Scotland – a seaside town on Scotland's northern shore. I had read with fascination about that event, which brought folks from around the world to a former bingo hall which was converted into a cinema, screening some of Swinton and Cousins' favorite films.
After "Ballerina," Cousins and Swinton decided their festival should hit the road, beginning at a train station in central Scotland, and continuing back to Nairn. On a red double decker bus, we would travel to seven Scottish villages – most of which had never enjoyed a cinema – screening twelve films programmed by Swinton and Cousins, and themed around journeys and the self-exploration they generate. This was made possible by The Screen Machine, a fabulously decorated, 80-seat mobile indoor cinema following behind the bus. Once a day, Swinton, Cousins and the pilgrims would get off the bus and physically pull the 37-ton The Screen Machine as far as a mile.
I wrote about "A Pilgrimage" extensively for indieWIRE here, and the unchartered spirit and optimism that the festival instilled in me never quite got away. From the moment I left, I knew I wanted to re-create even a fraction of those feelings for people back home. But clearly that was a daunting fantasy that I largely suspected would go away. Swinton and Cousins are remarkable artists, human beings and role models that I've stood in awe of since the moment I met them, and playing homage to them – even in a toned down, fraction-of-what-they-managed sort of way – sounded like a recipe for intensive failure.
The following April, that recipe actually started making its way outside my head. I was visiting my hometown of Trenton, Ontario one weekend, and my mother, brother and I took a daytrip 30 minutes southeast to Picton, an up-and-coming little town filled with amazing old buildings, restaurants, art galleries, wineries, and Toronto ex-pats longing for a cultured life outside the big city. I hadn't been there in years, and over the course of a day I fell in love. Everyone was so ridiculously friendly, and the landscape of farms and beaches surrounding the town were truly awe-inspiring.
A few nights later I was out in a bar in Toronto and recalling the day to the aforementioned Ms. MacFarlane, my best friend of over 25 years and someone I'd always wanted to collaborate with in some creative capacity. "I could totally live there," I said to her about Picton.
"You're too much of a city kid," she said. "But it would be an awesome place for your little film festival idea."
We looked at each other and I knew she knew where I was about to go.
"You and me," I said. "Let's do it. We'll call it…"
"Picturefest," she said. "Picton Picturefest!"
Ideas for creative enterprising over four or five beers must have a success rate of under 1%, but we bucked the trend simply by discussing it in sobriety a few days later, and from that point on, Picton Picturefest was a more or less constant element of both of lives.
We'd meet weekly to have brainstorming sessions, looking into grants and throwing around ideas. We'd entertain ideas that were insanely over-the-top that thankfully never came into fruition ("we'll screen 40 films in 10 locations!"; "we'll rent a bunch of school buses and do it at different towns across Ontario that start with 'P'!").
We'd e-mail essentially anyone we knew that had any idea how to do something like this, compiling as much advice as we could (thank you Deanna Wong, Chris MacDonald, Cameron Bailey and John Cooper).
We'd start making monthly trips to Picton itself, bringing vague "info packages" with us to local businesses and organizations to ask for guidance and/or partnerships. One of those trips involved having to get up in front of what was essentially the town's entire artistic community and making an impromptu speech, leading to a clear knowledge of one of our greatest liabilities: my ridiculous social awkwardness and incapable public speaking skills.
But things definitely starting coming along. We forged relationships with many downright lovely folks in the Picton area who would become some of our truest assets. Most notably – and serendipitously – in that regard were Krista Dalby and Milé Murtanovski, the owners of Small Pond Arts, a farm-turned-artist-retreat just outside Picton.
I randomly met Krista on a train en route to Toronto. She recognized me from an event I'd attended in Picton.
"You're that film festival guy," she'd said.
She told me all about Small Pond Arts, which she and Murtanovski had purchased just a few months ago after they decided to retreat from an increasingly expensive and hectic existence in Toronto. She a puppeteer, him a painter, they both had envisioned events like Picturefest being part of their dream. So the next time we were in Picton, Jen and I had a visit. There was 87 acres of land decorated with art installations, an old silo emerging from it with a giant heart flag draped from it, and ample space for camping and screenings. And both Krista and Milé seemed as excited as we were to make this happen. It was perfect.
By August, enough wheels were in motion that Jen and I decided to take a little break. She worked for the Toronto International Film Festival, and clearly had some other responsibilities to tend to. I had a intensive work schedule through December, and knew there was no way to include Picturefest preparations within it. So we sent off some grant applications and made ourselves a promise: If we got over $5,000 as a result, we'd start things up again in January and make it happen. If we didn't, it was a sign that we were clearly being overambitious.Sure enough, on a December night in New York City, I got a call from Jen. We had got a considerable grant from the Ontario Arts Council. Neither of us had even thought about Picturefest for months, and with a mix of excitement and terror we acknowledged to one another: "I guess we have to do this."
We knew we couldn't do it alone, so we started to amp up outreach to get together people who could help us:
Two filmmaker friends of ours, Stephen Dunn and Pat Mills, said they'd be interested in running the workshop element and essentially mentoring a bunch of youth through making a short film; Meagan Durlak and Sebastian Speier offered to take on design, making us gorgeous posters and logos, while Alexis Ronse put together our very classy website; Kelly Thompson – who used to work in sponsorship at TIFF – made sponsorship packages for us; Media artist Carlos Weisz made us a trailer worthy of any film festival; Brad Horvath and his team at Ouat Media (a Toronto based shorts distribution company) offered us their offices for meetings and their films for the festival; and a bevy of others – Lynne Crocker, Milda Yoo, Shannon Linde, Ian Lefebvre, Alex Knegt, Guntar Kravis, Natasha Ryan and Daniel Oron most notably – joined us for meetings to help brainstorm and ensured us they'd be there to help to the bitter end.
The most beautiful thing about that whole process was that all these people offered so much of their time to us requesting nothing in return. Not one person was paid for the work they put toward Picton Picturefest.
By April, we had a clear-ish vision and plan. We confirmed various indoor and outdoor venues across Picton and its surroundings, many of them in kind (an old movie theater, a town hall, and a church run by one of the most progressive and lovely ministers I've ever come across).
We spoke at surrounding high schools and partnered with youth film festivals across Canada to get participants in the workshop, which wasn't easy (one classroom stared up us with nary a facial expression and not one of them even bothered to come and take a pamphlet at the end of the presentation).
Various locals had stepped in to offer us necessary things, from filming and editing equipment for the short film (thanks Barry Silverthorn, Cathy Goddard, and Loyalist College!), a space for us to hold our "headquarters" (thanks Books & Company!), equipment for the outdoor screenings (thanks Lockie Owens!), discounted hotels for folks not into the whole camping thing (thanks The Waring House!) and an "appreciation party" where we could let everyone that helped us have some free wine and food in an environment considerably more classy than around the campfire (thanks Angeline's Restaurant and Inn!).
And then there were the films. Our plan from the beginning was to have each film programmed by a different individual or organization, with the only instruction that each film should at least vaguely speak to the idea of "community." By far our biggest score was the generosity and support from the two people that inspired Picturefest in the first place: Tilda Swinton and Mark Cousins, who agreed to program our opening night film by selecting one of my favourite films that screened on "A Pilgrimage," Jacques Tati's hilarious, charming and perfectly appropriate, "M. Hulot's Holiday" (Picton is sort of more quaint 2010s rural Canadian version of the film's French beach resort setting). Swinton even offered some kind words to be read before the film. We paired it with Matt Hulse's short documentary of "A Pilgrimage" itself, in hopes that we would set the tone to start re-creating a little "Pilgrimage" magic.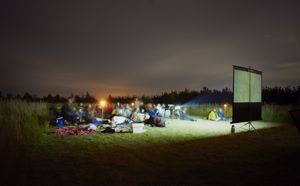 Other films included Mike Ott's Indie Spirit award winning "Littlerock" (graciously offered by Ott himself), the mind-bending "You Are Here," directed by Daniel Cockburn, who grew up in the area and attended the festivities ("Here" was programmed by Lynn Braun and her local film group Quinte Film Alternative), Cameron Yates' doc "The Canal Street Madam" (chosen by the folks here at indieWIRE), the ambitious, sprawling "National Parks Project," which documents 13 of Canada's national parks via 13 different filmmakers (including Cockburn, who ended up being Picturefest's unofficial guest of honor) and 39 musicians (the film's producers – Geoff Morrison, Ryan J. Noth and Joel McConvey – offered it up generously), Toronto gay rights doc "Track 2" (thanks to the Pink Triangle Press), three programs of short films (thanks to Ouat Media, the Toronto Youth Film Festival, and the Toronto Student Shorts Film Festival), and a tribute to Canadian playwright and filmmaker Daniel MacIvor (curated by MacIvor's former assistant, Brad Horvath). Despite a Canadian postal strike that nearly derailed the arrival of half the films, everything arrived (though some just barely).Jen and I rented a 12 seat van so we could transport the youth from the camp to screenings and filming locations and set off for Picton from Toronto a few days before the festival was to begin. Both of us were already drained from concurrently having two full time jobs (one of which was quickly making us negative amounts of money) in the weeks preceding the festival, and both of us were clearly scared that this was all going to be a disaster.
But the second we arrived at Small Pond Arts, things just started falling into place. We set up our tents, put up some port-a-potties, organized boxes of movies and t-shirts and equipment, and helped Small Pond owners Krista and Milé mow out as much parking space as we could muster. One by one, our seven workshop participants Derek, Oliver, Maddy, Jemima, Syd, Claire and Christian showed up at the camp, each of them with the same excited-meets-frightened faces Jen and I had. Along with our workshop mentors Pat and Stephen, the eleven of us had what was probably the most memorable of all 5 nights we camped at Small Pond. Sitting around the campfire, we all became fast friends over a circa-1979 board game version of Family Feud, and our conversations carried far into the night. I looked at Jen as we headed back to what would eventually become warmly known as "tent city" (by Saturday night, over 50 tents would be set up there) and smiled. All my doubts were gone, this was going to be amazing.
Over the next 100 or so hours, it was pretty much consistently that. Though there were definitely a few bumps in the road. We couldn't afford technicians, so last minute technical difficulties were our worst fear, and that was definitely realized once or twice along the way. Once we had to black all the windows in the town hall because it was too bright to see the screen. One family showed up for the screening of "Hulot's Holiday" and said to my brother – who was running the box office – "four for 'Super 8' please." Our explanation that "Super 8" was not showing that night, but that they could instead witness a black and white 1950s comedy from France did not go over well.
But overall it was the most smooth operation we ever could have hoped for. Many of the films were shockingly well-attended, with the Q&A for "You Are Here" having nearly 100 people asking director Cockburn what he later acknowledged to be "some of the most intelligent responses to the film" he'd ever come across, and nearly 200 people sitting in a bug-infested field for 2 hours to witness "The National Parks Project" over beer and hot dogs. Locals beamed with pride when we heard that only 17 people had shown up for "X-Men: First Class" at the commercial cinema 10 minutes down the road. Stephen, Pat and the seven "kids" (as we'd call them, despite the fact that they were the most mature and clever batch of 16-22 year olds you'll ever meet) started writing the short film Thursday morning, and despite having to stay up until 4am the last night editing it in a barn, it was ready for showtime Sunday afternoon.
By the time that showtime came around, my emotional exhaustion got the best of me, despite a feeling of pride I'd never quite experienced. I probably slept a combined 8 hours the entire 5 days, unable to resist the all night merriment where an essential "this is your life" of people roaming around the campground, most of them joining in for mass sing-a-longs of Weezer's "El Scorcho" or spending hours debating the films of Stanley Kubrick or Terrence Malick. So when Jen and I took the stage to introduce the film the "kids" had made, the 20 minute speech I prepared couldn't find itself.
I wanted to thank our families and friends, who had collected donations at the doors of screenings, helped us with technical issues, and catered three meals a day for all of the kids. I wanted to thank the community itself, for embracing two strangers so much that we could no longer walk down the street in Picton without twenty people saying a familiar hello. And I wanted to thank Jen, who I'd met at my mother's daycare, "dated" during my tween years (though a few years later we both came out), and headed to the University of Toronto with. This was the culmination of 25 years of friendship, and it was a beautiful thing. The two of us – and all our noted friends and family – had done this together, and in this largely cynical, selfish world, such displays of selfless teamwork are very rare. But I couldn't look at Jen – or anyone for that matter – without crying. So I simply introduced Stephen and Pat and the 7 now fledgling filmmakers, who then introduced their incredible film to a packed church of people who had all clearly had an amazing weekend.
After the film, we all poured out in front of the church and said our goodbyes. There was a magic in the air that was downright "Pilgrimage"-esque as roughly 300 hugs took place and we started to dread our return to reality. One of the "kids" came up to me and Jen to thank us for what we'd organized.
"This was honestly the best weekend of my life," they had said. "Tilda and Mark would be proud."
For the first time in the entire Picturefest process, both of us didn't doubt it.
For more on Picton Picturefest, go to the festival's website. You can also support its second edition here.
Sign Up: Stay on top of the latest breaking film and TV news! Sign up for our Email Newsletters here.