With full credit going to the extraordinary website Letters of Note, we came across an incredible letter written by Stanley Kubrick to Ingmar Bergman in 1960. It's part of the Deutsche Kinemathek's exhibit "Ingmar Bergman: Truth and Lies," which features never-before-seen material from Bergman's extensive archives.
Typed on Universal Studios stationery that references Kubrick's brief time with the studio during the making of "Spartacus," it's a unabashedly gushing fan letter from the atypical auteur that praises Bergman's "wonderfull [sic] actors," "truthfullness [sic] and completeness of characterization" and his "creation of mood and atmosphere." Here's a sample:
Your vision of life has moved me deeply, much more deeply than I have ever been moved by any films. I believe you are the greatest film-maker at work today. Beyond that, allow me to say you are unsurpassed by anyone in the creation of mood and atmosphere, the subtlety of performance, the avoidance of the obvious, the truthfullness and completeness of characterization.
(For the full transcription, go here.)
He may not have been a spelling bee champion, but Kubrick's love letter is pretty revealing. Kubrick was notoriously reclusive and apart from several of his screenplays, little of his writing or correspondence has been officially published. At the time of the letter, Kubrick was only 31 and had just made his first notable films, including "Paths of Glory" and "Spartacus." Bergman, another early beginner, was 41 and already internationally revered. There is no evidence that Bergman ever wrote back with any advice, but we'd sure like to see those letters.
For the
The exhibition "Ingmar Bergman: Truth and Lies" will run from September 16 through December 12 at the Academy of Motion Picture Arts and Sciences in Beverly Hills.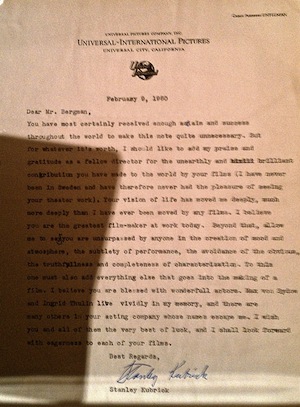 Sign Up: Stay on top of the latest breaking film and TV news! Sign up for our Email Newsletters here.