Eli Craig's blood-soaked feature directorial debut, "Tucker & Dale Vs. Evil," premiered at Sundance 2010. It's a real comedy-horror hybrid, which may explain why it took a while to get a release. However, its good buzz is well deserved and cult status could follow if it finds its audience on VOD (where it's currently available to watch through Magnet Releasing) and in theaters, starting September 30.
The film concerns a group of snotty college kids who cross paths with two hillbillies. When the hot blonde from the group gets separated from her friends, the backwoods duo come to her rescue and bring her back to their place, leaving her friends to think they kidnapped her. (They're actually just two fun-loving friends out to enjoy some time off in their mountain home; they only look like forest-dwelling psychos.) One misunderstanding leads to another and soon the body count starts piling up.
indieWIRE caught up with Craig to dish on his love for horror movies and why he decided to mock them.
The film riffs on the whole hillbilly-horror genre. Are you a huge horror fan?
Yeah, absolutely. I tried to play tribute to a lot of the horror films I grew up with. Definitely "Texas Chainsaw Massacre" is in there. "Tucker and Dale" also flips a less classic movie, "Wrong Turn." I'm also a big fan of Sam Raimi and Peter Jackson's old movies. I tried to incorporate a lot of that without exactly identifying it. I tried to play homage.
It's a genre I grew up with and have a love for, but I think it's grown a little tired. Especially that classic "lost in the woods with college kids trapped and slaughtered by hillbillies." I was ready to do something different with it.
That tiredness with the genre… is that the reason you decided to mess with the conventions and make what is arguably a broad comedy?
Well, I have to say I think the idea came first. I've loved these movies for a long time and I think it was after watching the remake of "Texas Chainsaw Massacre" that I first thought, "Why do these college kids always end up in the woods and always get killed? What if we flipped it?"
So the idea came out of watching that, thinking it's time to maybe flip this thing that's constantly played out in the same way.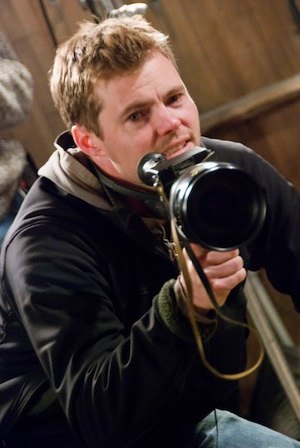 The actual villain in the film is not Tucker or Dale but a frat guy. Did you take aim at frat guys because you grew up hating them, or were you yourself one back in the day?
I went to undergrad at the University of Colorado in Boulder. There's this anti-frat guy sentiment there. I also just always thought fraternities were a little weird. You know, you try to join something where you create these friends out of thin air. And then they torture you and haze you for a week and then after they torture you, you're supposed to be good friends with them. Yeah, I'm not a big fan of the fraternity process. I thought it was just fun to make the lead guy this big fraternity douchebag… A kind of frat-boy version of Burt Reynolds in "Deliverance."
People would probably be surprised to learn your Sally Field's son. Do you ever want to direct her?
Well, I do run things by her because she has so much expertise in film and she's one of the people that's been around so long. I was pleasantly surprised that she loved "Tucker and Dale." I was terrified she was going to think, "What did her son do?!"
But, you know it's really important for me to define my career on my terms. I look forward to some day working with her, but it's probably further along in my career. It's very important for me to have my own film identity in the film industry.
Given that this is your first film and it's so genre specific, do you intend to stick to the horror template like the other Eli (Roth), or are you wanting to expand into other kinds of films?
Ultimately, I would love to have a career where I could explore a lot of different kinds of films. It's difficult because everyone wants to define you.
I really admire filmmakers that are willing to and able to explore horror, comedy and drama. Steven Soderbergh is not somebody I think I relate to in terms of storytelling, but he's definitely knows a lot of different elements of filmmaking. Down the line, I would love to say that I've made a lot of different types of films.
Top Picks on DVD/Blu-Ray
"Good Will Hunting" (Blu-ray)
The Academy Award-winning film that put Matt Damon and Ben Affleck on the map hits Blu-ray for the first time in a souped-up release with a bunch of new features.
Extras: Audio commentary by director Gus Van Sant, Damon and Affleck; 11 deleted scenes with audio commentary; a production featurette; "Miss Misery" music video; behind-the-scenes footage; and the theatrical trailer.
"If a Tree Falls: A Story of the Earth Liberation Front"
Marshall Curry's ("Street Fight," "Racing Dreams") latest documentary, "If a Tree Falls: A Story of the Earth Liberation Front," tells the story behind what the FBI has deemed America's "number one domestic terrorism threat"—the radical environmentalist group, the Earth Liberation Front (ELF).
Extras: Audio commentary by Curry, co-director Sam Cullman and editor Matthew Hamachek; deleted scenes; and extended interviews.
"The Perfect Host"
See Niles Crane (aka David Hyde Pierce) go to the dark side in this twisted thriller in which Pierce plays Warwick, a posh, wine-loving man who takes his intruder hostage.
Extras: "Making 'The Perfect Host;'" a ten-minute featurette; a promotional piece, "A Look at 'The Perfect Host;'" and the theatrical trailer.
"In a Better World"
Susanne Bier's ("Brothers") Academy Award-winner for Best Foreign Language Film is provocative drama that hops between an idyllic small town in Denmark and an African refugee camp, to follow the intersecting lives of two families.
Extras: Audio commentary by Bier and editor Pernille Bech Christensen; deleted scenes; and an interview with Bier.
Also On Demand
"Brighton Rock"
Rising star Andrea Riseborough gives a moving turn as Rose, a shy waitress who becomes entangled with a lowly gangster (Sam Riley). A raven haired Helen Mirren, plays her boss who tries to get in the way.
Where to Find: IFC Films on Demand.
"Love Crime"
Alain Corneau's final film is a twisty, expertly crafted thriller that pits Ludivine Sagnier against Kristin Scott Thomas in a workplace murder mystery, that plays like a twisted French cousin to "All About Eve."
Where to Find: IFC Films on Demand.
Sign Up: Stay on top of the latest breaking film and TV news! Sign up for our Email Newsletters here.