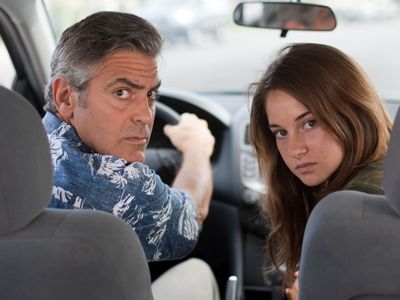 Editor's note: This review originally ran at the 2011 Toronto International Film Festival. "The Descendants" opens on Friday.
Family dramas based around the recent or impending death of a relative tend to aim for easy sentimentality or wallow in grief. Alexander Payne courts these dangers many times in "The Descendants," but manages to avoid the trappings of formula. Because it's Payne, a director both derided and acclaimed for surrounding his sad, seemingly hopeless characters with a deviant sense of humor, "The Descendants" constantly hovers on the brink of a dark comedy. But it never takes the big plug. By treading carefully, Payne has created his warmest, most earnest work, if not his best.
Adapted from Kaui Hart Hemming's novel, the story involves Matt King (George Clooney), a wealthy Hawaiian landowner and traveling businessman whose wife winds up in a coma before the opening credits. Obliged to care for his hyperactive adolescent daughter Scottie (Amara Miller) and her rebellious teen sister Alexandra (Shailene Woodley), he makes a valiant attempt to step into his wife's caring shoes, only to discover she had been cheating on him. Making matters worse, Alexandra clues her dad in shortly before he realizes that he has to pull the plug on a woman he never fully understood.
The revelation about this past affair takes Matt on a journey in search of his wife's alleged lover to inform the mystery man about her debilitating state. That quest could set the stage for a maze of subversive twists, and "The Descendants" courts a few of them by leaving Matt's full intentions unspoken. An opening voiceover at the start of the movie sets the scene, but never externalizes his emotions. Whether he hopes for revenge against his wife's secret other man (Matthew Lilard) hardly matters; Payne backs away from an abundance of developments and instead delivers a straightforward look at Matt's ongoing attempt to maintain his composure in a nasty situation.
That's not to say the blend of moodiness and emotional fragility found throughout the director's career has faded to the background. Exploding Hawaiian stereotypes in his introductory monologue, Matt succinctly establishes the irony of his glamorous surroundings with a single pronouncement: "Paradise can go fuck itself." Elsewhere, he makes shrewd observations about his familial duty, comparing the connections to next of kin with the unstable movements of an archipelago. Hawaii, which pervades the movie both visually and on the soundtrack's native tunes, comes to represent Matt's conflicted state of mind.
Until this point, Payne has fixated on stories about people suffering from a dearth of motivation (Jack Nicholson in "About Schmidt," Paul Giamatti in "Sideways") or too much of it (the scheming teen in "Election," the activists in "Citizen Ruth"). Matt's conundrum is less precise. He's engaged in a feud with a woman who doesn't have the luxury of talking back, which forces him to channel that fury into an attempt to fortify his remaining family.
As both screenwriter and director, Payne possesses an ability lost on many filmmakers: Patience. He lingers on reaction shots and small asides. A key shot in which Alexandra breaks down over her mother's inevitable death while underwater in the family pool demonstrates Payne's willingness to avoid cliché even when the material begs for it. Clooney's requisite crying bit also evades the allure of showiness, but then he has never been an actor committed to overstatement.
His likability, in fact, helps save "The Descendants" from growing too dreary. The opposite of his revisionist performances of "Syriana" and "The American," Clooney plays right into his type. In this mode, even when troubled, he retains his suave composure. Matt is such a cohesive character than he distracts from the less credible types around him. Alexandra's sophomoric boyfriend (Nick Krause) provides the weakest link, a simpleminded knucklehead from a movie with blunter interests. Then again, while he might be out of place in "The Descendants," he feels just right for Payne, and so does this expansion of the director's style.
criticWIRE grade: A-
HOW WILL IT PLAY? Fox Searchlight is no stranger to Oscar season, and "The Descendants" looks to be the studio's tentpole. Expect the amalgam of critical praise and positive buzz to drive the movie to strong numbers and a prominent role at the awards.
Sign Up: Stay on top of the latest breaking film and TV news! Sign up for our Email Newsletters here.