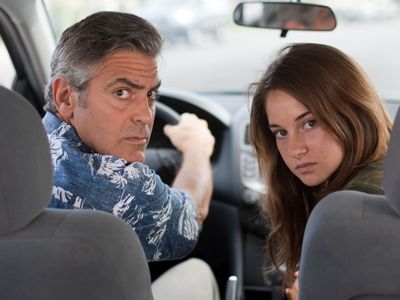 The 21st Gotham Independent Film Award nominations have been announced, with Sean Durkin's "Martha Marcy May Marlene" and Alexander Payne's "The Descendants" leading the pack with three nominations each.
That's great news for distributor Fox Searchlight, which is releasing both films alongside best feature nominee "The Tree of Life." Altogether, the distributor took eight nominations, five more than its nearest competitors (Focus Features and Sony Pictures Classics each took three).
Searchlight's "Tree of Life" was joined in the top category by "The Descendants," as well as Mike Mills' "Beginners," Jeff Nichols' "Take Shelter" and Kelly Reichardt's "Meek's Cutoff." "Martha Marcy" was actually snubbed in that category, nabbing nominations for best ensemble performance, best breakthrough performance (for Elizabeth Olsen) and best breakthrough director.
Olsen will compete against an eclectic mix of up-and-coming actors. Fellow Sundance Film Festival breakouts Felicity Jones ("Like Crazy"), Harmony Santana ("Gun Hill Road") and Jacob Wysocki ("Terri") join her, as does George Clooney's "Descendants" daughter Shailene Woodley (who's looking like a strong bet for an Oscar nomination at this point).
That category saw perhaps the biggest of the nominations' many surprises in who didn't make the cut: 2011 it girl Jessica Chastain, who's featured in two of the best feature nominees, "Take Shelter" and "The Tree of Life." Perhaps her performances canceled each other out?
Adepero Oduye ("Pariah"), Brit Marling ("Another Earth") and Hunter McCracken ("The Tree of Life") were other notable snubs in that category (especially since the films were all represented elsewhere), which clearly had many strong contenders this year.
Films that were completely shut out – which may or may not have been due to the Gothams' eligibility rules (discussed in yesterday's preview article, which didn't exactly fare well with its predictions) include Jonathan Levine's "50/50," Nicolas Winding Refn's "Drive," Cary Fukunaga's "Jane Eyre," Woody Allen's "Midnight in Paris," Oren Moverman's "Rampart," Lynne Ramsay's "We Need To Talk About Kevin and Tom McCarthy's "Win Win."
The full list of nominations is on the next page of this article. The Gotham Awards' ceremony will be held on November 28 at Cipriani Wall Street. In addition to the competitive awards, Charlize Theron, Gary Oldman, David Cronenberg and Tom Rothman will each receive a career tribute.
Best Feature:
Beginners
Mike Mills, director; Leslie Urdang, Dean Vanech, Miranda de Pencier, Jay Van Hoy, Lars Knudsen, producers (Focus Features)
The Descendants
Alexander Payne, director; Jim Burke, Alexander Payne, Jim Taylor, producers (Fox Searchlight Pictures)
Meek's Cutoff
Kelly Reichardt, director; Neil Kopp, Anish Savjani, Elizabeth Cuthrell, David Urrutia, producers (Oscilloscope Laboratories)
Take Shelter
Jeff Nichols, director; Tyler Davidson, Sophia Lin, producers (Sony Pictures Classics)
The Tree of Life
Terrence Malick, director; Sarah Green, Bill Pohlad, Brad Pitt, Dede Gardner, Grant Hill, producers (Fox Searchlight Pictures)

Best Documentary:
Better This World
Katie Galloway and Kelly Duane de la Vega, directors; Katie Galloway, Kelly Duane de la Vega, Mike Nicholson, producers (Loteria Films, Picturebox, Motto Pictures and Passion Pictures; ITVS in association with American Documentary | POV)
Bill Cunningham New York
Richard Press, director; Philip Gefter, producer (Zeitgeist Films)
Hell and Back Again
Danfung Dennis, director; Mike Lerner, Martin Herring, producers (Docurama Films)
The Interrupters
Steve James, director; Alex Kotlowitz, Steve James, producers (The Cinema Guild)
The Woodmans
C. Scott Willis, director; Neil Barrett, Jeff Werner, C. Scott Willis, producers (Lorber Films; Kino Lorber, Inc.)

Best Ensemble Performance:
Beginners
Ewan McGregor, Christopher Plummer, Mélanie Laurent, Goran Visnjic, Kai Lennox, Mary Page Keller, Keegan Boos (Focus Features)
The Descendants
George Clooney, Shailene Woodley, Beau Bridges, Robert Forster, Judy Greer, Matthew Lillard, Nick Krause, Amara Miller, Mary Birdsong, Rob Huebel (Fox Searchlight Pictures)
Margin Call
Kevin Spacey, Paul Bettany, Jeremy Irons, Zachary Quinto, Penn Badgley, Simon Baker, Mary McDonnell, Demi Moore, Stanley Tucci, Aasif Mandvi (Roadside Attractions)
Martha Marcy May Marlene
Elizabeth Olsen, Christopher Abbott, Brady Corbet, Hugh Dancy, Maria Dizzia, Julia Garner, John Hawkes, Louisa Krause, Sarah Paulson (Fox Searchlight Pictures)
Take Shelter
Michael Shannon, Jessica Chastain, Tova Stewart, Shea Whigham, Katy Mixon, Kathy Baker, Ray McKinnon, Lisagay Hamilton, Robert Longstreet (Sony Pictures Classics)

Breakthrough Director:
Mike Cahill for Another Earth (Fox Searchlight Pictures)
Sean Durkin for Martha Marcy May Marlene (Fox Searchlight Pictures)
Vera Farmiga for Higher Ground (Sony Pictures Classics)
Evan Glodell for Bellflower (Oscilloscope Laboratories)
Dee Rees for Pariah (Focus Features)

Breakthrough Actor:
Felicity Jones in Like Crazy (Paramount Vantage)
Elizabeth Olsen in Martha Marcy May Marlene (Fox Searchlight Pictures)
Harmony Santana in Gun Hill Road (Motion Film Group)
Shailene Woodley in The Descendants (Fox Searchlight Pictures)
Jacob Wysocki in Terri (ATO Pictures)
Best Film Not Playing at a Theater Near You:
Codependent Lesbian Space Alien Seeks Same
Madeleine Olnek, director; Laura Terruso, Madeleine Olnek, producers
Green
Sophia Takal, director; Lawrence Michael Levine, producer
The Redemption of General Butt Naked
Eric Strauss, Daniele Anastasion, directors and producers
Scenes of a Crime
Blue Hadaegh & Grover Babcock, directors and producers
Without
Mark Jackson, director; Mark Jackson, Jessica Dimmock, Michael Requa, Jaime Keeling, producers
New this year, IFP will present a Calvin Klein Spotlight on Women Filmmakers 'Live the Dream' grant, a $25,000 cash award for an alumnus of IFP's Independent Filmmaker Labs. This grant aims to further the careers of emerging women directors by supporting the completion, distribution and audience engagement strategies of their first feature film.
The nominees are:
Jenny Deller, director, FUTURE WEATHER
Lucy Mulloy, director, UNA NOCHE
Rola Nashef, director, DETROIT UNLEADED
Check out further information from the Gotham Awards press release below:
The 2nd Annual Gotham Independent Film Audience Award will be voted on again by the independent film community, 230,000 film fans worldwide. To be eligible, a U.S. film must have won an audience award at one of the top 50 U.S. or Canadian film festivals from November 2010 through October 2011. Voting begins today at http://gotham.ifp.org/audience_award. The nominees will be announced November 7th and the winner will be revealed at the Gotham Awards ceremony.

The recipient of the Best Film Not Playing at a Theater Near You award is determined by the editors of Filmmaker Magazine, a publication of IFP, and a curator from The Museum of Modern Art (MoMA). All of these nominees will also be screened for the public at MoMA from November 18 – 21.

The Premier Sponsors of the Gotham Independent Film Awards™ are Royal Bank of Canada (RBC) and The New York Times, Presenting Sponsor euphoria Calvin Klein and Calvin Klein Collection, Official Sponsors: Heineken USA; Russian Standard Vodka; charitybuzz; Mionetto USA; MoMA and Andaz Wall Street. Additionally, the awards will be promoted nationally in an eight-page special advertising section in The New York Times on November 18th, 2011.

The Nominating Committees for the Gotham Independent Film Awards™ announced above are as follows:

Nominating Committee for Best Feature and Breakthrough Director:
Scott Foundas, Associate Program Director, Film Society of Lincoln Center; Contributing Editor, Film Comment
Ann Hornaday, Film Critic, The Washington Post
Andrew O'Hehir, Film Critic, Salon.com
Joshua Rothkopf, Senior Film Writer, DVD Editor, Time Out New York
Lisa Schwarzbaum, Film Critic, Entertainment Weekly

Nominating Committee for Best Ensemble Performance and Breakthrough Actor:
Peter Debruge, Senior Film Critic/Associate Features Editor, Variety
Karen Durbin, Film Critic, Elle Magazine
Dave Karger, Senior Writer, Entertainment Weekly
Eric Kohn, Lead Film Critic, IndieWIRE
Rajendra Roy, The Celeste Bartos Chief Curator of Film, Museum of Modern Art

Nominating Committee for Best Documentary:
Cynthia Fuchs, Film-TV Editor, PopMatters
Sean Farnel, Documentary Consultant
Tom Hall, Director of Programming, Sarasota Film Festival; Programmer, newportFILM
Mike Maggiore, Programmer and Publicist, Film Forum
Rachel Rosen, Artistic Director, San Francisco Film Society

Nominating Committee for Best Film Not Playing at a Theater Near You:
Joshua Siegel, Associate Curator, Department of Film, Museum of Modern Art;
and members of the editorial staff of Filmmaker Magazine: Scott Macaulay (Editor-in-Chief), Jason Guerrasio, Brandon Harris, Ray Pride, Alicia Van Couvering
Sign Up: Stay on top of the latest breaking film and TV news! Sign up for our Email Newsletters here.