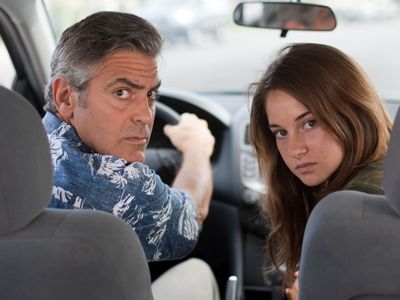 Fox Searchlight successfully debuted Alexander Payne's George Clooney starrer "The Descendants" on 5 screens Wednesday night before expanding it to 27 this weekend. The film – which is gaining considerable Oscar buzz – grossed a stellar $39,777 on opening night, averaging $7,955. Then it fell only 1% the following night to gross another $39,423… Taking its 2 day gross to an impressive $79,200 despite its tiny screen count.
Its opening gross was far and away the best per-theater-average Wednesday night. In fact, "The Descendants" had an average over 11 times higher than its closest competitor, "Like Crazy," which averaged $690 from 70 screens.
How the film fairs on its expanded screen count this weekend will be telling. It has a lot to live up to considering Payne and Clooney's past with limited debuts: Clooney's "Up In The Air" averaged $78,763 from 15 screens back in 2009, while Payne's "Sideways" managed $51,760 per its 4 screens in 2004.
Check back with Indiewire this weekend for a full report of "The Descendants" potential ascent to specialty box office glory.
Sign Up: Stay on top of the latest breaking film and TV news! Sign up for our Email Newsletters here.